I'm part way through a long project, and I'm going out of town next week so I won't have any new projects to post for a while, so I though I might put up something small in the meantime.
One of the things that was brought up in the Ronda Coryell fusing workshop I attended was how easily you can fuse scrap into a ball.  I, like other students, have had issues when reclaiming sterling and sometimes end up with a less than ideal ingot that has poor working properties.
For students this can be very frustrating, due to the small amounts of metal we usually keep on hand.  Seldom does a student or hobbyist use metal on such a scale that sending in scrap is really useful.  It's very handy to be able to take clean scrap on the order of 1/4 ounce to 2 ounces and reclaim it in an effort to make some sheet or wire.
Interested in this, I took the bits left from the piercing out of the benzene ring in the last post, and tossed them on a compressed charcoal block with the adhesive and paper on them still.  Using the Gentec small torch, with propane and oxygen set to a slightly reducing flame, I heated the bits pretty aggressively.  The paper and binder burned away quickly, the ball formed up, and a little of it was accidentally blown off by the force of the torch.  I heated the remaining liquid metal for several seconds to ensure it had ample time to divest itself of carbonaceous crap, and to abuse it just a little.  The new ball was cooled to black heat, and quenched.  The formed ball was quite nice looking, and to give it a simple (although inadequate) test I hit it with a ball peen hammer on an anvil a few times to see if it would crack.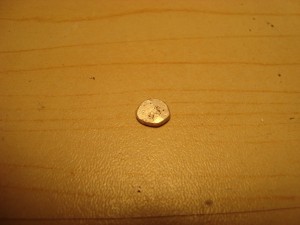 It seems to have come out quite well.  The dark spots are surface garbage and not porosity.  To be fair this was a loaded example, and the paper and binders most likely added to the reduction atmosphere.  None the less, a good first try.  Soon I should have enough scrap to make more than a 3-5 mm ball.  I'll reclaim it and roll it out, and try to directly compare with some sterling.
Latest posts by jasondeck (see all)