This summer a good friend's baby girl had her first birthday.  I know nothing about babies, what they want, or what their parents want, so I figured I would make her a nice silver spoon.  I mean if you have no idea what they want, why not make something you want?  Besides, the father and I are always talking about job stuff and money, so I thought a silver spoon would be funny.
Like almost all projects I have , I started this one later than I would have liked, so it had to be pretty straightforward. I had a false start where I thought it would be nice to chase and repoussé the baby's initial in the spoon, but I don't really know how to do either.  It went surprisingly well, but after I had accidentally poked a small hole I decided to stick with what I know in the interest of time.
I figured argentium was a good bet, since it will probably sit on a shelf or in a drawer, only getting looked at once in a blue moon until someone decides to scrap it for money.  In the meantime less re-polishing is always better.  Since no one would actually use it, a friend told me that most busy mothers carry around their own disposable spoons, I would have a bit of leeway in its design.  I figured some Keum Boo might set it off nicely, and since I'm lazy, argentium would be better than depletion gilding.
The first letter of the baby's name is B, so I traced out a nice looking one, and pierced it out.
To ensure that the letter would really stand out when it was sweated down, I put a light pattern on the spoon body with a pattern roller.  The maker was to approximate where I wanted the letter and the pattern.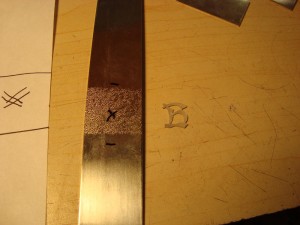 As an aside, while I was piercing the B, I managed to get the saw blade twisted 90 degrees in the frame and make a small botched cut really late in the game.  I was able to salvage it however, and I think it came out well.  If I hadn't said anything I think it would go completely unnoticed.
Solder flowed onto the back of the letter, pickled, and lightly sanded.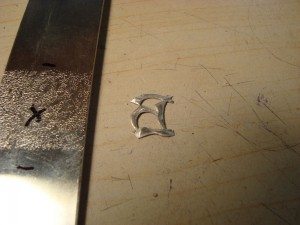 The B was sweated in place on the pattern, and the flanking areas cleaned with 4F pumice for the Keum Boo.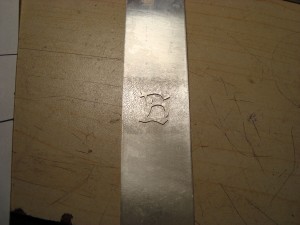 After Keum Boo application.  The argentium turned yellow in the pumiced areas like the last time I did this.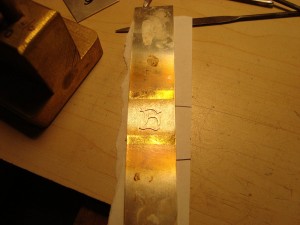 The general shape cut out.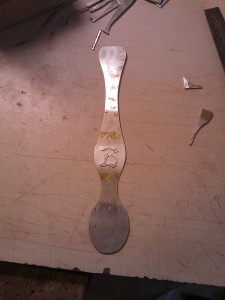 In a very fortunate turn, the shop had some stakes for spoons, and there was one the appropriate shape and size.  I sank the spoon a bit in a hollow in a stump, then formed it over a stake.  I forgot to get a pic of the sweet stake.  Then a bit of preliminary polishing.
The main bending was done on a small bracelet mandrel, and then a final polish.  Here i the final product, aggressively cropped in the light booth.  I was in a bit of a hurry, as I said before, and the pics were shitty, so I had to really cut it down to hide the booth itself.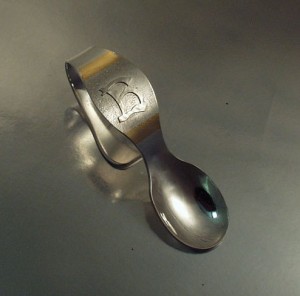 Latest posts by jasondeck (see all)