I have an extraordinary opportunity for anyone who is interested in rare turquoise. My family has #8 Spider Web turquoise which my grandfather, Frank Patania Sr. bought in the late 1930's to the 1940's.
I am now offering this turquoise in my work. These pieces will be one of a kind by default as this turquoise is no longer available because the mine is played out; there is no more of this turquoise in the ground. The stones I have are of high quality and the Patania family stands behind the provenance of this turquoise. In my designs I will try to complement this turquoise with my understanding that this turquoise will never be available to work with again. I am extremely excited by this. These pieces will all be hallmarked with my personal hallmark.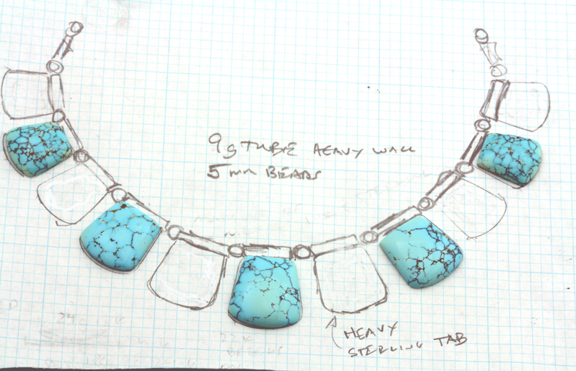 The first design offered with this turquoise is being set in a necklace of 18K gold and sterling silver. This set includes the necklace and earrings. This necklace is made of long triangular sections of heavy sterling silver which I will texture and patina dark. On top of this dark background will float the turquoise set in 22 karat gold and 18 Karat gold "Dots". The sections are suspended on a textured tube and bead chain with small Dots of gold on each tube bead which goes around the neck. This necklace will be 16 inches long with an extension chain of 2 1/2 inches which gives a bit of length. I am asking $7,800 for the set and it can be finished in time for the holidays.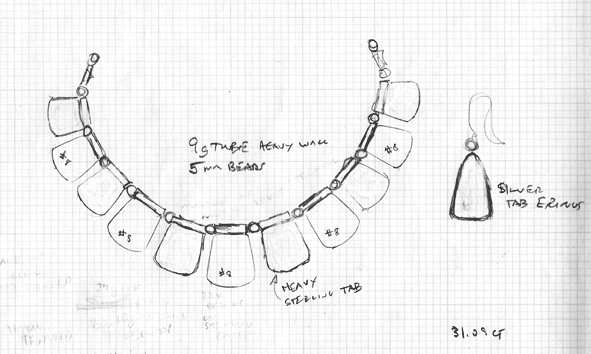 The design for the second set of stones I am offering is made up of tabs of #8 Spider Web which I will alternate between tabs of the same size of beautiful solid sterling. I was reminded of Aztec jewelry when I saw these tabs for the first time. Turquoise is wonderful blue shot through with the spider web matrix. This piece is entirely made of sterling and #8 turquoise and the sections will be strung together with the tube and bead chain which makes the whole necklace bright and shiny. Earrings of high polish sterling are included in the price. The necklace will be 16 inches long with a 2 ½ inches extension chain and the planned earrings are dangles.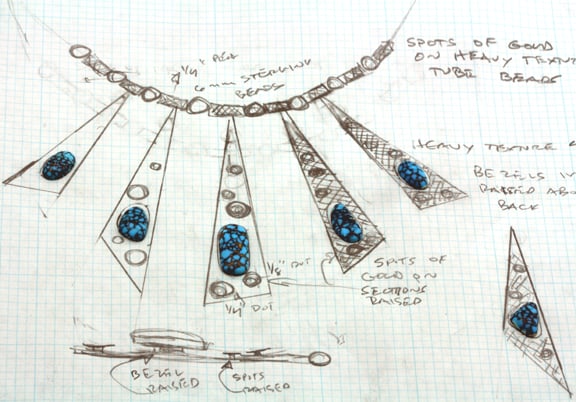 The price for the second design is $5,900 and this can be finished in time for the holidays as well.
Please contact me as soon as possible if you are interested in either of these designs. I will continue to make jewelry with this turquoise as long as I have it but please understand these particular stones won't ever be available again