I had an insightful day at the boat building shed.  I was filming a family history, four generations with a wooden boat called the 'Deborah D' centerpiece to their story.  Howard, seen below, actually restores wooden boats as a hobby & charters them out for weddings & trips.  I'll upload some video of the steaming/clamping process I filmed when I finish the edit…It was high drama for the camera.
 Howard agreed to take on my bench!  This man has a passion for wood & turning it into beautiful, practical pieces as evidenced by his own workbenches.  I could see it all around me in his workshop. Found out he'd done a boat building apprenticeship as a teenager before moving on to build houses.  I think it kind of fits with me that he's returning to his passion, boatbuilding later in life, just like me & jewellery.  I imagine he'll make money out of his…Mine, not so sure.  I have to remind myself that I'm taking this on for pleasure not profit, although a combination of both would be great!  
 Just when I thought painting 'The Laundry' was finished more building work had to be done & yes, it was messy.  Oh well, I'll get the brushes out tomorrow for one last time, I hope. 
 The good news, depending on your perspective, is that my washing machine has started playing up again.  Perfect timing!  I've got a front-loader being delivered in the morning & the bench has suddenly become a huge piece of Victorian Ash.  The sink will be in the corner again (where the machine is above), so while I'm scrubbing my heart out I'll be able to look out the window as well.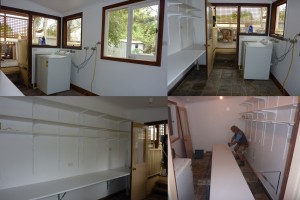 Bernard at work on white bench & shelves
 Final touches not involving my bench have been done so I'm calling the white bench the kid's bench. I actually started folding laundry on it & had to stop myself.  This is no time for me to turn into a domestic goddess…Scary! 
I'm looking at all those lovely shelves & just can't imagine them being adorned with my stuff yet.  I've been dabbling with this in one form or another since I was 15 & have lost many tools to many garages in various moves.  The thought that the tools & bits & bobs of art materials will have a permanent place is astounding to me.  The guilt I have to say, has also settled in:  Wouldn't this make a nice bedroom, teenage retreat, yoga room (partner teaches), conservatory, you name it & I've thought of all the possibilities.  It almost feels like cheating having it to myself.  My partner Shane's reaction, use it for what it was built for, it's your space for your passion.  So be it, guilt trip over!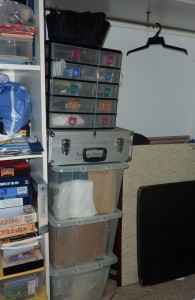 I'm hoping one of the side effects of 'The Laundry' will be a less cluttered house.  Perhaps my son will move into a proper bedroom when the wardrobe is empty, finally?
 I've been obsessing about the bench & now that that's sorted it'll be down to the nitty gritty.  Unpack boxes & see what treasures I've actually got.
I'm thinking of using hairdresser stools as their height seems to be more variable.  Which gas is the next big issue & I feel so far removed from my training that I'm not confident I'll make the right choice.  In my gut I feel oxygen/gas best but I'm toying with the idea of just ordinary BBQ bottle gas.  Will gas alone be hot enough for bigger pieces…Not so sure?  All this is next week's local research.
My bench of Victorian Ash is being assembled as I've typed.  What a great thought!