So we now have a new washing machine! It's smaller, quicker, uses less water & power. Most importantly however, it fits under my bench. All previous plans are now out the window. The sink will stay in the corner and the bench top will now extend the length of the laundry!
In my last post "Victorian Ash" I showed a picture of the white bench being installed. Well since then our family dynamic has changed yet again. Not only do laundry baskets now reside under that bench, all our clothes are sorted & ready to be put away. We no longer have the washing strewn over our sofas in the living room. Who would have thought that my workshop would sort out another clutter/mess issue in our house…Not me!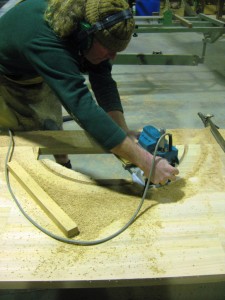 My workbench is nearly finished! My bench under construction I'll post more pictures or video as it comes in. I love that I know the history of the wood and that it has been used in the restoration of a boat who's history I am documenting. If you are interested in the connection it's in Queenscliff Stories
I have visited the local BOC (gas) centre & have decided that I'll definitely go with oxygen but now the question is acetylene versus LPG? As for all the fittings: Buy from BOC or a jeweller's supplier? That's on my list of research for next week!