In the good old days of pen and ink, my mother wrote me letters whenever I was away.  Over the years she would say "I hope you're burning those letters" and I would always reply yes. Well, you may have guessed that was not the case!  In fact, I kept all her letters from 1980 until her last was penned by my then sister in law, Debbie, not long before mum died of cancer.
In a rare moment of motivation to de-clutter my house, I thought it was time to make good on my promise.  Now, my daughter was making paper beads for a market stall (see Stuck post) and it got me thinking that maybe I could use the letters in the same way.  The idea was to turn them into beads and make something precious to give family members, so that a little piece of mum would always be close.  Great idea, in theory!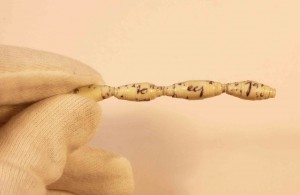 So I dug out the box and thought I'd read just one. That letter lead to another and another and another until I couldn't bring myself to part with them.   Unfolding before my eyes were not only details of my past, that I'd forgotten, but also the history of my relationship with my mum and her relationship with the family. The more I read the more I remembered as mum dutifully kept me informed of all my family's ups and downs.  The clincher in keeping the letters was that it also detailed the evolution of my relationship with my partner and father to our children.  I decided to keep th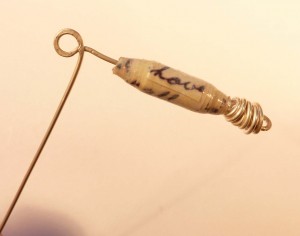 e letters for them so they'll have an insight into their parents, a family history if you like.
I still wanted to make beads to give to the family so I selectively cut up a couple of letters, much to my daughter's horror: "I hope you've scanned those mum?"  I was one step ahead of her, scanned, printed and put in date order.  I gave family members the actual letters, as beads.
Inspired by a wire bead tutorial I got from the Mocknet shop on Etsy, I had a go at using the same techniques with several tweaks as I already had the finished beads.  Well, I felt like mum was in The Laundry with me. The project prompted me to get out my sterling silver wire and start making, just do it!  Although it was starting small, I loved it.  Thanks to mum I became unstuck and completed my first project in The Laundry, and this one was just for me.

  Thanks mum!