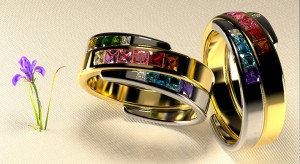 Hi my name is Allan Stratton and my Jewellery business was established in 1929 by my grandfather.
Let me explain why I choose  Jewelry Cad Dream over all other Jewellery Cad programs currently on the market.
With Jewelry Cad Dream, as you create the items file,  a history is created down the left hand side of the screen.
This history is a file that is a detailed account or map of how the pattern or item was constructed.
At any time you can take a journey or trip down the history or road and stop at any point to enter new information or alter that information and hence alter that particular part of the file to be changed. It can be the setting , shank, stone size, width, thickness. You get the picture. ANYTHING
This history stays with the item, ring ,  file call it what you wan forever. .
Now some of you commented that you don't care about being able to alter the pattern because if the customer needs anything changed its easy enough to make the pattern again. We only use the file once for that particular customer because we only make the customized item once for each customer.
How short sighted us that. I feel very sorry for you in this case.
Now be honest, how many times does your customers like the design you made on the first, second or even third attempt?
VERY FEW.
How many times do you like or make the pattern right on the first attempt?
NOT VERY OFTEN.
Imagine at any time now or in the future you or anyone else who has that file at any time being able to alter that file now or in the future after it is saved or printed.  To be able to alter every aspect of your files time after time. How does that alter or fire your imagination.
Most people using cad, making jewellery are creative, highly intelligent people.
Well I am telling you that this is only one small difference between this program and others.
I say it is only one small difference even though you are saying it is a huge difference,  because there are so many advantages with Jewelry Cad Dream over Rhino Gold and all other jewellery cad programs that makes Jewelry Cad Dream light years ahead of any other program on the market.
The sooner you have Jewelry Cad Dream, the sooner you won't be discarding your existing library of custom designed files. When you see the vast advantages of Jewelry Cad Dream you will be saying " Why has it taken so long for to buy Jewelry Cad Dream."
I honestly wish I had the opportunity 45 years ago to learn Jewelry Cad Dream as it would have made my life so much easier.
It is important that you take a tour right now.
You can also take a tour on their website
NEW: Use the special promotion code
 NZ1001
when you enter the Jewelry Cad Dream site.
My website is
Life is short. Every minute you waste you cannot ever get back. Every minute you waste costs money.
When you have to redo a file because your customers don't like a particular part of the item it is costing you life and money.
Think about that! !!!!!.
By being able to alter every aspect of the file has far more benefits than what I have just explained, but I will tell you about more benefits later.
For you it could be like winning lotto.  But the odds a thousands of times better.
If you need any other information about this program please contact me or the team at Jewelry Cad Dream direct.
Regards
Allan
Latest posts by Allan Straton (see all)