Yesterday (17 Nov)  was Karthigai Deepam. In TamilNadu it is grandly celebrated. The entire place is lit with oil lamps on the streets, inside the house, etc. If the street is narrow its a delight to the eyes, because all the lamps are closer to each other, since the houses are also closeby. You need to see it to experience the feeling.
Karthigai Deepam is a festival for Lord Murugan and Lord Shiva. Sweets are made and poojas are offered at home and at temples. The kids enjoy by bursting crackers.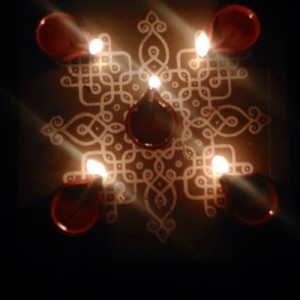 In the famous temple Thiruvanamalai, today the Maga Deepam is lit. Lord Shiva is the deity here, and today he manifests in the form of Fire.
The Magadeepam is a lamp that is 12 feet high which has 300 kgs ghee in it, and with the help of 1100 meters of thread in the ghee the lamp burns , not sure for how long. The lamp is set on a mountain.
The devotees can see the lamp on the mountain, from the plains. Lakhs of devotees throng the temple to see the Mahadeepam. At 6. p.m. in the evening the lamp is lit.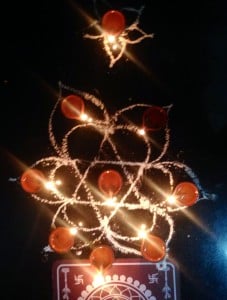 Since its an auspicious day today, thought will try a new thing in silver tonight. But I am stuck. I am trying to make a hollow box bead. I want to later set stones on it.
This is a photo of the Kolam (celtic wire design:)) and lamps are placed on it. This is how its kept on all houses; at the entrance and inside the pooja room.
Latest posts by Kavitha Balakrishnan (see all)