This is a very important pooja that we do, especially in South India. This pooja is exclusively done by women to the Lakshmi Goddess. This Goddess bestows good health and prosperity and all other good things on people who do this pooja.
I personally love to do this pooja. It generally falls in August.
In some houses they draw the Goddess face on the wall and do this pooja. This was done predominantly in the villages. Here in cities we get a ready-made deity of Goddess Lakshmi. Again you get this in Silver or clay.
I love all, but have got the deity in silver. It is usually available till bust size. The deity is already decked with some jewellery on her ears, neck and a crown, not to forget the nose ring.
But still we place this deity on a coconut, tie a silk cloth around her and place this in a vessel called "Sembu" ( I have written about this earlier). The deity is also decked with flowers and jewellery.
The sembu is decorated with mango tree leaves, and the coconut is placed and on top of the coconut the deity is placed. I have done it very simply. There are elaborate decorations also.
The entire sembu is placed on a banana leaf that is laid with raw rice. The sembu will contain water, in which gold or silver coins are put. Only one or two.
This time I wanted to get two new silver lamps. The pooja went on well and I could positively feel the energy in the house. The entire day is sort of fasting. And we made sweets and savouries and offered it to her.
We also invited our ladies friends over and gave them "thaamboolam" ( A gift which has a coconut, fruits, and a blouse material) This is a must and it must be given to all ladies that are invited home on the festival day.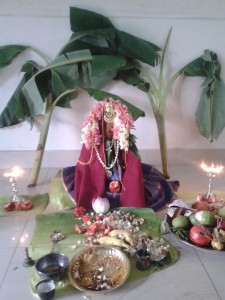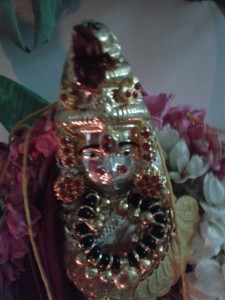 Latest posts by Kavitha Balakrishnan (see all)