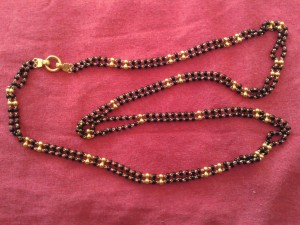 This is a simple chain with black beads on it.  In our community in TamilNadu, the bride-groom's sister gifts it to the bride. Before even the bride-groom ties the sacred thaali on the bride's neck, this Karugamani is given by the sister-in-law to the bride. You also get this with pendants. There are also varieties where a single gold chain comes in between the two Karagamani line of beads. Completely hand made with loops and black beads.
This jewellery is very popular in Southern India, though many communities have different reasons to wear it.
Again there are different customs in each state. In Karnataka, this Karugamani itself is worn as a sacred thaali with their custom pendants.
Thaali is a sacred thread or chain that is put or tied on the bride's neck which solemnises the wedding ceremony. The bride never removes it from her neck. Now due to safety measures, many carry it in their bags and later wear it.
Latest posts by Kavitha Balakrishnan (see all)