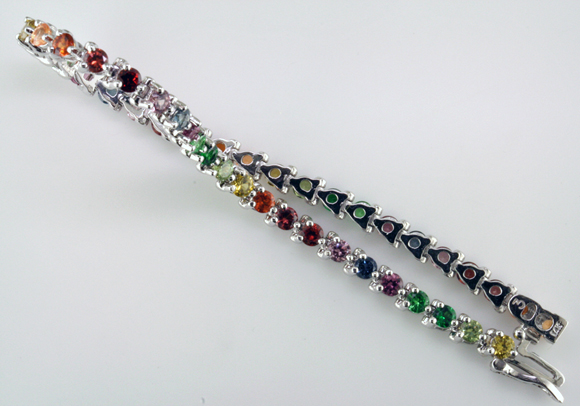 Rainbow gem suites are quite popular– we see them assembled from all the colors of sapphire or with various colored gems that will make a full spectrum of color, but rarely featuring garnet. Our unique custom bracelet of rainbow garnets was made to order for a very happy client as her 40th anniversary gift.
Since many of the new finds of garnet are in Africa along the Great Rift Valley, we worked with one of our AGTA (American Gem Trade Association) members who specialize in African materials. They were able to put together an stunning eleven color grouping of the garnet varieties that blends together beautifully.  Starting at number one (photo below), we have  Madagascar light Spessartite Garnet, Madagascar Hessonite Garnet, Marolambo Garnet, Mozambique Garnet, Madagascar Malaya Garnet, Madagascar Blue Color-Change Garnet, East African Rhodolite Garnet, East African (Kenyan or Tanzanian) Light Tsavorite Garnet, East African Dark Tsavorite Garnet, Madagascar Demantoid Garnet and Mali Grossular Garnet.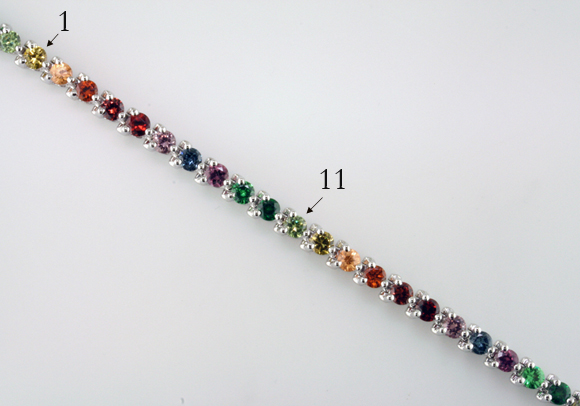 Our client told us she had shopped for this bracelet for several years, just couldn't find it until she found our website and saw that we take on the unique and difficult jobs. One jeweler had quoted $20,000 to do the job. Ours was less than 20% of that!
If you are looking and not finding, please give us a call or stop by the shop. We specialize in the services required to make unique and unusual jewelry and we'll treat you right. Our family owned and operated enterprise has been serving our community since 1961.
james l. sweaney cga fga. gg
Latest posts by james l. sweaney cga fga. gg (see all)