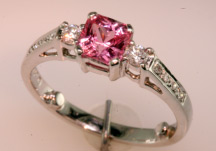 When I was a young gemologist, I fell in love….with Padparadscha.  Over my career I've had the privledge of seeing and working with many wonderful specimens of this amazing sapphire, and over the years my love has only grown.
The recent sale of a very fine natural non-heated Padparadscha inspired me to write an explanation of the origins of and definition of the color of Padparadscha sapphires.  Numerous pictures of fine Padparadscha sapphires illustrate this article.
You can read all about this Padparadscha and many other wonderful gemstones on the Mardon Jewelers Blog.
james l. sweaney cga fga. gg
Latest posts by james l. sweaney cga fga. gg (see all)