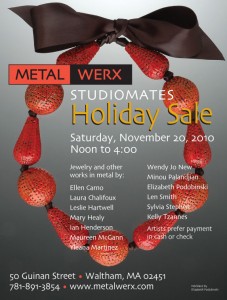 The Studiomates of Metalwerx invite one and all to their annual holiday sale November 20, noon to 4 p.m.  Come see the latest in jewelry fashion trends and techniques and shop for your loved ones—or yourself! This year's artists include Ellen Carno, Laura Chalifoux, Mary Healy, Maureen McGann, Yleana Martinez, Minou Palandjian, Liz Schock/Elizabeth Podobinski, Len Smith, Sylvia Stephen, Kelly Tzannes, and Metalwerx instructors Leslie Hartwell, Ian Henderson, and Wendy Jo New.
Studiomates are not just jewelry-makers who toil away in that large, intriguing room on the other half of the building. They act as Metalwerx ambassadors, promoting the school to the general public and assisting visiting instructors. Studiomates volunteer to help with the numerous chores that make the school run more smoothly. Currently, all benches are occupied. There is a waiting list for those who wish to be considered when a bench becomes available.
You don't have to be a Studiomate to volunteer. There are plenty of chores that could benefit from an extra pair of hands, such as periodic tool care, studio clean-up, taking inventory of equipment and supplies, etc. Volunteers can earn credit towards workshops and classes for the time expended. Ask Lindsay Minihan, our indefatigable director, about how you can earn "Werxbux."
Studiomates conduct a jewelry sale at the school twice a year, just in time for the Holiday Season and Mother's Day. As it is not a school-sponsored event, the cost of publicity and printing posters and postcards is entirely borne by them.
Get there early to see the best selection. As usual, we will have snacks available, and there is plenty of parking. For more information, or to learn about Metalwerx' winter classes and workshop, go to www.metalwerx.com
About our beautiful postcard: Designed by Leslie Hartwell; necklace by Liz Schock/Elizabeth Podobinski, is featured in Lark Books' "500 Enameled Objects."
(By Yleana Martinez)
Latest posts by Metalwerx (see all)