Artist Bio: Laura Wood
Through the thick early morning fog, shine the rays of morning sunlight, and the silhouette of the neighboring mountains. With lush greenery right outside her studio window and the crisp mountain air, Laura Wood's newest adventure has her settled in for a 3 year residency at Penland Mountain School, in the Blue Ridge Mountains of North Carolina. It is here, that you will find her sawing, forming, and powder coating her latest creations.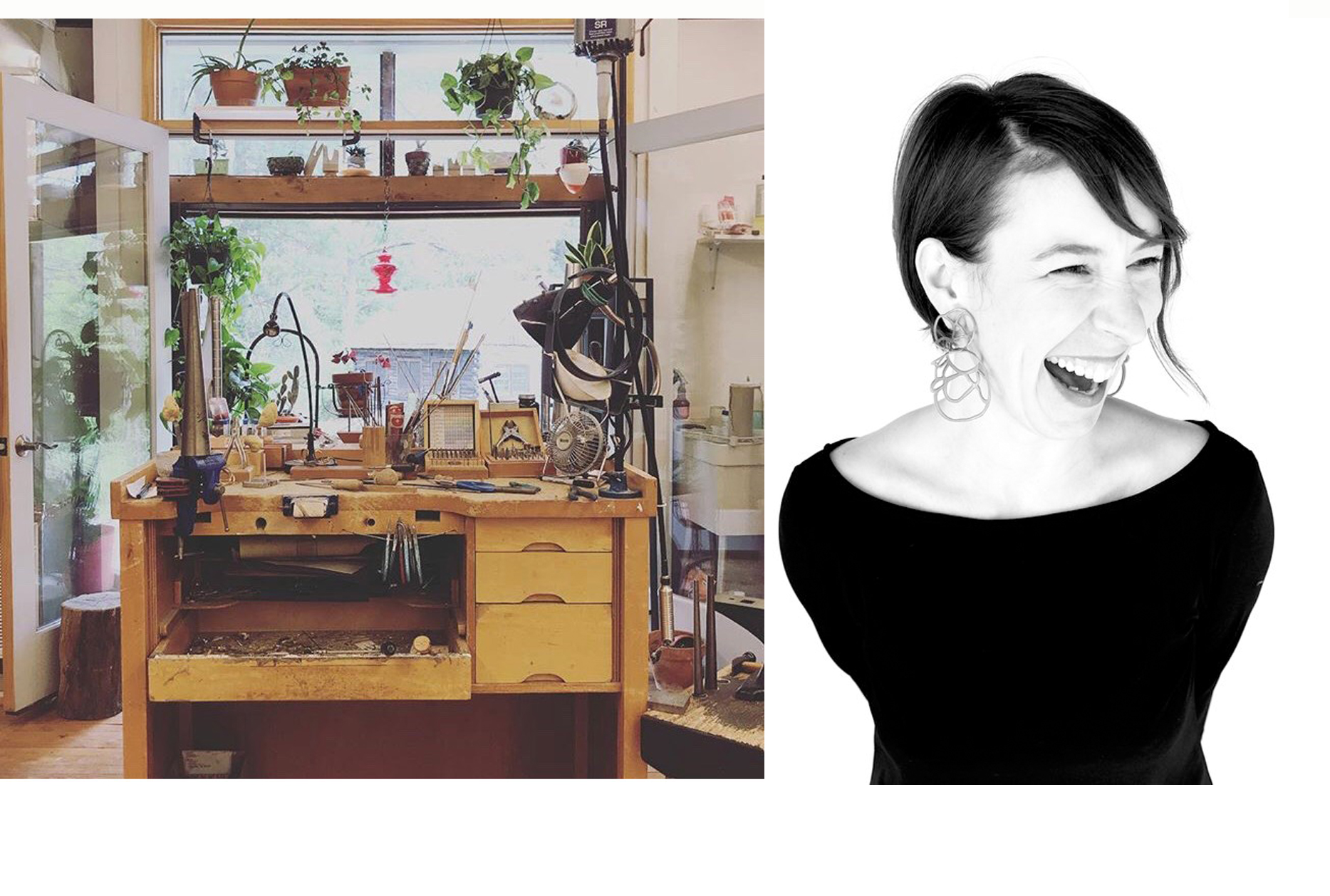 Laura is best known for her bold, vibrant, and voluminous powder coated jewelry. Her intentions were not always to create jewelry however. When Laura first began her college career at University of Georgia it was for performative dance. It is easy to see how this attention and familiarly to movement and the physical body has beautifully manifested itself into the jewelry she makes today.
My interest in body as site began with self-expression through dance and performative arts. The human form, as a result, offers continual inspiration in how I create jewelry. Though my work is sculpturally autonomous, it is intended to have a direct relationship to the body, as another dynamic canvas through which to facilitate tactile transformation while pushing the line into three dimensions. The collaboration between body and object is given deep consideration when choosing scale and material. My physicality, as an expression of my creativity, has shifted to the creation of these sculptural forms while seeking to maintain the lyrical elements that both creative outlets share.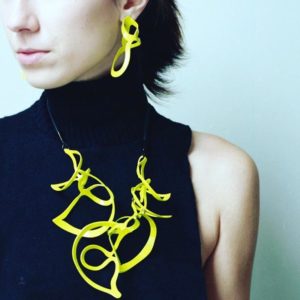 Working as a studio artist now for many years, Laura has developed a strict artistic process that involves maintaining a strong but simple color palette as well as refined attention to form and design, color application, and stone setting. In more recent months she has begun exploring the addition of new colors and it has inspired many new ideas.  Since beginning her residency at Penland Laura has had the freedom of time to explore her work further.
We can't help but love these newest pieces, taking on a larger scale and mixture of materials such as powder coating, beads, and leather cord.  It is with great anticipation that we announce Laura's upcoming workshop at Metalwerx.
To learn more from Laura check out her upcoming workshop at Metalwerx, "Designing for Powder Coating" on Sept. 21st -23rd. 
https://metalwerx.com/class-detail/designing-powder-coating
Latest posts by Metalwerx (see all)