We understand that these times are uncertain and we want you to know that Metalwerx is here for you in any capacity. We also want to ensure the safety and health of our staff, studiomates, and students.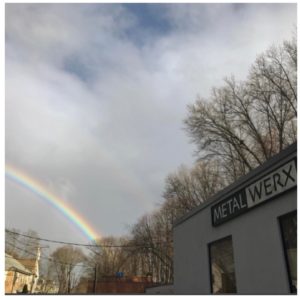 In the interest of the safety of our community, and after thoughtful and deliberate consideration, Metalwerx has decided to cancel our June workshops and June Summer with the Masters classes through June 30th. We have made with decision after reviewing local and national safety guidelines. We have a responsibility to our community to ensure your safety, and we take that very seriously. If you are enrolled in one of these classes, we will be following up with an email about the cancellation and your options for tuition.
We are really looking forward to coming together again. The safety of our community is our top priority and we want to be sure to take the time to make informed decisions and to consider the protocols put in place by the state and federal government.  Our staff has begun discussions on what re-opening may look like in terms of building capacity and sanitizing requirements. We want to be as prepared as possible so we can all get back into the building, well equipped, when we are allowed. As we come up with possibilities and contingencies for opening, we will keep you informing about our decisions and decision-making process.
Metalwerx's plans are listed below. As our plan and the situation changes, we will keep our community updated.
Upcoming workshops are being considered on a month to month basis. We have cancelled all our in-person workshops and classes through June 3oth, and are assessing classes beyond June on a month to month basis.
Withdrawal Options: We encourage you to stay hopeful with us and in your participation in upcoming courses but we also understand current circumstances may change your ability to join us in the near future. We have outlined options below to consider going forward.
Course Credit: Metalwerx operates primarily on the revenue collected for upcoming / future courses and events. If you would be willing to accept a full tuition course credit for your class, it would enable us to continue administrative operations and pay our staff while in the throes of this pandemic. You can keep / use this credit through the end of 2021.
Refund: It is difficult circumstances like this virus outbreak that can often put a huge financial strain on small arts organizations such as Metalwerx. We understand you may be in a similar situation and can issue a full refund to you upon request.
Donation: We have been fortunate to be asked by members of our community how they can help and support us as we wade through these difficult circumstances. If you are someone who wishes to donate your tuition back to Metalwerx, it would mean the world to us. Your generous contribution would not only allow us to continue paying the people that make Metalwerx work, but would provide us with a little financial security as our organization enters the next chapter of this health predicament. Thank you deeply for your consideration.
Our passion for learning and making is what ties us together. You are such an important part of our community, and we deeply miss the personal connections that we have with each and every one of you. Our staff and board are working hard to develop online events and programming to keep you, our community connected and motivated. Check out our most recent issue of "In Lighter News", our weekly newsletter series dedicated to supporting your creativity during this crisis. Join us in making jewelry from nature, check out studio tours with our teachers, and share your projects with us in the coming weeks! During this time, it is important to continue to share and grow.
We are thinking of you and doing everything we can to maintain operations and a sense of normalcy during this pandemic. We are aware that things may change as this situation evolves. We want to encourage you to reach out to us with any questions you may have and we will be in touch with you if anything changes. Our staff is working from home until our facility is allowed to reopen. Please feel free to call and leave a voicemail at 781-891-3854 or email info@metalwerx.com.We are wishing for all the health and safety of you and your family during this time.
The Metalwerx Team,
Lindsay, Liz, Nick, and Violet
Latest posts by Metalwerx (see all)