The holidays are upon us again. How did that happen so quickly? So much of this year has either been charging forward or at a stand-still. Today is both yesterday, tomorrow and seven months ago. Someone mentioned to me the other day that March is only four months from now. The year mark of where we started the pandemic journey is only a few months away. Before we reach that milestone: the holiday season.
This year, the holiday season will be different. A pandemic will force many of us to spend the holidays at home with members of our own household where we otherwise would be traveling and seeing family and friends. Of course, there is a downside to this, but there are many upsides too. There is no stress with dealing with travel or traffic, or whether or not you will get to your destination at a decent time, lines at the grocery store or having to put on real pants. You can see and enjoy family members from afar via computer screen and in the comfort of your own home, pants optional.
While gift giving isn't the main focus of the holidays, we should give it more consideration this year. Small businesses are closing because of the pandemic, and unless we want to see big box stores be the only prevailing businesses when the pandemic is over, we have to take the time to support artisans and the small shops that make American commerce delightful.
When I think of the holiday season, and specifically holiday shopping, I think about perusing stores trying to find gifts for family, friends and coworkers. Items that they would want, need or enjoy and otherwise would not buy for themselves.
Instead of perusing stores this year, perusing online craft shows and art markets is a great way to not only buy something unique and handmade, it also supports small businesses that have been adversely affected by the pandemic. Many artisans who rely on craft fairs and markets to sell their work have had most, if not all their in-person events and chances for sales cancelled. Some have reshaped their business to allow for online commerce, but many have struggled to embrace the abrupt changes. Many of those small business rely on holiday shopping as a main source of income for the year and are unsure as to what this holiday season will mean for their business and their future.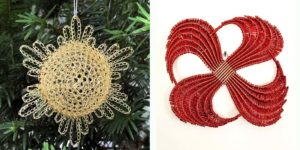 Featured above: Gold Solstice Star and Red Wove Medallion by Metalwerx Studiomate Sharon Stafford. You can see more of Sharon's work here.
Online markets and fairs are not only a safer way to shop, they also allow you to explore and learn about makers and artisans, much in the same way you would by going to your local holiday sale. Online shows may actually expand events and participating artists, since there are no spatial limitations and can often include more vendors.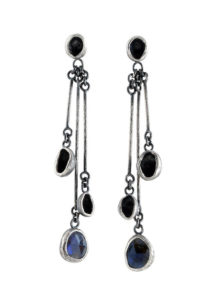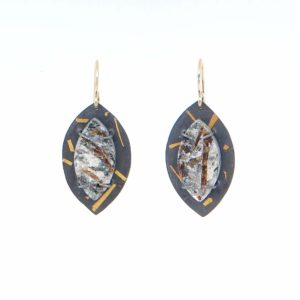 Featured above: Oceanic Dangles with Labradorite by Monique Rancourt. Astrophyllite Keum Boo Earrings by Wendy Jo New. You can find more of Monique's work by clicking here. See more of Wendy's work by clicking here.
What we should think about is the future and keep high hopes that in a short amount of time, we will find a vaccine and the world will reset and begin building its path back to normalcy. In the meantime, I want my local baker, coffee shop, toy store, salon, pet groomer, artisan, and of course, our local metals and jewelry school, to make it through. Our communities are not based around big box stores. They are built, strengthened, and enriched by small, local businesses who make them unique.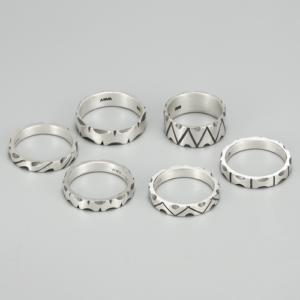 Featured above: Carved Band Rings by William Vanaria. You can see more of Will's work by clicking here.
Many craft fairs and markets are going online this year. We've included a list below of just a few places to shop small both in person and online. Try finding a local fair near your or researching places that may have shifted to an online event. If you are shopping at in-person local stores and/or craft markets, please be safe and kind to others.
We would be remiss if we didn't mention that Metalwerx is also a small organization that is working hard to keep our doors open during this difficult time. We rely on support from our students, friends and instructors to keep our community connected and creative. Please consider making a donation, no matter how big or small, or purchasing a gift certificate for a virtual workshop for you or a friend!
https://metalwerx.com/gift-certificates
https://societyofcrafts.org/craftboston2020/
https://www.lexart.org/holiday-marketplace
https://www.craftcouncil.org/show/season/craft-bash-2020
https://www.jamesonandthompson.com/market
https://gnecraftartisanshows.com/dec-holiday-shopping
https://gnecraftartisanshows.com/nov-hampton%2C-nh-1
Latest posts by Metalwerx (see all)