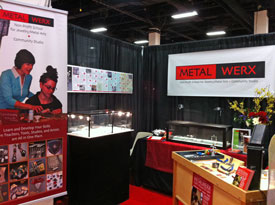 The last weekend of March, we packed up Metalwerx' display cases along with many fine examples of jewelry created by our students, faculty, and resident artists (a.k.a. Studiomates). With office manager Kelly's car filled to the brim – off we went to set up our booth for Craft Boston, New England's finest exhibition and sale of contemporary art, craft and design.
Craft Boston Spring just celebrated its 10th anniversary. I learned that quite a few artists have been there from the very beginning, and you will often find Metalwerx Instructors displaying their work. Several of the show's earliest artists donated an original item to be raffled off in commemoration of the longevity and success of the show. Metalsmith Paulette Werger, who also donated to the raffle, was recognized as one of the original participants with a 10th anniversary sign displayed at her booth.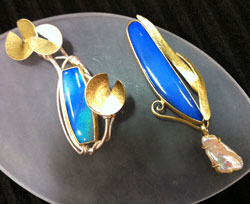 As each year passes, I look forward to seeing how each artist develops and how their work matures. This year, I fell in love with a brooch of Paulette's (above), made from opal, 18 karat gold, and sterling silver. We discussed how these days, jewelers have to "take the plunge" and invest in gold to create such beautiful work – as you can see in this photo, it was well worth her investment in raw materials. The luminescence of this opal reminds me of light reflecting off rippling water as the golden lily pads float above. You can easily appreciate her love of nature. Holding this brooch took me back to my favorite lake, where in mid-summer, the lily pads have been creeping up near the surface and dance just below the waterline. Admiring this piece made me even more excited to assist with her upcoming class, Fabricating with Gold and Silver, April 30 – May 1. I don't own too many brooches, but I can also say I'm motivated to learn more in her master class this August, BROOCHing the Subject: Pin design and Fabrication.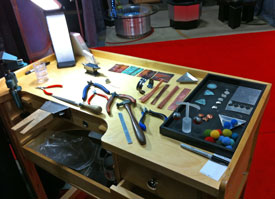 I couldn't step away for long since our booth was jam packed with art and craft enthusiasts all day. One big change to our set-up was the addition of a jewelry bench, pictured above, so we could do simple (and safe!) demonstrations throughout the weekend. Many thanks are owed to all of our volunteers helping at the booth…and especially to Metalwerx Instructor, Leslie Hartwell, for loaning us her bench and re-designing all of our signage. WOW!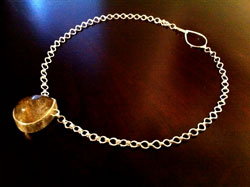 This sterling silver and rutilated quartz necklace was actually completed at the show! Each link in the chain represents a demonstration to an eager attendee. We also revealed how to make felted earrings. I combined felting with silver using a tool called a blanking die, which can quickly cut out a sheet metal pattern over and over again. Finally, an open house teaser demo was comprised of several templates outlining the steps for a fold-formed cuff bracelet. This demo will be done live at our May 7th annual Open House and Studiomate Sale, which is sure to be a fun day for all. In addition to a Studiomate jewelry sale, instructors will also present demos on microfolding, chain maille, soldering, and metal clay techniques.
I found a few minutes to sneak away to visit celebrated artist Tom Herman. I met him at last year's show and had to catch my breath viewing the work in his booth. He let me hold the brooch that will be the featured on the cover of our summer course catalog. He'll be teaching Carving Techniques for Gold and other metals in June. As if the first piece I admired wasn't enough, he also revealed the secrets that this vessel holds (below). Not only is the vessel adorned with intricately carved oak leaves, but it also transforms into a stunning pair of acorn earrings and matching bracelet. Even the Fabergé family or René Lalique would stop to admire this work.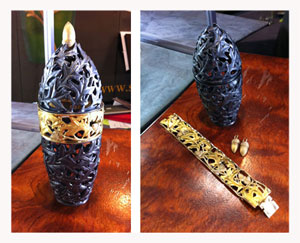 My last two stops at the booths of Metalwerx instructors included Linda Priest, who is looking forward to another Chasing and Repoussé workshop in 2012. Her booth comes to life with little creatures that steal your heart. I'm not one to love mice, but I couldn't resist this little critter perched atop a hand cut stone.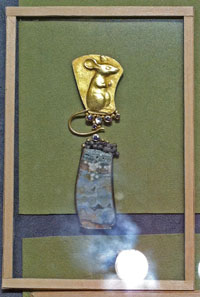 Last, but far from least, I got to check out Donna Veverka's newly redesigned booth. The centerpiece was a new display, which could have been called a "tower of power" (not after the band) showcasing hand carved and cast rings. These pieces are inspired by her love of architecture from civilizations whose influence and economic power allowed them to build amazing structures that still stand today. Donna's fascination with classical arches, battlements, and elegant public spaces inform her designs, which are scaled down to wearable art that adorns the body. It is likely that Donna will repeat her popular "Carving a Wax Model for a Cast Ring" workshop in 2012.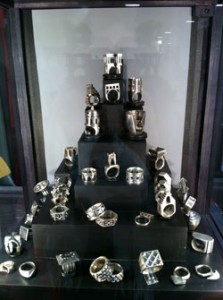 As the weekend came to a close, Metalwerx had exceeded its expectations for building interest in our school, community, and upcoming events. We look forward to participating in Craft Boston Spring for at least another decade!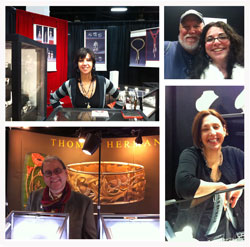 Latest posts by Metalwerx (see all)