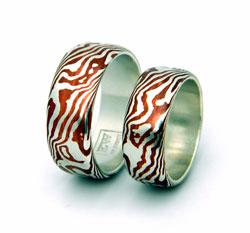 The seventeenth century art of mokume gane is alive and well in the new millennium. Time and patience are key ingredients in the skill set needed to practice this, as the Japanese method of creating multi-layered metal is not easily mastered.  The distinctive patterned metal is highly prized for creating unique, personal jewelry such as wedding bands.
Translated literally, mokume gane means "wood grain metal." Characterized by undulating ribbons of colors, it resembles the pattern found on a slab of knotted, burled wood. The contrast between the colors of metal used also brings to mind a topographical map.
Eric Burris began to make his own mokume gane while in graduate school at Arizona State University, after meeting a fellow student experienced in the method. When Eric learned the process involved forging, he was all in, as he'd become skilled at blacksmithing as an undergraduate student at Kansas State University.
"Using blacksmithing skills for making jewelry-oriented material was something that really interested me," he said. "I was curious and mystified by it. And I've never looked back." Mokume gane is the predominant material in his jewelry and sculpture. As much as he likes making it, he really enjoys teaching it.
Eric has participated in the Boston-based Society of Arts and Crafts CraftBoston  shows. It was at one of these shows that he learned about Metalwerx, which had a booth a few rows away. A conversation started at the show that has resulted in Metalwerx's first mokume gane workshop in many years. Eric will teach Small Scale Mokume Gane at Metalwerx in a three-day workshop Oct. 12-14.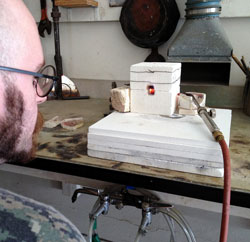 The technique involves bonding layers of metal into a single piece, called a billet. It is thinned down by annealing and hammering, and then put through a rolling mill. The number of layers of metal can range from two to as many as fifteen. After the billet is compressed to a width of about a quarter inch, texturing begins by drilling, carving, or chiseling into the metal. When run through the rolling mill, the exposed layers of metal are revealed in the classic wood grain pattern.
The mixed metal laminate first appeared in 1600's Japan, invented by the master metalsmith Denbei Shoami to use in traditional katana, the very sharp, sturdy Samurai swords. A warrior's rank in feudal Japan could be discerned by the metalwork in their sword fittings, as the more elaborate designs were reserved for upper-echelon Samurai. In the late 1800s the Emperor Meiji ended the Samurai's glory days when he forbade most of them to carry katana publicly, or to behead commoners who showed them insufficient respect . Swordsmiths struggling to make a living began to use mokume gane in everyday objects such as cutlery and decorative items.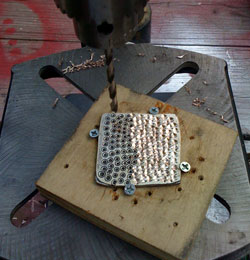 Eric sometimes thins his billet to 1/16 of an inch before he begins to carve a pattern. Drills, burs, and sometimes chasing tools are used to pattern the metal, which is then filed through to reveal the layers. "You can get a predictable pattern in that the shape of the tool gives you the shape of the pattern," he said. "A drill bit gives you a round pattern. Two metals, two colors, a bulls eye effect. The more layers you expose, the more interesting the pattern detail you will have."
Workshop participants will practice using a low tech method that can easily be recreated in a home studio, with soldering torches and an improved furnace using refractory kiln bricks. Techniques covered in the workshop include fusion and diffusion bonding, patterning, and using various metalsmithing and jewelry techniques such as sawing and forging that are part of the mokume gane process.
Students will make a seamless forged band ring using the finished 16-layer billet with copper and sterling silver. Leftover material can be rolled into thinner patterned sheet metal to be used in future work.
"We'll be doing a lot in the three days. It's a go-go, hands-on workshop," Eric said. The key is to get a thorough understanding of the process and the texturing methods used to create a pattern. The shape of the tool used can result in a predictable pattern, but drilling or carving "willy-nilly" can be just as gratifying, he said, as there is a certain amount of improvisation needed. "To make mokume gane, you have to accept a little bit of randomness," he said.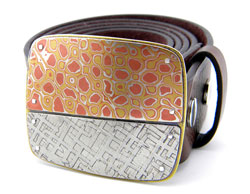 Eric often works with combinations using shibuichi and shakudo, Japanese copper and silver alloys that with certain patinas give you a range of colors from dark browns to bright copper-ish reds. Using pure copper in emotionally significant jewelry, such as wedding or commitment bands, is a "hot-button issue," he said, because of the potential for galvanic corrosion. Copper is a base metal that, when mixed with precious metal, can react in the presence of an electrolyte such as human sweat or swimming pool water. Over time, this reaction can cause the copper to etch away. Some folks love the look, Eric said, but he believes clients should be educated about this possibility when it comes to custom jewelry.  He puts a liner inn his rings, but even fumes from electrolytic material can do their work on the copper.
For more information about the workshop, click here, or contact Metalwerx at 781-891-3854.
                                                                                                                                                             –by Yleana Martinez
Latest posts by Metalwerx (see all)