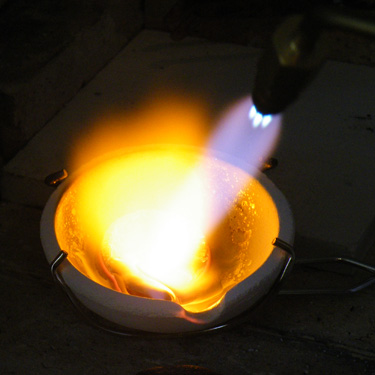 The recorded history of metalsmithing indicates that humans have been working with metal for over 7000 years. I suspect that our involvement with this material goes back much further in time than that.
My 40 years of practicing this ancient craft is just a blink of the eye in the long succession of the tradition, but I like this sense of connectedness to the past. I am directly connected in an unbroken line of teacher, master, student, and practitioner, through which the skills and knowledge of the arts of goldsmithing and jewelry making have passed down and remain intact and active, alive and vibrant. Just ask anyone who makes jewelry, at any level, there is always excitement and engagement there, just waiting to take shape and to be worn and enjoyed.
Jewelry equals pleasure, its as simple as that. Beautiful things bring enjoyment to everyone, the maker, the wearer, and the viewer. My observation of adornment in the current age reveals that the most beautiful and finely made jewelry today continues to be hand made jewelry. Objects that are still created with very simple tools and a few basic enduring techniques, by the highly skilled hands of humans.
The most outstanding and inspiring work of our age is not fashioned by machines or technology or designed by computers or software programs. It is still just the simple tool in the trained hand which produces the most beautiful and significant and enduring jewelry. I for one am thankful that this tradition has not disappeared entirely under the onslaught of mechanized production of commercial jewelry , much of which no longer reveals any evidence of the hand or soul of the maker.
My own personal path at this point in my career has become another rung on the ladder of succession, passing down to the next generation what I have learned and practiced at the bench. I intend to do my part to ensure that the passionate enthusiasts of today remain connected to the applied techniques of yesterday, and that the ageless beauty and tradition of handmade jewelry continues and flourishes.
Passing it on, paying it forward, giving it back …. my ongoing contribution is assisting and enabling others to perpetuate the craft and enjoy the fulfillment of making beautiful things which bring delight and happiness to themselves and to others.
For 40 years I have been creating jewelry and adornments with precious materials. I currently devote my time and energy to teaching applied techniques in the arts of goldsmithing, jewelry making, and professional development for studio artists.
Latest posts by michaelsturlinstudio (see all)