Consultation
My consultation services are available through email, Skype and telephone correspondence, as well as on location and in my studio.
I offer insight, advice, and guidance personalized to meet the needs and objectives of each client.
We can work together on any number of aspects; applied technique, skill acquisition and refinement, line development and production efficiency, studio organization, professional management and business strategies.
If you'd like to discuss the advantages of personal consultation please email me. CLICK HERE to email Michael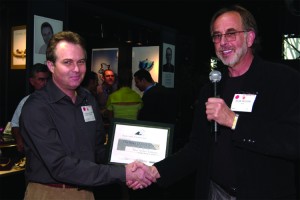 Michael receiving AJDC Award from Alan Revere – July 2004
For 40 years I have been creating jewelry and adornments with precious materials. I currently devote my time and energy to teaching applied techniques in the arts of goldsmithing, jewelry making, and professional development for studio artists.
Latest posts by michaelsturlinstudio (see all)