MDS Videos
My series of instructional Workshop Videos are now available from Interweave Press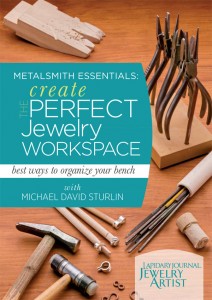 The first feature length video is about bench top tool storage, and working at the bench pin:
You'll love this if: You're looking for great organization techniques and strategies to implement in your workshop. You want precise basic metalsmithing tips for success. Learn how to customize your tools for personal use and explore tips for efficiently using what you already have.
Get your copy of this informative workshop DVD today to: Learn how to use your bench pin and customize it for personal use. Discover basic ways to use your jewelry tools efficiently that will help make you a successful metalsmith.
Add dynamic texturing with tips for success.
Explore specialty tools including various vises and ring clamps
Easily bend wire and sheet metal with pliers in an effective and safe way.
And much more!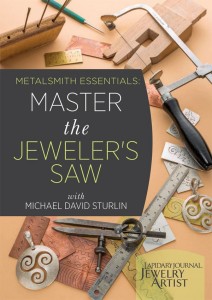 The second feature length video is about using the Jeweler's Saw:
Order your copy of this workshop DVD today to:
Learn how to get comfortable with a saw so you can successfully practice for accuracy later.
Discover how to hold your tool with tender finesse for precision and comfort.
Get detailed information about posture, hand position, tension tightness when holding the work, and proper grip strengths for successful sawing.
Learn how to listen to the sound of the saw to determine possible problems.
Avoid stressing when you break a saw blade (it happens!) and learn solutions for other common mishaps.
And much more!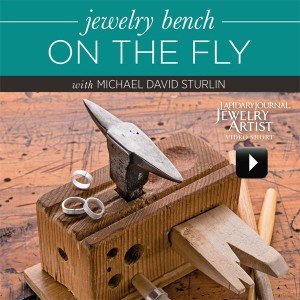 There is also a series of short vignettes. The first is on making a table top bench block work station:.
Download this video short today and you will discover:
A new approach to effectively taking a jewelry bench with you wherever you go.

How to 

combine all the convenient aspects of your jeweler's bench

 in one block of wood that can be used at a kitchen table, counter, or any flat surface.

A cost affordable solution to a jeweler's bench.
And much more!
 Additional vignettes on Annealing, Soldering, and Transferring Patterns to Metal are available.
For 40 years I have been creating jewelry and adornments with precious materials. I currently devote my time and energy to teaching applied techniques in the arts of goldsmithing, jewelry making, and professional development for studio artists.
Latest posts by michaelsturlinstudio (see all)