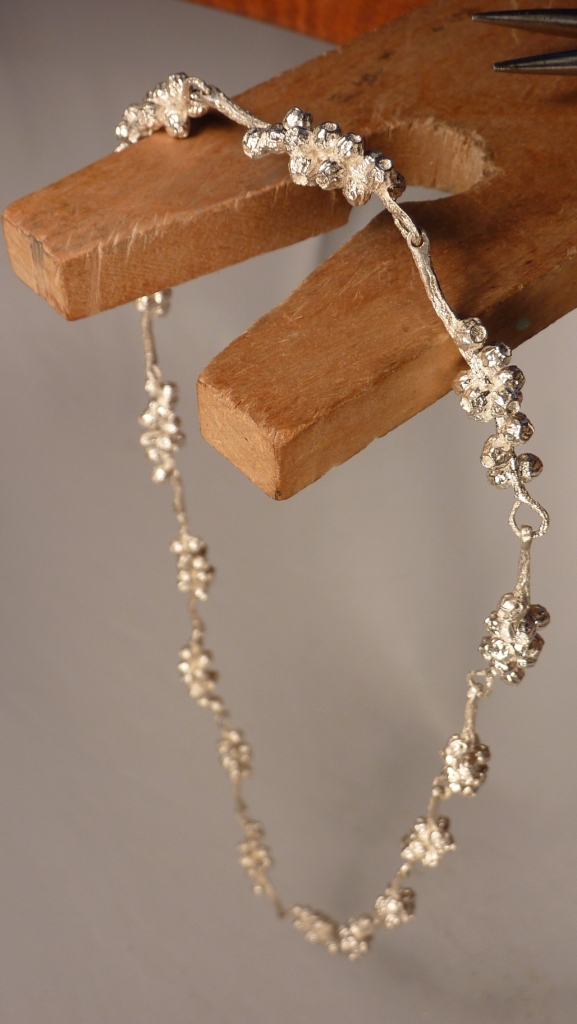 So my fun has turned into a project thanks to Deborah Brearley.  She is organising a Moonah Exhibition on September 18 at the 135 Gallery.  That's this year!  I was hoping to contribute a silver bowl or ladle sunk in a Moonah stump, however my workhorse  (see Stumped post) could take up to six months to be finished. It was transferred to the Neighbourhood House last week so I'll be curious to see what the Men's Shed make of it. 
With an exhibition looming, I'm now concentrating my efforts on the seed jewellery (see Seed of an Idea post).
The necklace above is really an exhibition piece, if accepted that is.  I might be getting a tad ahead of myself here! 
Inspired by the work I did on  mum's letters, I'm going to add chain to separate the Moonah links. That would be a more wearable option.  Having said that, I so love that this necklace is all nature!  The complete opposite of the constructions I made when I studied in London (see Gallery). 
The Moonah exhibition, I'm hoping, will raise awareness of the plight of coastal Moonah.  For more information visit Moonahs Not Mulch.