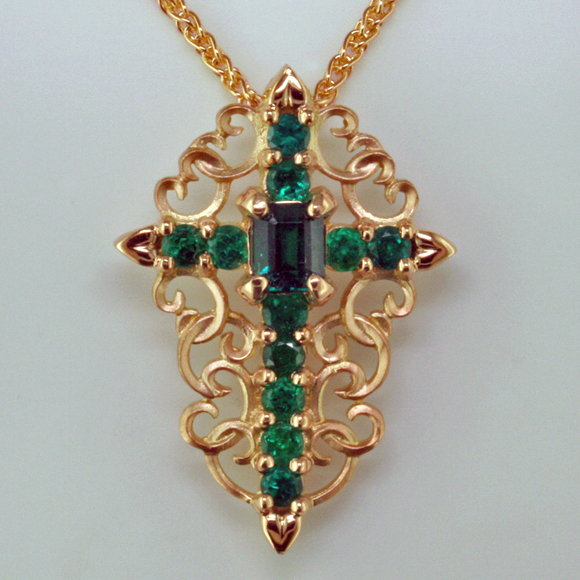 Garden fresh, this one-of-a-kind pendant is set with gorgeous Colombian emeralds. Based on my vintage design, the pendant was brought to fruition by our master CAD designer Jenny Sweaney and skillfully set and finished by Scott Reeves. We think its warm peach gold is a perfect accent for the soft green of the emeralds.
The piece is an outgrowth of our Sunrise Cross design, first handcarved from scratch by myself about 20 years ago. The inspiration for the design came from this cross that sits atop the Mission Inn of Riverside, CA, facing east next to the Orange Dome.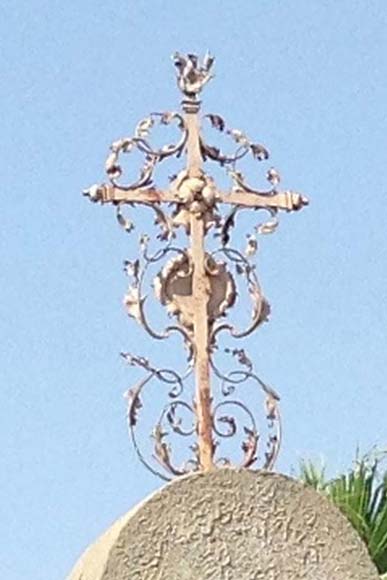 This time around, we've added a group of wonderful emeralds from the famous Muzo mine of Colombia. The 3/4 carat emerald cut center stone is an exceptionally dark green. The bright rich green color of the matched suite of 3 mm round emeralds is unusually intense considering the small size of the stones.
Original jewelry designs sometimes take years of  trimming, pruning, and cultivating to grow into perfection. We think this is a magnificent blossom–now on display in our garden of one-of-a-kind delights
We've nicknamed our cross"La Lechuga" after a famous emerald studded altar piece by the same name.  Made in the 17th century, the piece now resides in the Museum of Religious Art, Bogata, Columbia. The original Lechuga has 1486 emeralds along with other gems. Of course, ours has only 12 rounds accenting the emerald cut center, but you can enjoy it everyday and don't have to pay the armed guards!
james l. sweaney cga fga. gg
Latest posts by james l. sweaney cga fga. gg (see all)