To hear Andrea Zatarain talk about it, taking custom work orders for clients can be the most rewarding line of work for a jeweler. "If you arrange it the right way, by the time you start to make the piece it is already paid for."
Andrea comes to Metalwerx July 31 to lead a workshop entitled, "How to Handle Custom Work for your Clients." This workshop is a step by step guide for taking custom orders so your client is happy and the work can be profitable. The workshop will also interest those who don't do custom work but want to learn how to better calculate fair market pricing for their jewelry.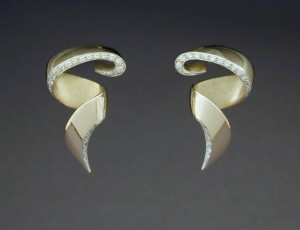 Custom designed "Ribbon" earrings, diamonds and 18k, by Andrea Zatarain.
The morning will be spent exploring case studies with real life examples. This is a great time to ask questions and learn techniques on how to deal with various types of clients. General guidelines for pricing custom work will be covered. During the second part of the day, the instructor will teach basic drawing techniques to help enhance communication skills with customers. A good drawing will help the client visualize what they are buying and will help protect you against loss due to miscommunication.
Creating custom work can sometimes lead to heartache, because a client agrees to purchase something sight unseen. Having a clearly worded contract and a well-drawn rendering of the proposed piece can help prevent disagreements which may come back to haunt you.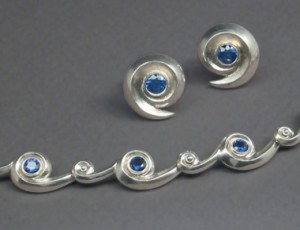 Custom designed 20th anniversary set by Andrea Zatarain. Sapphires, palladium 14kw; a sapphire for each year of marriage.
Everybody at some point in their career will experience the unhappy customer.  The topic pops up regularly on jeweler's online forums. Sometimes, customers will reappear many months, or even years, after the piece has been sold, claiming that they are not satisfied with the product.  If your policies on custom work and returns are not etched in stone and clearly conveyed, resolving the situation can cost you time, precious energy, and quite possibly, your professional reputation.
Andrea can recall several horror stories from the time she was just starting out after graduating from Rhode Island School of Design. Working behind the counter, she remembered a case in which all the client used to convey her desired piece was a picture taken with a mobile phone camera. She brought along a string of pearls, and commissioned an opulent gold clasp with diamonds and granulation.This was in the days when gold sold for $400 an ounce.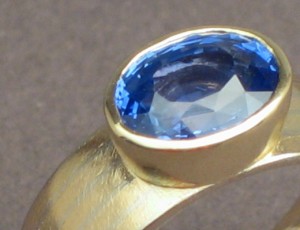 50th Birthday ring designed by Andrea Zatarain, 18kw with five layers of 18ky, one for each decade.
The in-store jeweler saw the photo, said he could duplicate the clasp, and went to work. But he fabricated the clasp, which cost around $5000, at twice the size what the customer wanted.  She reclaimed her pearls with the clasp, but did not immediately pay for the piece because she wanted to think it over. The jeweler assumed the client would pay since she always arrived in a private car with chauffeur. Andrea never learned if the jewelry store recouped its loss of time and materials since she stopped working there soon afterward.
"I watched it happen," she said. "It was bad communication between the jeweler and the client. He didn't give her an estimate, didn't do a drawing, and based it all off the blurry picture! I learned a big lesson. Never assume anything."
An experience after starting her own business led to creating a clearly worded contract and a detailed outline of the process which includes approving drawings, wax models, and coming in for fittings if necessary.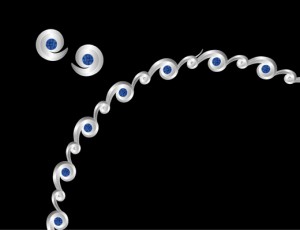 Rendering for necklace and earring set, final design, by Andrea Zatarain, with stylized wave pattern. The couple met by the ocean.
"Working with friends can get you in trouble. I was once asked to make an eternity ring with princess diamonds all around it for a friend of a friend. I made it, it got paid for, he gave it to his wife, and she said, 'I don't like it. It's not what I wanted.' Since his wife was a litigator, I decided to just give him back his money," Andrea said. She ultimately sold the ring for cost on eBay, but she soon realized she needed a way to protect herself legally.
She combed invoices from other jewelry stores, and examined contracts brought home by her husband, an industrial designer. "I set it up with a sequence of steps to explain to every client what they can expect from me, including at what point they can review the design and make changes," she said. "The signed understanding includes that when the piece is done it is theirs and there are no refunds or exchanges." Since she started using the easy to read document, she has not had any problems.
She meets with clients once or twice to talk about what they are looking for and to finalize design options.  She has the client agree to the estimate and will not order any materials until she has a deposit. Andrea also provides an estimate with a minimum and maximum cost, so the client is assured they are not going to pay over a certain amount. By the time the customer approves the final design, she has a deposit that covers the materials.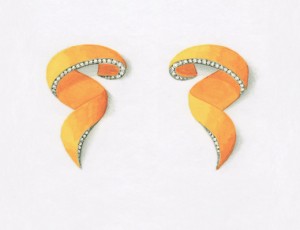 Gouache rendering for "Ribbon" earrings, by Andrea Zatarain.
The best tool for conveying ideas between the client and the artist is a good drawing to help the client visualize what they are buying. Andrea's workshop includes an "introductory crash course" on jewelry rendering. Students may balk at the idea of having to draw and color a proposed piece, but Andrea says, "It's almost coloring by numbers once you understand the system for rendering jewelry. It's very easy to do."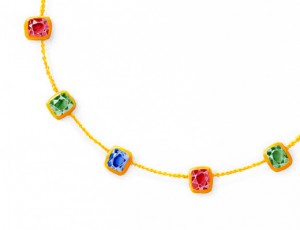 Watercolor and gouache rendering for necklace with rubies, emeralds, and sapphires, by Andrea Zatarain.
The $20 materials fee for the workshop includes two gemstone templates for a variety of stone shapes and a selection of paper. The templates are also useful for layouts on wax or metal. Students will watch a demonstration using Prismacolor colored pencils and get a materials list to purchase them afterward if they choose to .  There are still seats available for the one-day workshop. You may register online or call 781-891-3854.
—by Yleana Martinez
Latest posts by Metalwerx (see all)