Read below about 2011 Scholarship Winner Katherine Rudolph.
Metalwerx is pleased to announce its second Scholarship Award! This $500 scholarship is made possible by community member donations. It is intended to honor a committed and worthy student with financial assistance toward any 2012 fall workshop or weekly course at Metalwerx. Submissions must be received by August 20, and the winner will be announced September 4. Jurors for the 2012 award are Paulette Werger, owner of Metalpeople East in Lebanon, New Hampshire, and a trustee for the Society of Arts and Crafts in Boston, and Kirsten Ball, jeweler and co-owner of Alchemy 925 in Belmont, Mass.
The award is open to any jeweler or metalsmith who meets the pre-requisites for a desired course.  The recipient will be chosen based on images of their metalwork that demonstrate excellence in craftsmanship and design, as well as the responses on their written application.  Applicants are asked to describe why they want to take a specific class or workshop; how they intend to use the experience to further their artistic goals; and why they would make a good candidate for a scholarship.
Criteria for submission: Applicants must be 16 years or older; should apply only for a course appropriate for their skill level; and must complete an online submission (requirements detailed under Application Checklist. The scholarship has no cash value, and can only be applied toward the workshop or class that the applicant chooses on their submission.
Katherine Rudolph, 2011 recipient of the Metalwerx Scholarshhip.
In 2011, our first scholarship was awarded to Katherine Rudolph, a 2009 BFA graduate from the Jewelry and Metalsmithing department at Rhode Island School of Design (RISD). We asked her to share her experience as a young artist on the brink of a promising arts career.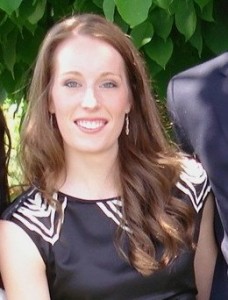 My experiences at RISD forever shaped my work and exposed me to a wide range of jewelry making techniques, as well as professors and lecturers from across the globe.  After graduating, one of the skills I wanted to investigate further was stone setting. Up to that point, I hesitantly used stones in my work or designed around them to avoid setting altogether.  After a bit of research on jewelry schools in the Massachusetts area, I discovered Metalwerx and signed up for a weeklong intensive stone setting class.  The class increased my confidence and allowed me to revisit some designs I hadn't been able to tackle in the past.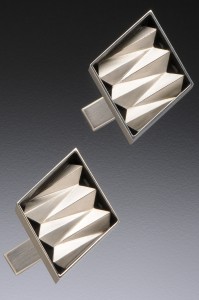 Origami cuff links by Katherine Rudolph. Sterling, resin, oxidized. Fabricated, scored, folded. Photo by Dean Powell.
 My initial plan after graduating was to pursue a career as a jeweler and designer in New York City.  Truthfully, the city felt daunting. After spending more time there, I determined that my heart was still back home in New England. It became my goal to support myself entirely through my art, and I decided to begin developing my own business.  In hindsight, it was a risky move considering the state of the economy, the price of metals, the cost of assembling a studio space, and the challenge of finding places to sell my work. I feel incredibly fortunate that my passion and my job are one in the same and I've found the discipline to get to the studio every day.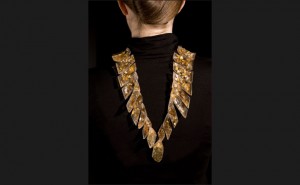 Mining Gold necklace by Katherine Rudolph. Resin, stone, gold foil, monofilament. Photo by Steffen Allen
Today, nearly three years later, I am still pleased with the choice I made. Although I have struggled with all aspects of a small business, the opportunity to have complete control over my pieces, from design to fabrication, is entirely worth it.  I currently have a private studio in southern New Hampshire, where I make work for a variety of shows in the North East. I am always on the lookout for exciting locations to show my work and for new classes to continue building my skill set.
Guitar Pick earrings by Katherine Rudolph. Celluloid, Sterling, resin. Hand pierced, fabricated. Photo by Dean Powell.
In my work I strive for crisp, geometric forms, many of which explore the possibilities of repetition.  My work is highly inspired by architectural forms.  Photographs taken while traveling often serve as origins of a design.  I work primarily in sterling silver, adding color through the use of gold accents, stones, patinas, and alternative materials such as fabric, plastics, and paper. I especially enjoy designing jewelry which incorporates movement so that the pieces respond to the motion of the body.  When working through a new idea I like to begin with paper models, often building necklaces directly on a dress form.  I've found that paper models translate particularly well into thin gauge sheet metal. One of my favorite techniques is scoring and folding to create voluminous forms which are deceivingly lightweight to wear.
I continue to receive the Metalwerx newsletters and am always impressed by the range of classes that are offered.  When I saw the announcement for the first annual scholarship in the Fall of 2011, I was anxious to apply for the opportunity to take any class of my choosing from the Winter catalogue.  The Decorative Florentine Hand Engraving class immediately caught my attention. It was a great honor to receive the scholarship.
View From the Grand Canal pendant by Katherine Rudolph. Sterling, 14k and 18k gold, diamonds. Cast and fabricated. Photo by Dean Powell.
Throughout the eight weeks of class, I discovered just how challenging hand engraving is and the level of finesse it requires.  It is not one of those skills that can be immediately mastered.  In a world seeking instant gratification, this can be frustrating, and I began to understand why so much engraving is now done by machine.  Like my instructor, Vince Hawley, I believe in the preservation of hand engraving, a technique dating back to the Renaissance.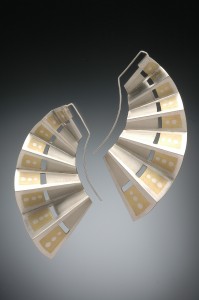 Earrings by Katherine Rudolph. Sterling, nickel, brass. Marriage of metals, scored, folded. Photo by Dean Powell.

After weeks of practicing mere straight lines we progressed to curves and their use in some traditional engraved patterns. During the last two classes I was able to work on a pair of earrings which incorporated engraving and my love of the scoring and folding technique. After making a few models I became interested in the reflections created when highly polished engraved surfaces face each other, and I intend to continue exploring ways that I can incorporate that into my work. My repeat clients always ask, "What new designs do you have?" I believe they will be pleased to see recent pieces featuring my new skill.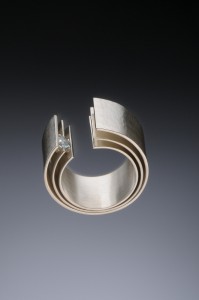 Engulfing Aquamarine Ring by Katherine Rudolph. Sterling, aquamarine. Fabricated, planished, riveted.  Photo by Dean Powell.
Since the completion of the class, Vince and I have been discussing some collaboration projects which we will begin in the next few weeks. Our main focus will be the marriage of classical engraving techniques in contemporary forms and the importance of the linear elements of classicism and modernism. Be sure to keep an eye out for our new pieces soon at 4 Corner's Jeweler in Storrs CT!
Overall, the engraving class was a great experience, from an enthusiastic and skilled instructor to the small class size ensuring each student received adequate attention. I would absolutely encourage people to apply for future Metalwerx scholarships, whether they are experienced jewelers looking to expand their repertoire or those with an interest in jewelry just setting out.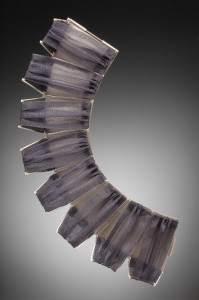 Hinged Bracelet by Katherine Rudolph. Sterling, fabric. Photo by Dean Powell.
 Katherine's work can be found at: www.Katherinerudolph.com;   etsy.com/people/Katherinerudolph; and at Facebook.com/katherinerudolphjewelry
2012 Show schedule:
The Newport Flower Show June 22-24 at Rosecliff in Newport, RI; The RISD Fall Alumni Art sale – October 6, 2012;  The Holiday Alumni Art Sale- December 8, 2012; The Celebration of American Craft, New Haven CT- from late October through the New Year.
Latest posts by Metalwerx (see all)