As a volunteer marketing coordinator for Metalwerx, I've become more aware of how much our school has to offer. It is inspiring to see the amount of preparation, logistical organization, and financial calculation that goes into putting together twelve master workshops and more than a dozen one-day classes, into a space of ten weeks. This year, I've been fortunate to participate in more than just my usual single summer workshop. It's been my "Summer of the Hammer", as I've learned more things that are possible with this basic, classic tool than I ever imagined.
In keeping with the lazy, hazy dog days of August, we decided to give our community some easy reading with lots of eye candy. So pour yourself a big glass of iced tea, put your feet up, and see what's been going on at Metalwerx.
Raising and Chasing Vessel Forms
When six large, heavy boxes arrived at our door, it was a sign that David Huang's workshop meant serious business. Our benches were totally obscured by the array of stakes and chasing tools used for making the vessels that are David's signature technique. It would have been hard for me to keep my eyes away from his beautiful gold-lined bowls, had I been in his class. Instead I peeked in every so often to check on the action, and was impressed by his students who made significant progress with their multi-noded bowls.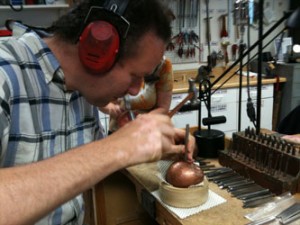 David Huang at work.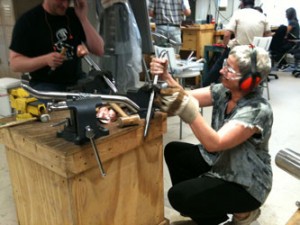 Studiomate Sharon Stafford sets up the stakes.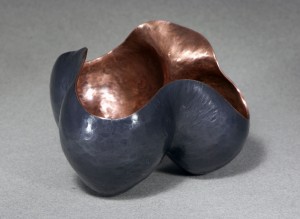 Sharon's beautiful copper multi-noded vessel, angle raised, formed, patina.
Basic Lapidary and Designing with Stone
It takes some major rearrangement of our classroom studio to prepare for Michael Boyd's lapidary workshops. With only hours between David's and Michael's courses, a "pit crew of volunteers" went into high-velocity action to set up the stands that support the ten lapidary stations. I think I fell prey to "gemstone fever" as I laid out more than 40 paper trays and filled them with the rough that Michael brought for us to work with. The gorgeous apple-green parrot jasper was the first to go, and some of us couldn't get enough of the black jade, aquamarine, dinosaur bone, rubies, lapis lazuli, and optical grade quartz. So much to choose from!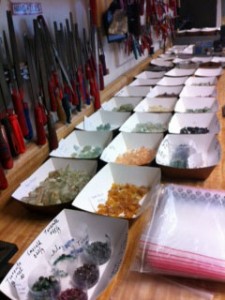 Gems just waiting to be transformed into jewelry.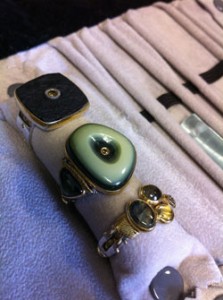 A selection of rings by Michael Boyd.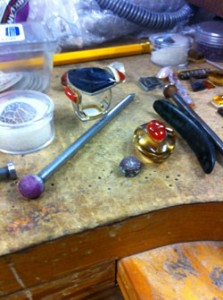 Stone designing in progress by Michael Boyd.
By the end of the first day, even beginners who'd never tried their hand at jewelry-making created spectacular cabochons for their industrious partners. Yes, I'm talking about George Barris, who outshone all of us with his collection, much to the delight of his wife and frequent Metalwerx student, Kathy Barris.  Michael also taught us secrets of using chemical bonding to add an extra layer of security to stacked, bezel-set gemstones, and how to embed precious natural things like molted snakeskin and butterfly wings between pieces of quartz or layered on metal. He also had a bunch of sly jokes that added to the relaxed, productive atmosphere, and I love a good joke!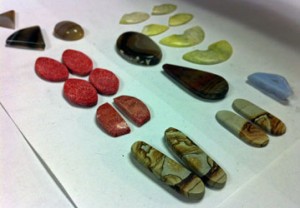 Lapidary  beauties by George Barris.
Michael's 2012 graduating class of beginning lapidary artists.
Enameling: Investigating Surface and Depth
If I followed my heart down the path of enameling, my family would never see me again and I'd be in serious trouble. So I could only watch in envy as Barbara Seidenath showed her students a number of ways to prepare their metal, including etching for champleve, shown below.  Mike Moretti, our loyal volunteer information technology technician, brought in his special etching system which perfectly etches silver in just minutes.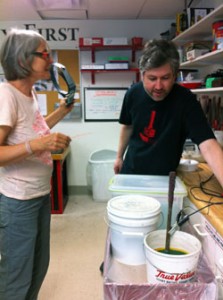 Mike Moretti assists Barbara Seidenath with etching for her enameling class.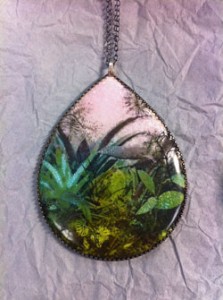 Pendant by Barbara Seidenath.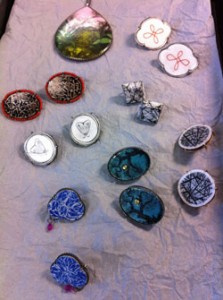 A selection of work by Barbara Seidenath.
Miniature Forming: Micro-spiculums & Micro-anticlastic Raising
Some folks around here were mightily bummed that we had to cancel an engraving workshop, but not me! Andrea Kennington filled what would have been a big hole in our series by proposing a micro-forming workshop. In a matter of days we got enough people to sign up and the class was a go. We melted at the sight of her two portable leg post vises, a tool that helps tremendously when trying to form severely curved pieces like a neck ring.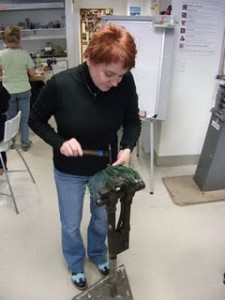 Andrea shows us how to use the leg post vise.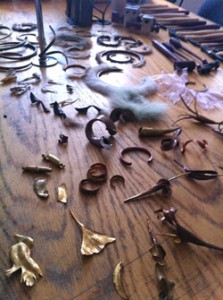 Samples of miniature forms, spiculums and anticlastic raising.
We didn't think it was possible but yes, you can form spiculums tiny enough to resemble the stem of a leaf or a snail's eyestalks. With patterns supplied by Andrea, and miniature tools from her company, NC Black, we set about forming flowers and anticlastic bracelets and earrings. She brought along a big selection of fur pieces, to insert in the semi-closed anticlastic bracelet forms: mink, fox, and even feathers. In between lectures and demonstrations, and taking advantage of our brand new big-screen TV, we were able to see music videos of Rihanna and Madonna, both of whom wore jewelry that Andrea helped design and fabricate.
Her second workshop, "Advanced Micro-Shell Forming," was much more challenging. Adding a deck to an anticlastic form requires a flawless fit. Some of the students accomplished the tasks easily; others, like myself, were amazed when a perfectly soldered piece came out of the pickle—only to realize it was somebody else's work. Sorry, Hekki Seppa, decking is not, nor will ever be, my forte. But NC Black's hammers, stakes, and forming blocks are now a very important part of my tool arsenal.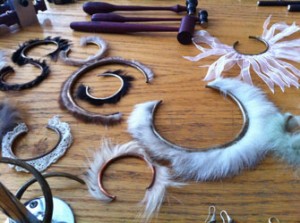 Jewelry made with NC Black tools.
Fold Forming
Serious hammering was still in store for me, as Charles Lewton-Brain returned for another session of fold forming, the metals technique he developed and which Wikipedia says is "the first major innovation in metalworking in thousands of years." I'd always wanted to take his class, and only by virtue of being in the office as often as I am was I able to secure a space. Talk about fun–no sawing, no soldering, for a week! I splurged on the heavy forging hammer, and proceeded to mass produce all manner of fold forms: line folds, star forms, T-folds, and Rueger folds. I experimented with the Heistad cup by attempting a fold for a six-sided form. I was successful in only one of at least six attempts, but it was fun trying to enter the Fold Form Hall of Fame.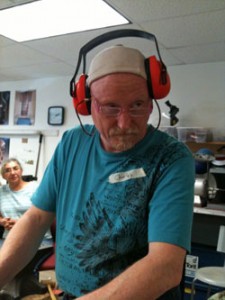 Master goldsmith Charles Lewton-Brain.
The studio was ringing with the sound of hammers, but we still found time to briefly enjoy a selection of cute kitty videos on our big-screen TV, in between Charles' informative power point lectures on fold forming styles, small scale photography techniques, and a sneak preview of entries to the first annual international fold forming competition.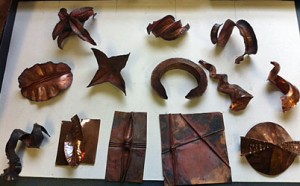 Fold formed samples by Charles Lewton-Brain.
Our one-day workshops continue to draw in students who have time constraints but are devoted to the pursuit of metalsmithing. In between her busy schedule with a bocce team and weekend sales at the Winchester Farmers Market, Studiomate/instructor Wendy Jo New led two workshops on the endless design possibilities of incorporating keum-boo and etching to your metal. Joy Raskin still had time to create award winning pieces for the Annual Craftsmen Fair in Sunapee, NH (going on now) and teach Viking knitting. Karen Karon, whose book, "Chain Maille Jewelry Workshop" (Interweave Press), is available for pre-order on Amazon.com, led three chain maille sessions, culminating with a workshop on scale maille.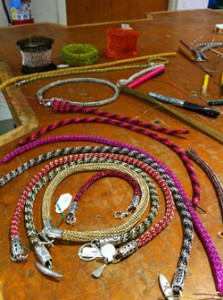 Joy Raskin's Viking Knit workshop.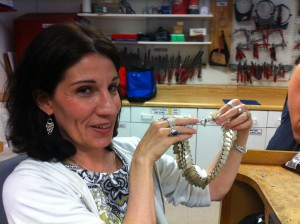 Karen Karon smiles for the camera.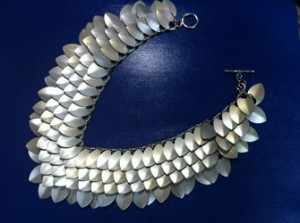 Karen's stunning scale maille collar.
Today marks the start of Cynthia Eid's workshop, "Forging, Fusing, and Fabricating with Argentium Silver." I'll be there to continue practicing my hamering and indulging my love of jewelry-making.
Here is a pair of earrings, still in progress, that incorporates a few of the things I learned this summer, fold forming, anticlasting forming, and spiculums. Look for the finished product on our Facebook page! And I'll update this again when I find time to finish the rest of my summer projects.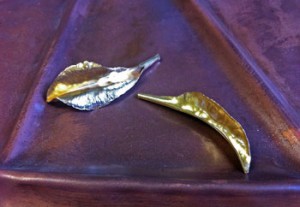 Nu-gold earrings by yours truly, fold formed, shell formed, spiculum.
                                                                                                                                                                    — by Yleana Martinez
Latest posts by Metalwerx (see all)