All your favorite tools and jewels will be available at the 8th annual Metalwerx Vendor Day, to be held Oct. 21, 10 am to 4 pm at the Armenian Cultural Center in Watertown, MA. Stock up on supplies to complete your holiday orders and mingle with aspiring and professional metalworkers, beading enthusiasts, woodworkers, and other artists.  This is an opportunity to support our favorite vendors, all family-run companies based in New England and New York. The event also features lectures including  chain maille techniques with author/instructor Karen Karon, casting authority Dan Grandi of Racecar Jewelry Company, and tool guru Karen Christians of Cleverwerx (more coming soon).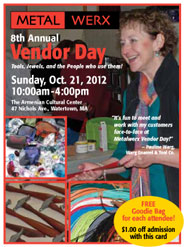 The Armenian Cultural Center is located at 47 Nichols Avenue in Watertown and has plenty of free parking. There is a $6 contribution at the door. You can save $1 off admission with our Vendor Day postcard (arriving in your mail box any day now!), or print this page (only one discount per person). When you arrive, get your free goodie bag stuffed with vendor information, magazines for metalsmiths and resources for jewelers.
We love seeing old friends and making new ones at this amazing event! Where else can you buy metalsmithing tools and precious stones, beads and pearls—all under one roof with no shipping costs? Additionally, you will find packaging and display supplies, photography equipment, fine jewelry books, and leather accessories.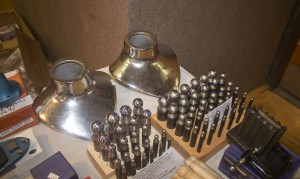 There will be plenty of hand tools, hammers, specialty forming supplies, and larger equipment such as Foredom flexshafts, ventilation systems and more. If your favorite vendors are participating, why not contact them in advance to see if they're bringing that special bur or pair of pliers you've been looking for, or to learn if they'll have that particular stone you've been itching to work with?
"Getting to know you, getting to know all about you"
The following vendors will be selling metalsmithing tools:
AllCraft Jewelry Supply Company: Tevel and Sara Herbstman have been helping to keep the Metalwerx studio stocked with great quality equipment since the school's inception. Tevel will once again have on hand Gossiba, a liver of sulfur patina solution that is pre-mixed, doesn't have a terrible odor, and produces less waste because you use only what you need, as well as the long-awaited Eid-Longhi "no twist" delrin anticlastic stakes. If you have a specific request, he suggests you contact him by email at allcrafttools@yahoo.com with the subject line "Metalwerx Vendor Day" and he will try to accommodate you. Want to learn how to use the new delrin stakes? Cynthia Eid is teaching a weekly class on Fold Forming with Synclastic & Anticlastic Forming ] this fall.
WARG Enamel and Tool Center: Pauline Warg in Scarborough, ME carries a huge assortment of supplies and tools for enameling, precious metal clay, and metalsmithing. She also has kilns, hand tools, benches, torch equipment, finishing supplies and lots more. You can get every diamond bit and bur you've ever dreamed of from her and her husband Gary. Pauline returns to Metalwerx in 2013 to teach in our Summer with the Masters series.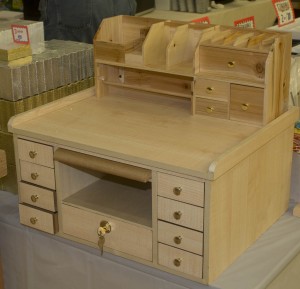 Cleverwerx: Karen Christians brings her line of Ergolast titanium tools, true workhorses when it comes to soldering, and the amazing OK International Soldering Fume Extraction System, a great setup for home studios that eliminates the need for expensive fresh air ducting. Karen also carries Micromotors and all sorts of Foredom flexshafts and flexshaft accessories. Karen,of Waltham, MA, and her husband Dave are an annual presence at the Burning Man festival in the Nevada Black Rock Desert. Read here about her ambitious plans for a 25-foot sculpture that will be incorporated in a program to support nonprofit arts organizations.
Ring Tool: A mainstay at Vendor Day for many years, Kenneth and Papi Singh of Spring Valley, NY offer a wide selection of hand tools and other bench equipment. You'll find just about every kind of pliers on their revolving rack display, as well as a variety of dapping blocks, files, tweezers, measuring and marking tools, and more.
Fretz Tools: Bill Fretz  is teaching "Concave/Convex Forming" at Metalwerx later this month, but at Vendor Day you can get advice and first-hand instruction from him on how to use his beautiful hammers and forming tools. Bill is excited about the newest additions to his product line, the Series 110m stakes, that can be used to make wide convex and concave cuff bracelets and hollow ware. Depending on your starting blank, he says, you can even make free forms with different shapes. He and his wife, Marian, of Bucksport, ME also will have used workshop and display hammers available at a discount, and Argentium ear and clasp findings, originally designed by their son, Jordan.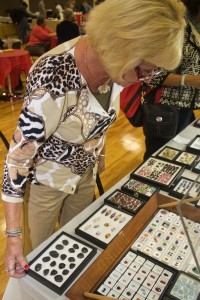 A sparkling selection of every stone imaginable in a variety of price points, including faceted gems and cabochons, precious and semiprecious beads, and a large variety of pearls and findings, is a Vendor Day standard. Last year, druzies were the rage among the shoppers, and moonstones, larimar, and picture agates have always been big favorites.
We can count a couple of Metalwerx students in this group. Steve Taney, Blue Heron Designs, of North Andover, MA and John McVeigh, Portland, ME, have both been students of master gem cutter Michael Boyd. Steve, along with his wife, Pam, will offer many of his custom cut agates and rutilated quartz cabochons. This is John's first year at Vendor Day but we got a peek at his unique and rare collection this past June during Michael's course, and he has some beauties! Watertown, MA resident Gustave Herbert, of Trinity Imports, who has also taken classes at Metalwerx, will be there with his wife, Shelley, with their unique selection of finely cut stones.
The Boston jewelers' building is well represented at Vendor Day with Paul and Joyce Dragone of Boston Gems, which specializes in moonstones, and Chris Kebadjian of Bernard's Jewelry. Chris continues the business started by his father, Bernie, more than 50 years ago. Bill Gangi of Gangi Gems in New York City, will be there with his friend Kate, showing some of the unique gemstones he has mined, cut, and designed since 1979.
Siblings John and Sara Bajoras of the Sierra Madre Mining Company carry on their family's rock cutting tradition by providing a stunning assortment of unusual gems, some of which originate from their family's mining claim in northern Mexico. They operate four Village Silversmith jewelry shops showcasing their original earrings, bracelets, and necklaces in Rockport, Gloucester, and Peabody, MA.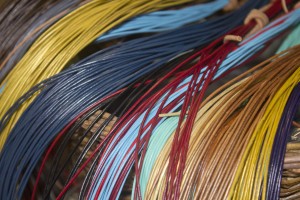 Vendor day is where you can also purchase display and packaging supplies from Ian Gauslin of Boston, MA at America's Box and Display, leather cord and accessories from Carolyn Joyce, Marlborough, MA, of  Greco Leather, and beautiful art and jewelry books from Charon Kransen of Charon Kransen Arts. Charon was recently selected for the 2012 Best of Manhattan Award in the books category. He established his business in New York City in 1993 to promote jewelry from around the world in North America. WB Hunt, New England's largest photography retailer, will once again feature the latest in equipment for small scale photography, and Dan Grandi of Racecar Jewelry Company will answer all your questions about the many services his company provides, from model making to casting and finishing. We wrote about Dan earlier this year about his recent move to a larger facility in Pawtucket, RI. There is still space available for jewelry designers who wish to rent an onsite studio and have immediate access to Racecar's factory.
Don't forget to stop by the MJSA booth. If you're not already a member of this outstanding trade organization, now is the time to sign up. There are many benefits to being a member of the Manufacturing Jewelers and Suppliers of America, including a subscription to their award-winning magazine and online access to articles, guides, videos and other exclusive content. MJSA also publishes several books for the trade and these will be available for sale.
Metalwerx is still in need of volunteers to help out with Vendor Day. Write us at info@metalwerx.com if you'd like to help out. Next month, we will write about the lectures planned throughout the day, so keep watching!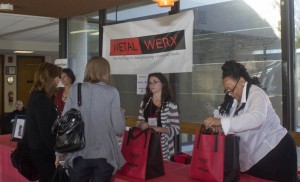 Latest posts by Metalwerx (see all)