Call us groupies if you will, but some of us at Metalwerx always eagerly await the return of Paulette Werger to teach us whatever she will. In her upcoming tableware class, you will not only learn how to make beautiful objects for the home, but also skills that can be applied to jewelry.
"At your Service: Tableware Design and Fabrication," will focus on a variety of techniques to make spoons, flatware, and condiment vessels. However, these methods, Paulette says, can be scaled down to create items such as chokers and cuff bracelets. The class will be held November 10-11, 2012, at Metalwerx.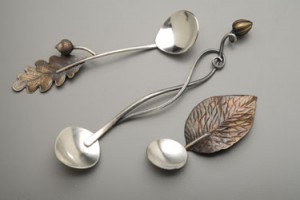 Salt Spoons, by Paulette Werger
"It's a perfect time of year for this class, because you can make items for your holiday table," Paulette said. She recalled that a student in her 2011 workshop announced there were two kinds of people in her life: those who liked cranberry sauce, and those who preferred jelly. "She made two utensils, one for each, and had a lot of fun doing it," Paulette said. "And she actually used them for the Thanksgiving table!"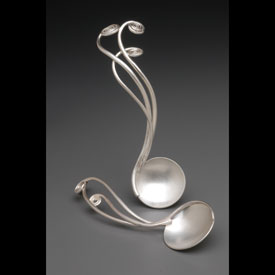 Fern Spoons, by Paulette Werger
Making tableware has been part of the metalwork tradition since the age of European aristocracy, and was a part of Paulette's early training. "It's a rich history which is still being used today," she said. She considers it an essential skill for the well-rounded metalsmith. "I believe the more you know the better armed you are as a maker. I like the way my work changes when the rules of scale or function change, as in, body versus table."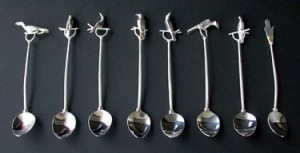 Spoon set by Paulette Werger
Paulette received her B.S. in painting and sculpture from the College of Saint Rose and Skidmore College in New York, and her M.F.A. in Art Metal from the University of Wisconsin at Madison.  She is a trustee for the Society of Arts and Crafts in Boston, and owner of Metalpeople East, in Lebanon, New Hampshire.
Her artwork is in the permanent collection of the League of New Hampshire Craftsmen, the AVA Gallery and Art Center in Lebanon, New Hampshire, and the Arrowmont School in Gatlinburg, Tennessee.  Paulette is a regular presence at the Craftboston Arts Fair, to be held Dec. 7-9 at the Cyclorama of the Boston Center for the Arts.
This year, Paulette received the Joe Tucker Metal Award from the League of New Hampshire Craftsmen for her set of twelve "Birthmonth Spoons," and was named one of New Hampshire Magazine's "Remarkable Women: Masters of Craft." Paulette also received a prestigious NICHE Award 2012 for her forged and fabricated set of "Dandelion Servers." The servers are characteristic of Paulette's style, as her artwork is inspired by botanical imagery and clean design.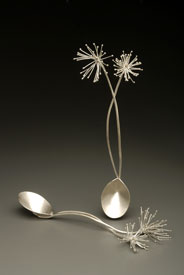 Dandelion Servers, by Paulette Werger
Students in the "At Your Service" workshop will work primarily in Argentium Silver (or bring their own metal) and have the opportunity to design and create objects for dining such as spoons for salt, sugar and babies, pickle forks, pate knives, and salad servers.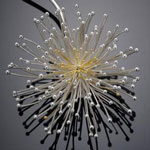 Dandelion Server, closeup
Daily discussions will address design, model making, and classical techniques and practical shortcuts for working more efficiently. Students are encouraged to keep a sketchbook with notes and ideas for projects.
Techniques such as forging, forming, fabrication and surface embellishment will be demonstrated. Paulette explained that forming involves working with sheet metal, and using processes such as dapping, die forming, scoring, and folding. Forging is the selective hammering and stretching to change thick wire or sheet into thinner fluid forms.
"Models save time and money, and allow you to develop a record in case you want to make a series," she said. "With a model, one can visualize and address scale and function. I begin with the function of the spoon and combine it with the botanical structure, and then give way to process and surprise."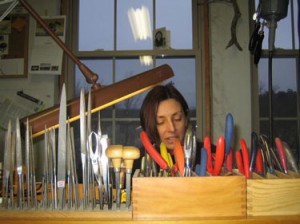 The artist and maker Paulette Werger, at work.
There are still seats available for Paulette's class. To register, click here, or call Metalwerx at 781-891-3854 for more information.
—–By Yleana Martinez
Latest posts by Metalwerx (see all)