How a Jeweler Eats Cheese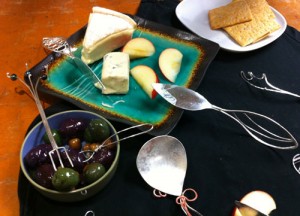 … they first have to make a knife
Student Spotlight:  Mary Americo
Mary Americo of Guilford, CT has been taking classes at Metalwerx for the past couple years and visited us again this past weekend for At Your Service: Tableware Design and Fabrication with Paulette Werger.  In one short weekend she made a silver cheese knife and is well on her way to making custom salt and sugar spoons for holiday gifts.  See how she made it and learn what she loves about being a Jeweler!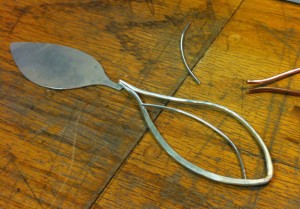 Setting up the forged and fused knife components
Metalwerx:  What do you love most about metalsmithing?
Mary: I love the magic of taking a flat piece of metal and making into a 3 dimensional object.  The wonder of it never ceases to amaze me.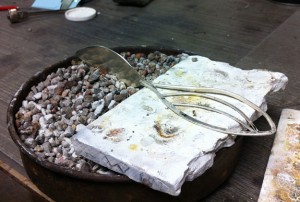 Solder set-up
Metalwerx: How did you get into metalsmithing?
Mary: I never had the time to get immersed into anything for myself because of my busy schedule.  When all my children were grown it seemed like the perfect opportunity to try my hand at "metal".  Who knew it would be such a wonderful ride?!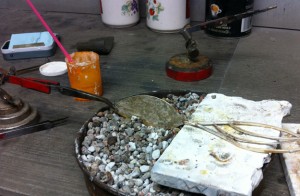 Mary's knife after it is soldered.  Ready for the pickle!
Metalwerx: What technique or tool is your personal favorite?
Mary: I love to forge and I could hammer all day.  I particularly like Michael Good's anticlastic hammers and stakes!  What a joy they make of hammering.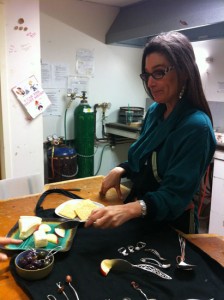 Mary testing out her finished cheese knife!
Latest posts by Metalwerx (see all)