What a week!  Cynthia Eid and I went to visit Jeff Herman down in Rhode Island on Tuesday of last week.  I knew I was getting an opportunity to see an incredible studio…but I hadn't realized quite how amazing my day was going to be.
I know Jeff as the 'go-to-guy' for tough technical questions and metalworking resources—not a big surprise, considering he's the founder of the Society of American Silversmiths.  I frequently peruse the SAS website to find out about safety, resources and other tips.
We pulled up to Jeff's home studio and were quickly greeted by Sassy, an enthusiastic 12 year old pit bull/border collie mix.  Jeff was even more welcoming as he led us into his workspace ready to share tips, insights, interesting metalsmithing stories and a piece of Harold Schremmer's legacy.
Jeff's primary work focuses on repair and restoration.  The first room we came upon contained storage for ornate and beautifully crafted (now slightly damaged) sterling vessels, teapots, match cases, flatware, candlesticks, etc.  To be honest, repairs are scary to me and I was in awe at Jeff's ability to restore these works to their original beauty….Ok, awe is an understatement.  I was shaking in my shoes thinking of hammering on historical vessels that have been handed down from generation to generation.
After getting the low down on restoration, Jeff led us into the studio to check out his work space and some of his own art.  The contemporary, perfectly polished and nicely weighted spoon pictured here is the first piece in North America made from Argentium!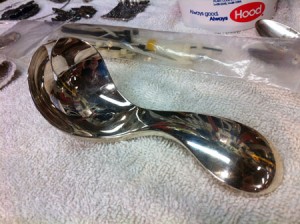 As the tour continued, we got to try using Jeff's coveted PUK welder.  Here, he's showing Cindy some of its advantages:  No solder, no flux, no pickling — and the heat that is generated is so localized, insulated gloves aren't required when holding the piece you're working on!  You're only a few sparks away from welding a perfect joint.  What a dream machine!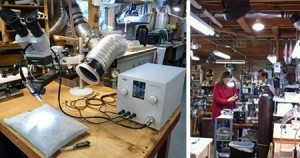 And the innovations don't stop there.  From corner to corner and top to bottom, every nook, cranny, and tool was modified and perfected for a specific need. Don't you hate when it's hard to open your acetylene tank with that little UN-ergonomic tank wrench?  Check out this adaptation using a file handle!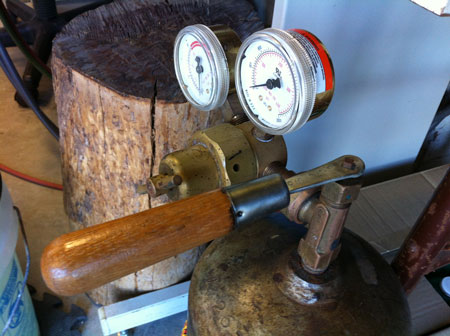 Take a closer look…the guard for this metal lathe is attached to an old arm for a desk lamp.  You can adjust it to the perfect angle for the job — Genius!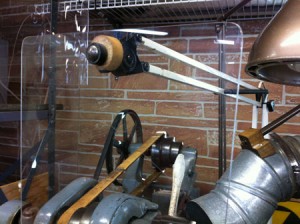 Lots of things can be a used for forming if you give it the right finish—check out this highly polished wrench stake!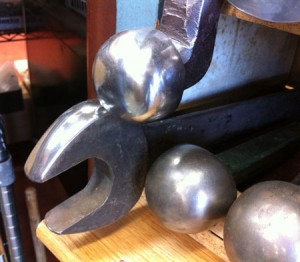 And, we couldn't help noticing that Jeff's got a great rack…shoe rack turned hammer stand, that is.  We got inspired and are building a few of these for the Metalwerx studio too!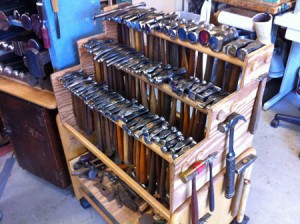 Sometimes, I don't know if I like the tools more than the metalwork or the metalwork more than the tools…If these stakes were edible, they would be delicious.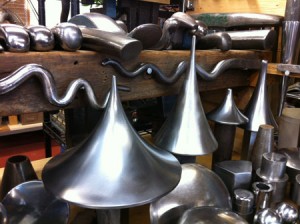 Here's a picture of Cindy and Jeff in hammering heaven.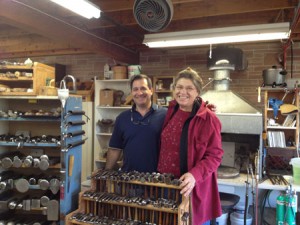 I mentioned Harold Schremmer earlier. He is an important part of Jeff's metalsmithing family tree.  Throughout the day, Jeff spoke warmly to us about his mentor and showed pictures of Hal's work.  My favorite image (pictured here) is from the 60's, where a young, handsome Hal is holding a Bishop's crozier and standing behind a sterling monstrance and chalice he designed & created.  I drooled over other pictures of wood and silver letter boxes where every crevice and edge was carefully considered.  From intricate granulation to larger formed sculptures, Hal was certainly a renaissance man of metalsmithing.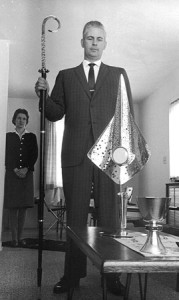 We were saddened to hear that Hal's health has prevented him from working much over the last decade. Recently, he gave most of his tools to Jeff, trusting him to either use them well, or find them good homes.  Cindy and I are incredibly honored that Jeff decided to donate these hammers to our studio.
After looking at Hal's artwork, the hammers he enjoyed for so many decades have a greater meaning and history to appreciate.  I believe Hal's spirit is embedded in his tools and as we use them, his 'metalworking family tree' will bear new fruit.  Hal's legacy will live on as these hammers will be used to create new works that will be treasured and passed down from generation to generation…and hopefully not have to be taken in for repair like some of the historical pieces we saw upon entering.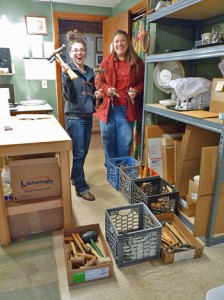 A solid gold thanks goes out to Jeff and Hal for thinking of our community and bestowing upon us such a special gift that will be cherished for so many years to come.
–By Lindsay Minihan
Read More: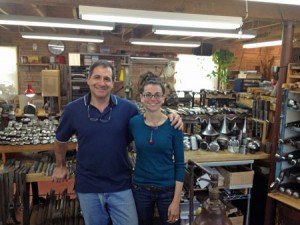 Latest posts by Metalwerx (see all)