Tinkering was once considered a poor man's trade, plied by Slovakian nomads who traveled from town to town mending broken pots and pans with tinplate and wire. But as the craft developed, many of these metalworkers became expert artisans, giving rise to a legend that  tinkers once constructed a bridge of silver wire that spanned the Danube.
The tradition, which began in Slovakia in the 18th century, almost disappeared by the early 20th century, as factories took the place of many individual artisans. Fortunately, the craft is experiencing a revival.
Birdcage, by Ellen Wieske
Tinkers are credited with inventing numerous functional goods for the household, particular the kitchen. Some of the many items they made included wire baskets, trivets, bird cages, trays, whisks, sieves, strainers, baking pans and cookie cutters.  Their ingenuity at using metal wire to create or repair things earned the respect of the noble class. Tinkers earned the right to travel freely within Eastern Europe and Russia. Although they adapted their techniques for decorative goods, their practical, functional pieces became their stock in trade.
Ellen Wieske upholds the tradition of tinkering by using wire to make utilitarian pieces, as well as jewelry and objets d'art. Her wall sculptures range from huge steel wire "quilts" to bowls and plates. Ellen, Assistant Director at Haystack Mountain School of Crafts in Deer Isle, Maine, will teach "Tinkering With Wire" at Metalwerx next month.
"A lot of the wire work I do is a reflection of drawing. To me it's a way of being able to draw and hold the line. I started to look at lace patterns and patterns of different kinds of quilts, and I think of it as a drawing of a piece of textile rendered in wire."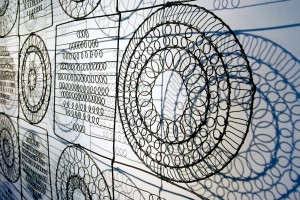 Wire Work Quilt, Ellen Wieske
Ellen's wire quilts are especially fascinating, not only because of their size but for the sheer variety of wire-working techniques. When lit, the shadows cast on the walls act as additional lines, giving the quilts further dimension.
They truly bring to mind old-fashioned sampler quilts with their reference to traditional handwork. She did do a lot of sewing as a young girl, although she has made only one textile quilt, a project she really enjoyed working on because the end product was functional, a characteristic of art that she reveres.
A self-described "multi-materials smith," Ellen still sews, but quilts are not on the calendar. "I loved making it! I can't wait to make another but they're big. If I start, I'm afraid I just won't make anything else," she said.
Steel is a wonderful alternative to more costly precious metal, but has its own rules for care and management. Ellen uses this metal to make a lot of utilitarian baskets, serving pieces, flatware, and salad utensils. But what about rust?
"I tell my customers that as long as you keep the pieces oiled, it will keep the rust at bay. Get some of olive or canola oil spray, and just give it a brush."
For steel jewelry, Ellen takes an extra step using the oil to bring the black to the surface. "You treat it just like you would a cast iron," she said. "Of course, some people want to bring up the rust as fast as possible!"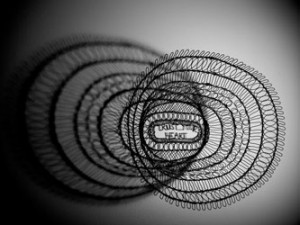 "Trust Your Heart," wire bowl sculpture by Ellen Wieske
Have you ever wanted to spend a weekend playing with metal, giving in to your artistic impulse, creating whatever comes to mind with the materials at hand? Ellen will show you just how to do just that.
In her workshop, she said, "People don't have to try to work outside the way they normally work. Some are accurate, others are loose. Using the exact same information, people can work in whatever method is in their personality or interest. It's nice that it's few rules, and accessible and approachable to everybody."
As she demonstrates a variety of wire working techniques, Ellen encourages students to practice alongside her, rather than just watch and try it later. Throughout the years that she's taught her unique workshop, she has seen how students come to discover their inner muse and quickly customize the techniques to their personal style.
"Tinkering with Wire" will be held Feb. 9-10, 2013. It is a perfect introduction to the joys of metal, as no prior experience in metalsmithing is necessary. Experienced jewelers can expect to learn wire working techniques that can be applied to small or large scale pieces.  Students will be working primarily with black annealed steel wire, although they are welcome to bring their own colored or brass wire.
In addition to her role as Assistant Director at Haystack Mountain School, Ellen is author of "Weekend Crafter" (Lark Books). She is a past recipient of the Maine Arts Commission Functional Crafts Fellowship, and her art work is exhibited nationally and internationally. She maintains Dowstudio, a studio/gallery along with potter Carole Ann Fer, in Deer Isle, Maine. To see more of Ellen's work, click here.
—-by Yleana Martinez
Latest posts by Metalwerx (see all)