Sometimes the smallest things are the biggest beauties. For Jill Hurant, the tiny grains of gold that decorated ancient Greek and Roman jewelry steered her direction in jewelry making. "lt's so amazing. I have a rolling mill, a draw plate, but what they made in those times when they didn't have the equipment we have, is so mindbogglingly beautiful," she said.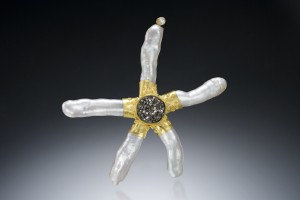 Star brooch with Druzy; 22k gold, pearls, druzy, by Jill Hurant
Jill is referring to granulation, the age-old process of fusing minuscule balls of metal to sheet. There is evidence it was practiced in Mesopotamia three thousand years BC, but the Etruscans finessed the technique and made it famous. A discovery near Rome in the early 1800s sparked interest in the process, stumping goldsmiths and scientists as to its fabrication. A hundred years later, it was determined that Etruscans practiced colloidal soldering, using a combination of traganth gum and copper salts to create a metallic bond at a near-melting temperature.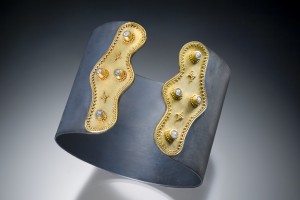 Cuff Bracelet; oxidized silver, 22k gold, diamonds, by Jill Hurant
Granulation was one of the first techniques Jill learned as a student at the Jewelry Arts Institute in Manhattan. At the time she was there, she said, granulation was one of the more popular classes at the school. "I would never consider myself a traditional metalsmith, but I do know the basics," she said. "So I stuck to what I learned there (JAI). I love this method, and I loved working in fine silver."
Today, Jill works exclusively in 22K gold, which she alloys, rolls, and draws into wire herself. She knows that when she alloys her own recipe of gold, copper, and fine silver, that it will fuse just the way she wants it to.
Jill moved from Ohio to New York to study at the Fashion Institute of Technology and for a while, operated a bathing suit cover-up business. Although her hand painted pieces were sold in boutiques across the nation, it didn't always provide the greatest satisfaction–especially when merchandise was returned, and often not in the condition when it left her workshop.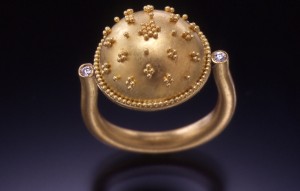 Domed Ring; 22k gold, diamonds, by Jill Hurant
She had never considered herself an artist, although she made a lot of her own clothes, some handbags and belts, and was the daughter of a prominent enamellist. Jill thought her FIT education would lead to work as a buyer or fashion coordinator for a department store. But she yearned to do something with an artistic edge. A friend of hers told her she would be good at metalsmithing, and took her to visit a jewelry making student.
Jill was impressed but skeptical, since she wasn't "a jewelry person" and hardly ever wore any. A year later, she reluctantly signed up to take a class. "From day one, I thought this is the most amazing thing I'd ever done," she said. "The first thing I ever did was a cloisonné enamel, and I had to make the setting. I was literally hooked on metalsmithing the minute I started."
Jill will teach "Fine Silver Granulation" at Metalwerx, April 5-7. The workshop will show the entire granulation process, including how to make granules, the proper preparation of metal, setting up a design, fusing fine silver, and clean-up.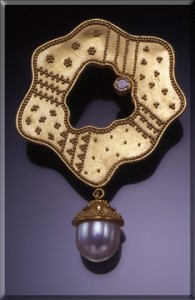 Pendant; 22k gold, diamond, pearl, by Jill Hurant
The end product may look intricate and challenging, but the process itself is not that difficult, she says. "It is a bit labor intensive, and you sometimes have to do it two or three times because you don't want to melt anything." Those little balls of metal will try to get away from you, she said. "You can't ensure that you don't lose a single granule."
Jill is enjoying being a new grandmother, and when not making jewelry, finds time to knit and crochet. But teaching the process she loves so much is still one of her greatest joys.  "When I teach a class, everyone likes to make a project and go home with something. But my classes are technique oriented, so if you walk out of here knowing how the technique works, I feel as if I've done my job."
–by Yleana Martinez
Latest posts by Metalwerx (see all)