For those of you who have taken a class with Kelly Conroy, you already know why we love her so much. Here is an opportunity for the rest of you to learn a little about what makes this natural-born teacher a favorite, here at Metalwerx.
Working late in the Metalwerx office is a joy on Wednesday nights, because it means that I get to say my weekly hello to the always smiling, very approachable, Kelly Conroy. Her classes are full of happy students, many of whom would describe themselves as groupies. It's easy to see why, once you meet Kelly. Not only is she a calm yet super enthusiastic presence, she is also incredibly knowledgeable in a wide variety of jewelry making and metalsmithing techniques, and happy to share that information with everyone.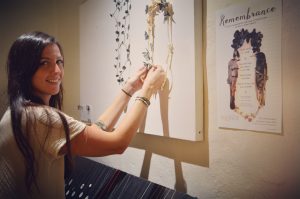 Kelly teaches jewelry and metalsmithing at various schools, countless hours per week. Between her day job at Lincoln-Sudbury High School, her Adjunct Faculty position  in the metals department at MassArt, and teaching weekly classes and weekend workshops at Metalwerx, it's evident that Kelly loves what she does. She says that she always knew that she wanted to be a teacher, but it wasn't until after her undergraduate schooling that she fell in love with metalsmithing. She got her first degree with a concentration in painting from Syracuse University, and got her toes wet with enameling; the natural transition for a painter. She was able to bring her love of color, line, and image onto metal and create precious objects that would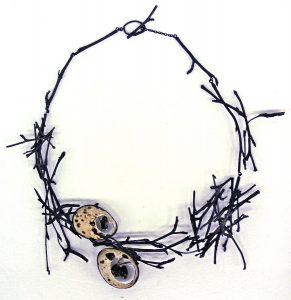 endure the test of time. Kelly uses painterly line as an important element in all of her work, whether it is fabricated out of cast components, as in the neck piece above, or pierced out of metal, shell, wood or any other material that she can saw or laser-cut. One of her students says that watching Kelly pierce with her jewelers saw is incredible, "Like the saw is an extension of her own hand." Kelly teaches many enameling classes here at Metalwerx, including her upcoming weekend workshop in the technique of Plique-a-Jour. For this application, enamel is suspended in negative spaces cut out from a sheet of metal, creating miniature stained glass panels that can be worn as pendants.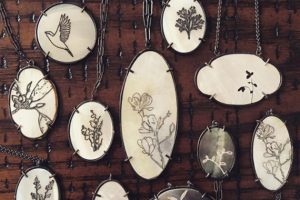 Latest posts by Metalwerx (see all)