Old World Meets Irony
by Joan Dusoe
Growing up, Will always had a drive to create and make things, but says that he wasn't that all that good with the typical mediums which are found in most art classrooms. He never had much luck translating the 3D world into 2D drawings or paintings, and couldn't get the level of control he craved from soft sculptural materials like clay and wood. Then in high school, just down the street in Arlington, Will had "the distinct pleasure" of taking a jewelry class with our very own and beloved Sarah Doremus.  "For one reason or another, metal just always made sense to me," states Vanaria.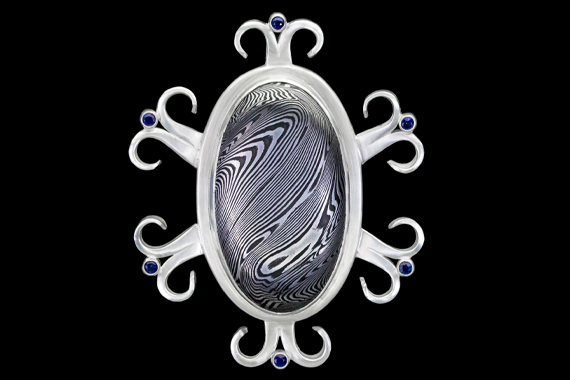 Damascus Steel Brooch
Will fell so in love with the craft, he continued to pursue it at every available level. Will recieved his BFA from Massachusetts College of Art and Design in 2012 with a concentration in Jewelry and Metalsmithing. He then went on to UMASS Dartmouth where he received his MFA in 2016 with the same focus. Will's jewelry is geometric and very meticulously crafted, but also possesses a humor, irony or tongue-in-cheek playfulness. His pieces conjure up imagery from bygone eras that often invoke a spirit of mysticism. The work is at the same time rough and masculine, lighthearted and delicately detailed. Vanaria employs blacksmithing techniques, makes gorgeous Damascus steel, and incorporates materials like coal and iron slag, then juxtaposes these hard, utilitarian materials and methods with the delicate hand of a jeweler making sparkly objects of an indulgent nature.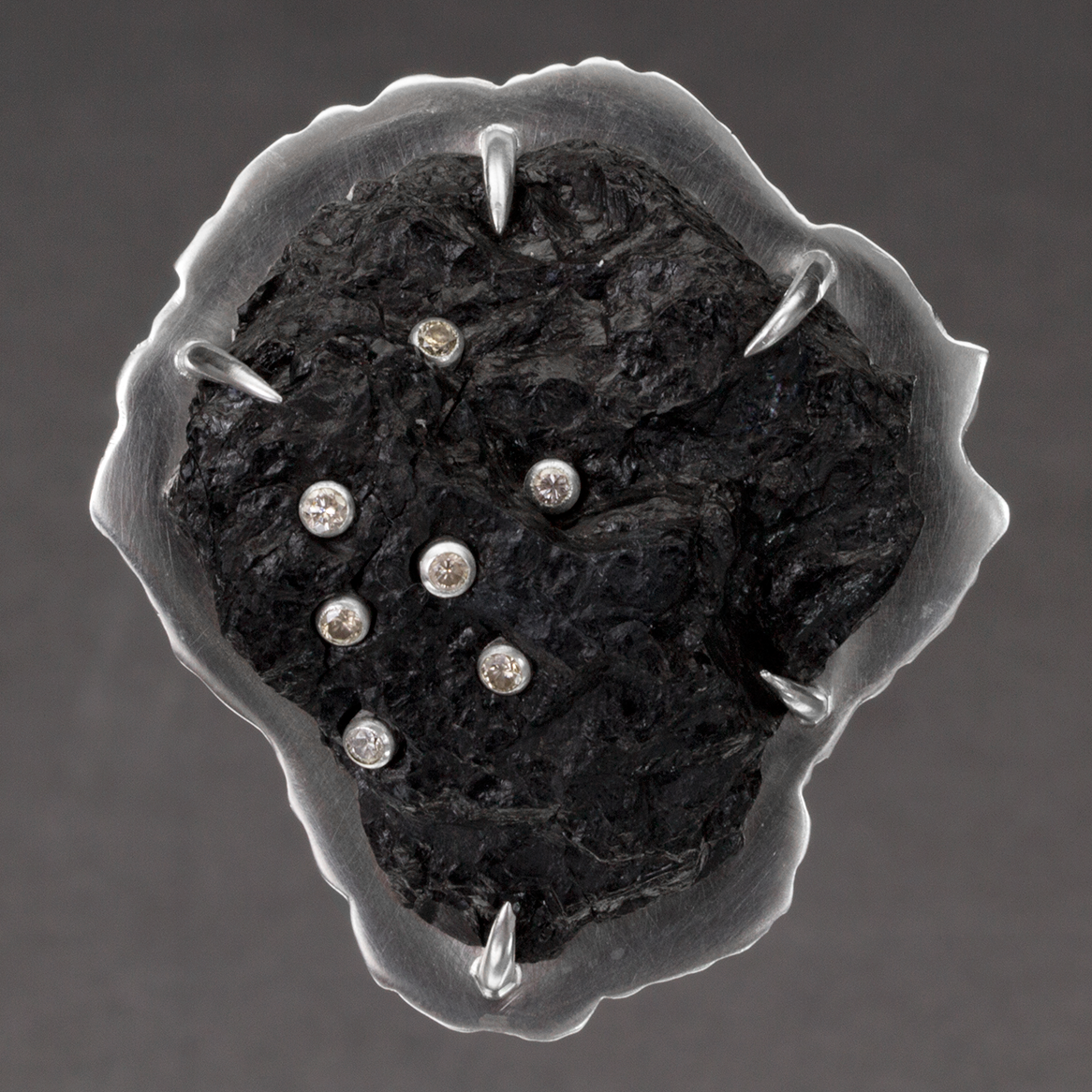 Coal and Diamond Brooch
His pieces are largely inspired by materials and the observations that can be made about life and our culture by analyzing them. He collects things that strike him as odd, curious, or intriguing. "It's hard to put my finger on it, but there are just some materials that really jump out at me. It can be anything from the material's mechanical properties, its aesthetic qualities, or even the history surrounding it. Much of the time it ends up being something more cerebral than that."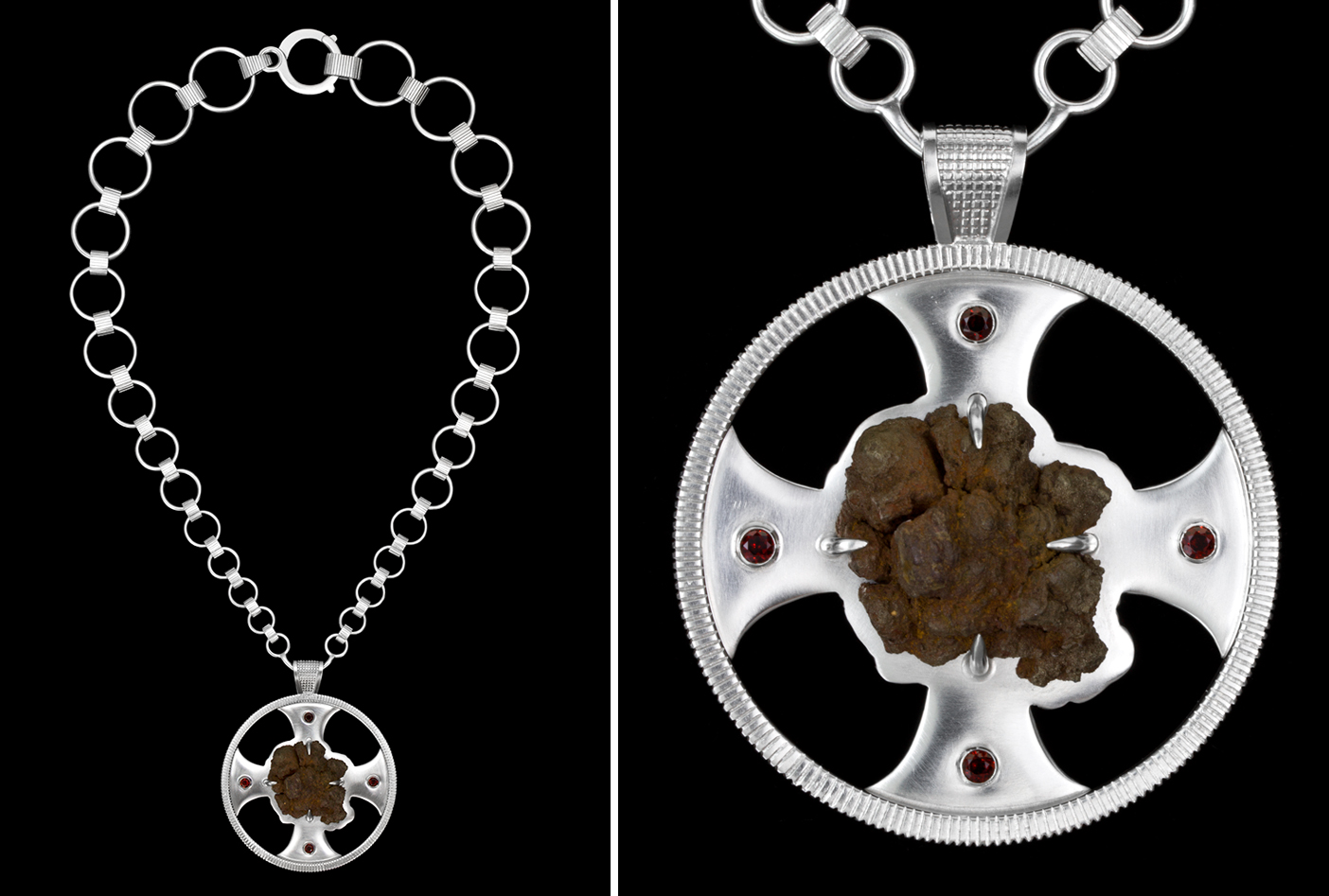 Coprolite (fossilized dung) Amulet
Now, Will is continuing his pursuit of creating, while also dedicating some time to teaching others to love working with metal. When I asked Will why, he had this to say: "I enjoy demystifying the medium; metal can go from a hard, unapproachable substance to a completely manageable and viable material within the span of a workshop. As cliche as it sounds, I love when students finally have that moment of realization, and then begin to build off it–as if a fog had been lifted and many adventurous avenues of creation have suddenly opened up. "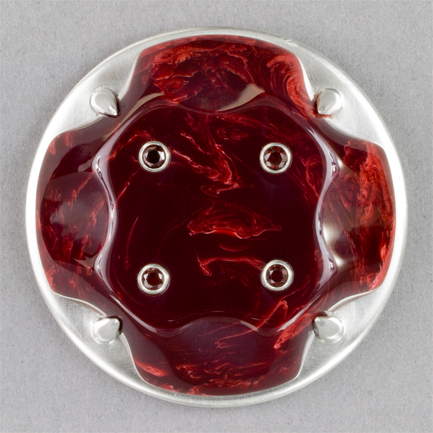 Carved Bakelite (a plastic popular in the 60's and 70's) Brooch
To take your own adventurous avenue of creation with Will, check out one of the workshops or weekly classes that he will be teaching this fall and winter at Metalwerx. You can learn more about each of his courses and register here:
Latest posts by Metalwerx (see all)