If you know Cynthia Eid from taking a class with here at Metalwerx, you know that she is an amazing metalsmith and educator, offering a wealth of knowledge with a warm and familial, casual tone that will make you feel right at home. Cindy has been a part of Metalwerx since the very beginning. She taught in the original location in Woburn, MA 17 years ago when the school first opened its doors, and was one of the first to join the board of directors. Now our board President, and still teaching weekly classes, weekend workshops, and Master's classes in the summers, it's no surprise that we at Metalwerx feel a special kinship to Cindy. But her effect on the metalsmithing world reaches far beyond our four walls. She has designed tools, helped develop equipement, co-authored a book on forming, taught and exhibited around the world, and has worked diligently to educate metalsmiths in the US about the virtues of Argentium sterling silver.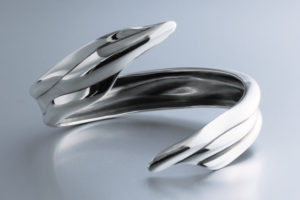 Cindy received her BS in Art Education from the University of Wisconsin, Madison, and went on to focus on her studio practice for her masters. She earned her MFA in Jewelry, Design, and Metalsmithing, from Indiana University, Bloomington in 1980. After working for professional goldsmiths for years and honing her already stellar technical skills, she began to focus again on art education while developing her body of work. She is fascinated by the metamorphosis of a sheet of metal through human intervention. The process of the metal's transformation is as integral to her work as the forms she is inspired by. Cindy is probably best known for her hammer-forming techniques, as well as her creative and ingenious use of the hydraulic press. Eid creates holloware, jewelry and Judaica, whose "forms have their roots in my gardens, and my meanderings through the woods and along the water's edge. It is difficult for me to take a walk without lining my pockets with rocks, shells, leaves, and twigs.  These souvenirs fill the windowsills of my studio. In my work, the allusions to nature are intentionally ambiguous, to encourage interactive response and contemplation by the viewer." Cindy has shown her work in hundreds of exhibitions around the world, and has pieces in permanent collections at institutions of fine art around the world, including the Museum of Fine Arts, Boston and the Victoria and Albert Museum in London. She has been featured in more than 100 publications, including Metalsmith Magazine and Lapidary Journal more times than we can count. Her work has received awards and honors in numerous competitions, including 3 Niche Awards and recognition in the prestigious Saul Bell Design award.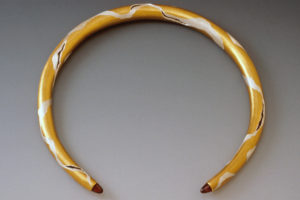 While developing her impressive resume, Cindy also worked to develop her professional contacts and become involved with multiple different aspects of the metalsmithing community in a larger sense. Eid worked with Lee Marshall as part of the development team at Bonny Doon testing new products for their hydraulic presses and accessories, and went on to help Lee refine his design for the Knew Concepts saw frame. Perhaps it was these two experiences with product development that gave Cindy the inspiration to develop a tool of her own. She paired up with her longtime friend and fellow former, Betty Helen Longhi, and invented the "Eid/Longhi No-Twist Anticlastic Stake." These Delrin stakes offer an elegant and simple solution to the constant slipping and tipping that generally accompanies repeated hammer-blows. This dynamic duo invented this series of economical tools, now sold by various retailers including AllCraft Tools and Otto Frei, in conjunction with a book that they co-authored, Creative Metal Forming. The book provides instruction in a wide variety of forming techniques, from the basics of dapping, to combining synclastic and anticlastic techniques to achieve compund curves and compex shapes. This comprehensive book provides 35 projects for readers to complete in order to become adept and happy hammerers. You can learn more about the book and the tools at creativemetalforming.com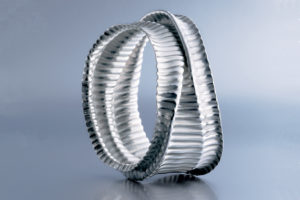 Eid's other major metalsmithing passion is for the relatively new material, Argentium Sterling Silver. She regularly teaches classes on the topic, as she has made it a mission to educate the metalsmithing community about this advancement. Cindy was one of the first in the US to start using this silver alloy and had to procure it from Europe until it became available here. This magical metal that incoroporates a small amount of germanium into the sterling alloy, resists firescale and tarnish, fuses and granulates beautifully, and can be kiln or toaster-oven hardened. Cynthia Eid has, in fact, taught so many classes on using Argentium, and been such an authority on the subject, that Interweave Press asked her to work with them to make a series of DVDs on making jewelry with Argentium silver. You can view the whole collection from Interweave Press, here.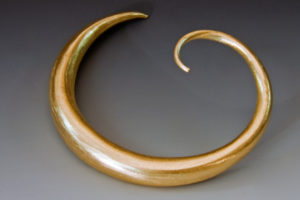 These are just some of the reasons that students who have taken classes with Cindy before, come back to learn with her again and again. Her wealth of knowledge, amazing classroom organization and years of experience and expertise make the lessons impossible to miss. Metalwerx is thrilled to have Cindy on our schedule for more courses this winter, starting soon. Eid will co-teach a weekly class on Thursday nights with renowned enamelist and metalsmith, Barbara Seidenath, called Microfolding and Enamel: Color and Form. Cindy also has a weekend workshop coming up on January 20-22, Spiculums: Three Ways in Three Days.
Latest posts by Metalwerx (see all)