Peter Evonuk's approach to metal is one of utilitarianism and reinvention. His source materials are often products designed for basic societal needs (lamps, teapots, etc) and he repurposes their form and intention to create a new compositional framework for his creations. His methods span a broad range of techniques in metal including raising and forming, fabrication,and casting. He will be demonstrating his casting expertise in an upcoming workshop at Metalwerx titled Creative Casting Techniques. His approaches to casting echo the principles of ingenuity he applies to all his works and translates those practices into confounding works of art full of dimension, texture and interest. Sand, cuddle fish bones, and tufa stone are all tools he uses for casting and he shares these techniques through workshops and collaborative efforts regularly.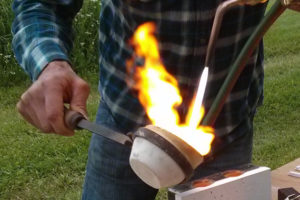 His relationship with the Homework Project is one that feeds off his approach to materials and creation. In 2015 he was one of 8 artists who participated in this 8-month project centered around the creative process. The common thread that connected these artists was their work space – all of them use a portion of their home to create their work. Their task, designed to be completed over the time frame of a school year, was to create a piece (or more) each month using only the objects and the spaces that surrounded their homes as source material and inspiration. The culmination of their work was exhibited at the 2015 SNAG conference in Boston, MA. His finished works included a 10-pound copper fruit bowl and a canister made from a rusted lally column.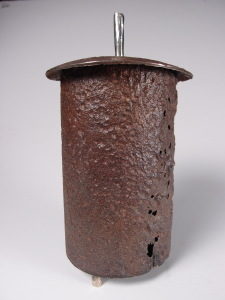 One of his more recent endeavors demonstrates his desire to collaborate with artists through unconventional means to create works of art that transcend the familiarity of materials and expectations. Working with a group of graphic designers, Peter and his colleagues Neil Patel and Steven Bowden from Design Inquiry developed a casting typography project inspired by ocean topography. This Typography Topography project started with artists using plaster casts of plywood letters that were then carved with designs inspired by the ocean and the tide. These carved plaster forms were then sand cast into bronze and documented digitally to use as typography. The artists received variations in their typography by submerging the bronze letters into different depths of milk to represent the changing tide. This technique also allowed for the range of depths carved by the artists to be revealed at different levels of submersion. The results were three sets of alphabets one more dynamic and evocative of the ocean than the last.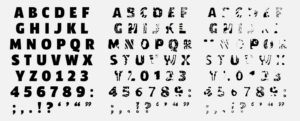 Peter is currently an adjunct faculty member and studio manager at Massachusetts College of Art and Design. After receiving his Bachelor's of Fine Arts from the University of Oregon, he moved east to receive his Master's of Fine Arts in Metalsmithing from Cranbrook Academy of Art in Michigan. He kept this eastern momentum going and made his way to Massachusetts where he currently resides. Along with his position at MassArt he is has also been a visiting professor at the School of the Museum of Fine Arts and was an artist in residence at the EcoTarium Science Museum in Worcester, MA. Peter will be teaching a 2-day workshop titled Creative Casting Techniques at Metalwerx on Feburary 4 and 5, 10:00 AM – 5:00 PM Saturday and Sunday.
Latest posts by Metalwerx (see all)