Living in northern Michigan can have a unique impact on how one relates to and stays in touch with the world. For Betsy Lehndorff, this form of "isolation" has influenced the way she creates her artwork, and learns and develops new techniques. As a jeweler as well as a journalist, Betsy often approaches her work from an investigative perspective – questioning standards and practices while discovering new styles and innovations. While her work is primarily based in silver, she has fully immersed herself in the study and practice of pearl carving over the past year and has developed many workshops and tutorials using her new-found techniques.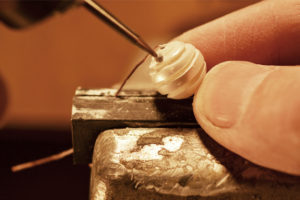 Her focus on pearl carving was inspired by a particularly hard, boring winter up in Northern Michigan in 2016. Self-entertainment is vital in this kind of isolated setting. So she sat down and started wondering if carving pearls was a medium she could work in successfully. "I knew pearls could be carved, because I love the work of Chi Huynh of Galatea. I asked my dentist if he'd be willing to help me figure it out. He knows about chemistry and dental grade diamond burs. My biggest worry was that carving pearls was toxic. But he assured me it isn't."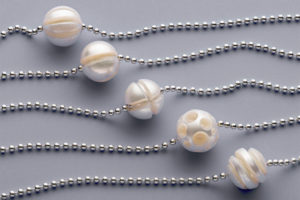 Even though Betsy considered herself somewhat removed from the pearl carving community thousands of miles away, she was able to do research and interviews easily. Her skills as a journalist allowed her to problem solve quickly and locate resources and experts that could help her master the techniques required to carve pearls. By April 2016 she had gained enough knowledge and insight to publish a step-by-step project story in Lapidary Journal Jewelry Artist. After publishing several tutorials on pearl carving thereafter, Betsy realized the next logical step in her journey would be to begin teaching the technique to others.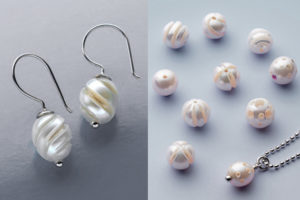 "Sometimes I want to tell people, 'Don't do what I do.' This is because I don't have a cohesive style. I experiment way too much." Her experimentation has led her to some major discoveries about the world of pearl carving as well as about herself as an artist. "I think I have a stronger background in ideas than in jewelry making, even after nine years as a silversmith." Her final piece of advice for pearl carving – "I hate to carve into a good pearl. So I shop for large, imperfect freshwater pearls, hoping that all of the unspeakable acts I do to them will add value." After looking at the work of Betsy Lehndorff, it is clear that immeasurable value has been added to these already special objects.
Find out more about Betsy through her website Hubbard Lake Silversmiths and learn more about pearl carving in Betsy's 3-day Pearl Carving Workshop at Metalwerx, April 7-9, 2017.
Latest posts by Metalwerx (see all)