Since a very young age, Steven Parker has been drawn to working with metals and creating jewelry. While in college studying music at Columbia University, he began to explore the world of jewelry making through books he found in the discount section of his local bookstore. Through his exploration, he found a book on 16th century German automata and a passion began. As he learned more about these complex mechanical systems, he realized that he wanted to refine his metal-working skills to begin creating his own automata out of fine and base metals.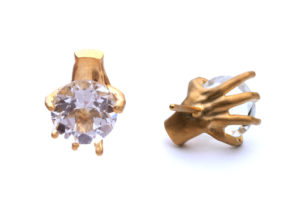 This discovery lead him to pursue further education at FIT in New York in their jewelry and metals program. Upon graduating, Steven was recommended for a position working with Oscar Heyman & Bros, where he was able to work on refining his skills as a fabricator and learning more about complex construction with metal on a jewelry scale. This experience encouraged Steven to work more with mechanisms and automata and over the years he was able to gain experiences in model-making and even mechanical toy design. After years of gaining more expertise in the many facets of automata construction he is now able to create his own automata designs as well as work as a jeweler and adjunct professor at FIT.
Steven's current work investigates clockworks as a mechanism for movement. His study of classic automata and his experience in the toy industry taught him the importance of telling a story and the interactive nature of physically involving the observer. Egyptian art and imagery inspired his most recent creation, the Oracular Bracelet of Tutankhamun. The egyptian bracelet represents Steven's dual artistic passions – integrating the mechanisms and movement of an automata, scaled down into jewelry proportions. His kinetic jewelry incorporates the clockwork mechanisms and bring the pieces to life with movement. These feats of fabrication are remarkably complex and beautifully constructed.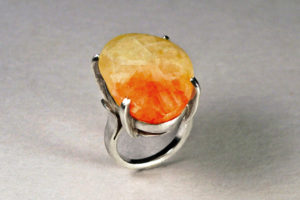 Steven has been able to apply his refined fabrication skills not only to automata creation, but also to his unique approach to jewelry design. After many years designing and fabricating jewelry with diamonds, precious stones, and perfection, he finds himself being drawn towards stones or other objects that are unusual and beautiful in their own right; though the world considers them of little or no value.  Setting these stones of "no value" in mounting styles typically reserved for high value stones redefines "value" for him as a jeweler and creator. When creating a new piece, he enjoys examining the concepts of symmetry and asymmetry in regards to matching of stones, materials, and mountings. He has found that incorporating asymmetry into a design (such as an irregularly shaped stone or pebble) can create an interesting contrast to the precision he achieves in his fabrication. Steven says of this contrast, "simply breaking the rules can be quite interesting!" You can view all of Steven's current projects on his website www.acmeclockworks.com.
Learn more about Steven's use of "unusual" stones and his passion for fabrication in his Custom Prong Settings for Unique Stones workshop on May 18-20, 2017 at Metalwerx.
Latest posts by Metalwerx (see all)