Jeanie Pratt describes her jewelry-making journey as a blend of self-directed and self-taught. Throughout her career as an artist, her medium has taken different forms but her passion for discovery and learning has been a constant. After graduating from the University of Arizona with degrees in Entomology and Botany, with a minor in art, she began working with the Peace Corps teaching beekeeping to communities in Guatemala and The Gambia. As a fiber artist, she was interested in exploring all of the various ethnic textiles that were made in these regions of the world. In Guatemala she was able to learn traditional loom weaving techniques that lead her to later create woven jewelry out of silk, linen, and beads. She used these experiences to not only broaden her knowledge of weaving and textile creation, but also used them to shape her approach to her materials.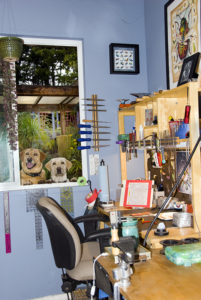 Her first foray into metal weaving came when she took a loom weaving with metal wire workshop with Donna Kaplan. It was after this class that she decided to make the switch to metal in her own work and she would continue to explore this new medium in much more depth over time. In 1998, her whole creative process was changed when she took a 5-day intensive workshop with Susan Elizabeth Wood, who not only provided Jeanie with a foundation of skills in textile techniques in metal, but also helped her to develop a solid core of metalsmithing as well. After extensive classes and workshops in metal fabrication, weaving, and even enameling, Jeanie began to develop her own aesthetic and application for her techniques.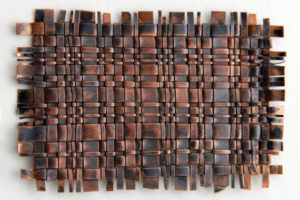 Her personal work uses a variety of textile techniques including weaving, knitting, twining, looping, and bobbin lace – all with metal! Her fiber arts and metalsmithing backgrounds inform how she approaches the construction of each piece, but it is her entomology background that inspires her designs through form, color, and texture. "I love making interesting woven patterns for my beetle brooch wings and twined bodies in gold and silver for my insect brooch bodies." The synergy of her two life-long pursuits in one body of work is unique, dynamic, and full of life. "Although I hadn't used my entomology degree in many years, I am now relearning about insects and am drawn to critters that are real, but surreal." She lives by a philosophy that "bugs are beautiful" and the organic nature of both her subject and her artistic process give her pieces beautiful harmony with a whimsical touch.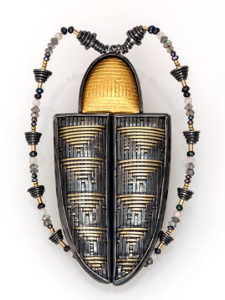 Jeanie stresses that newbies to metal weaving and textile techniques must have a sense of humor and patience in their learning. These techniques require different skill sets than basic metalsmithing and with time and practice, the process renders limitless possibilities. "You can have stunning results from very simple weave patterns, or one can embrace the more complex patterns for other marvelous effects." Regarding teaching this process to others, Jeanie says "coming from a fiber arts background, I am really excited about the prospect of introducing different types of weave structures to metalsmithing students. By utilizing different patterns, metals, and wire gauges, the variety of woven design possibilities is amazing!"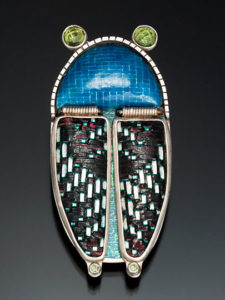 To learn more about Jeanie's weaving process, how she uses the hydraulic press in her work, and how she fabricates her beautiful bugs, sign up for her Designs in Woven Metal workshop at Metalwerx in Waltham, MA, July 12-16. 2017.
Latest posts by Metalwerx (see all)