Sessin Durgham was introduced to jewelry making in his sophomore year in high school, by a teacher who taught their students strict basic silversmithing. Metal techniques came easy to him and he continued to expand his skills and knowledge in college and received a BFA in Jewelry and Metalsmithing.  By the 1980's Sessin was graduated from college and was quickly thrown in the world of art shows. In 1995 he took a bench job at a free standing retail store; designing and doing custom work in karat golds, platinum and gemstones. In 2006 he joined Rio Grande's Tech team where training on all processes and products is nonstop. He now spends his work days trouble shooting processes and products with fellow jewelers and metalsmiths where everyone is teaching and learning from each other.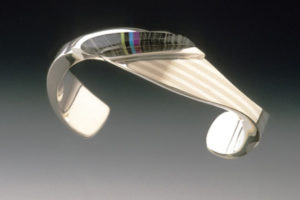 Throughout his career as an artist and jeweler, Sessin has focused his craft on not only the creation of inspiring work, but also on innovating the tools used to complete his work. "My latest endeavor is rescuing old classic anvils from the industrial revolution; then finishing them to be used for forging and silversmithing. Restoring old anvils has sparked the designer in me. I have three new tool designs; one of which is a small jeweler's anvil coming out soon." He often finds inspiration by looking at metal forms that aren't necessarily related to jewelry making, such as well-crafted iron gates. The work of Albert Peley is a major source of inspiration for him.
In 2016 Sessin was asked to create and an award for the founder of the Santa Fe Technical Symposium, Eddie Bell, for their 30th anniversary celebration. He hand carved a miniature book out of lapis lazuli to look like a volume of the journal. It was then laser engraved with amazing detail and captured all the markings of a full sized volume. In the same year, he was invited to be part of a 12-artist group who each created a link for the 2016 SNAG Links Project. Each artist documented the creation of their link and each piece was sold as part of a fundraiser and publish in a book titled Linking Our Lineage: 12 Techniques by 12 Master Smiths, Volume 2.
Sessin's passion for forging is evident in his work – full of dimension, precision and character. His approach to forging is not only technically proficient, but also innovative and adaptive. "I have to say the jewelry world is anything but boring.  There are so many things to learn, so many facets of the industry… it's a lifelong learning process. And I enjoy teaching forging to people who don't understand how fluid metal can be with the right tools." Join Sessin this summer to learn more about breaking the barriers of traditional forging during his It's More Than Forging master workshop at Metalwerx in Waltham, MA, August 2-6, 2017.
Latest posts by Metalwerx (see all)