Laura Wood was first introduced to jewelry as an undergraduate at the University of Georgia where she graduated with a BFA in Jewelry and Metalsmithing. From there, she studied at East Carolina University earning an MFA in Metal Design. During her time at ECU, Laura was the founding voice of the annual ECU Symposium, a student-run annual metals conference at the university, and is a co-founder of Jewelry Edition, a creative project facilitating the growth of jewelry artists. As a full time jewelry artist living in Asheville, North Carolina, Laura regularly teaches, speaks, exhibits, and takes classes at numerous institutions and conferences across the country each year.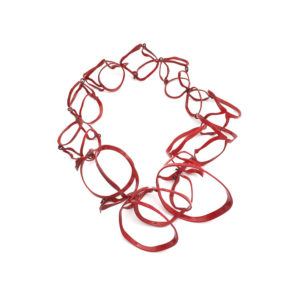 Working as a studio artist now for many years, Laura has developed a strict artistic process that involves maintaining a strong but simple color palette as well as refined attention to form and design, color application, and stone setting. In more recent months she has begun exploring the addition of new colors and it has inspired many new ideas. One consideration that remains constant in her work is the human form and how to design for it. "I am continually inspired by the body and how we express ourselves through adornment. My personal history in the performing arts has a lot of influence in how I work. The jewelry I make is a collaboration with the human form and this has an effect on every decision I execute when developing designs and engineering for wear."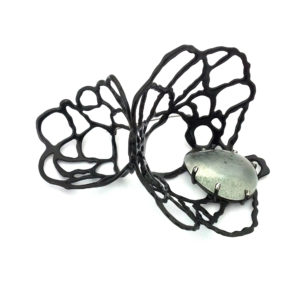 In September Laura will begin a three-year residency at Penland School of Crafts and most looks forward to focusing more on how she can continue to expand her not only her environment and physical work spaces, but also her time flexibility, all of which promise to help evolve her work further.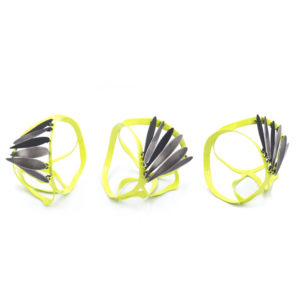 As an instructor, Laura is a big proponent of learning through repetition. "I find muscle memory and comfort with a material is a huge advantage when developing work."  She finds she is often able to learn something new by the recreation of forms while also creating good habits of efficiency. She sees it as a wonderful way to build on a personal vocabulary. You can learn more about Laura's approach to design, her efficiency with techniques, and more in her 5-Day master workshop Surfaces, Stones, and Designing for the Body at Metalwerx, September 6-10, 2017.
Latest posts by Metalwerx (see all)