On Wednesday November 22, 12 artists assembled in the Metalwerx studio to complete a project in the spirit of giving and of gratitude. The task was to complete 15 gold wedding bands for a group of women who live in Haiti and are to be married in December 2017, but do not have the resources to obtain this symbol of their union. While wedding bands may not be an essential part of living for many, these rings are meaningful and can be a symbol of hope, love and a 'bright and shiny' future for each couple – one step closer to living a more normal life after facing terrible devastation during the earthquake that hit Haiti in 2010.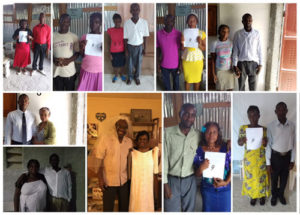 Ji Hwang, a humanitarian, jeweler, and friend of Metalwerx first approached us in the summer with this amazing opportunity. "Our family spent one week in Haiti during the summer with Pastor Arthur Demonsthenes, who is helping the poorest of the poor find hope. Over the past three years, he has been building an elementary school, grade by grade, for children who have been displaced by the catastrophic earthquake of 2010 into the mountains near Port-au-Prince. There are no roads and no running water, except for a cistern that collects water from the school's roof to provide water for the nearby families. We had an amazing experience meeting the children who go to the school and seeing their joy even though they are extremely poor. A special occasion is going to be held this December and next April, where the village is organizing wedding ceremonies for 23 couples. Arthur collected worn wedding dresses from the US and he is now trying to find these brides simple gold rings for their special day."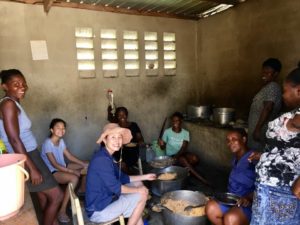 Pastor Arthur Demosthenes presides over the Elim Evangelical Church in Fitchburg. Demosthenes, a native of Haiti, lost his mother in the earthquake in 2010. Since then, he has been involved in starting this new community in Canaan, Haiti, northeast of Port-au-Prince. Through his regular missionary trips, he and his congregation have constructed homes, schools and cisterns (clean water storage tanks) for the local residents, and have helped the community develop ways to source food and other resources that have become scarce since the earthquake. Now that he has been able to establish vital resources within this region of the city, he is able to focus some of his efforts on bringing a bit of normalcy back to the everyday lives of the community members including holding regular church and wedding services.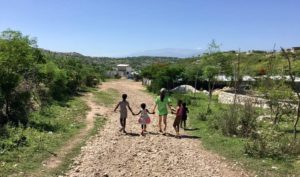 Metalwerx was asked by Pastor Arthur and Ji to create these rings before the upcoming ceremonies that will be taking place in December. As soon as our organization heard about this story and about how our resources could impact members of this community, we got started on making this gift for these special couples. Over the summer and fall we collected donated gold from members of the Metalwerx community as well as from Pastor Arthur's congregation. Once hearing about the project, people were quick to contribute their old and broken jewelry as well as any scrap or casting grain they had. Before we knew it, we had enough gold to make the 15 rings for the December ceremony and it was time to get to work!
Lead by Metalwerx board member, instructor, and jeweler Jeff Georgantes, our volunteer artists were equipped to turn our donated metal into beautiful wedding bands. The process started with testing and sorting the gold to determine what could be used for the project. Once the usable material was identified, it was time to melt it down to be poured into ingot molds that then would be filed and rolled out to make the half round gold wire that we would need to create the rings. This was also a great opportunity for those of our volunteers who had never worked with metal in this way to learn about the process of milling and fabricating with gold. After all of the wire had been produced for the project, our volunteers selected their couples from a packet that included photographs of the couples and the bride's ring sizes and got to work making the rings!

By the end of the day, all 15 rings had been fabricated, polished, and packed up to send with Pastor Arthur for his trip in early December. It also became very apparent at day's end that this experience had been extremely rewarding for our volunteers in many ways. They were able to not only work in the studio and learn a new technique from a master, but they were also able to learn from Pastor Arthur and one of his young missionaries named Sam about the community that they have worked so hard to help in the aftermath of the devastation that hit their community in 2010. Each artist was able to complete at least one ring for these women who deserve so much after the hardship they have endured for almost a decade and it became a very special experience for each of them to know that their craft and skills have impacted these people in their time of love and union.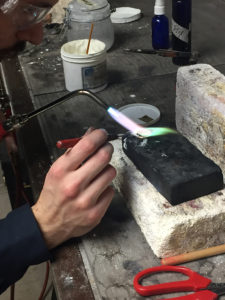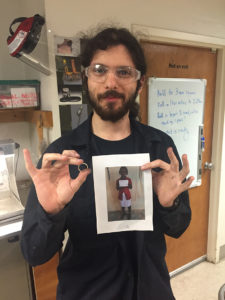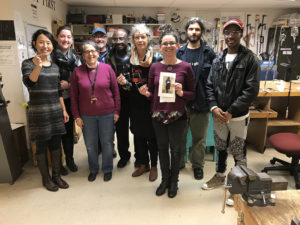 For all of the members of our Metalwerx community who participated in this experience, doing this is a reminder of all that we have to be thankful for. It's easy to take our running water, walls and roof of our homes, heat, grocery stores and other amenities for granted, and this has become a impactful reminder that there are many communities like this one facing hardship and yet are still grateful for their land and the community they live in. We were fortunate to have received enough gold donations that we will be able to assemble again in the spring and provide Pastor Arthur with another small batch of wedding bands for his April ceremonies! If you are interested in donating your gold scrap or old and broken jewelry to contribute to the project in Spring 2018, please contact Metalwerx. To learn more about the amazing work Pastor Arthur and his congregation are doing in Haiti or to learn about ways you can contribute to his efforts, please email Pastor Arthur.
Latest posts by Metalwerx (see all)