Over, under, over, under, over, under…. music quietly running threw her head phones. All you can hear is the sound of metal wires lightly brushing against each other. The level of concentrations is palpable as Sharon's fingers carefully bend and manipulate the metal wires of the woven pod she is sculpting. It is a process that requires precise calculations, and many hours of slowly weaving thin gauge copper wire in and out.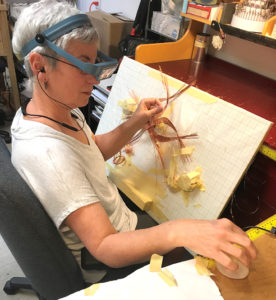 Sharon Stafford has one of those infectious studio practices, that makes you want to settle into your bench and just work! It is apparent in her ZEN like attitude, that Sharon enjoys the process of making. Nothing is rushed, and when she is unhappy with the work she has completed you can find her delicately unweaving her weft.
When asked what inspires her, Sharon simply says "the inspiration comes from the work itself- the process, the techniques and the forms", though you may notice some natural forms appearing in Sharon's work as well, pods, leafs, and tendrils. Sharon considers these motifs more of a subconscious inspiration rather than fully intentional.  Take for example Sharon's "Copperseed Pods" sculptural vessel, which is currently on view at the Society of Arts and Crafts in the Seaport District, Boston! This piece is part of the traveling exhibition "All things Considered 9: Basketry in the 21st Century" on view until June 9th!  Sharon remembers this piece to have been a "wondrous experience in making" as it morphed and grew into beautiful textures and forms.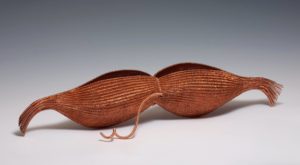 But basketry and sculptural weaving aren't the only skills she's mastered; Sharon also makes unique jewelry that primarily combines traditional silver smithing with fold forming and metal crochet.  Sometimes these fold forms even find themselves woven into a basket, such as Sharon's "Coiled Cup" which earned her the Jurors Choice Recognition in the Lewton-Brain Foldform Competion in 2016! One of Sharon's signature jewelry pieces is her Crochet Wire Scarf; these scarves vary in color, thickness, and are sometimes adorned with pearls or precious stones. These lightweight wire scarfs delicately drape around the wearer's neck, and can be worn in a multitude of ways… twisted in the front…laying parallel on the body…or doubled up and asymmetrical… the wearer decides!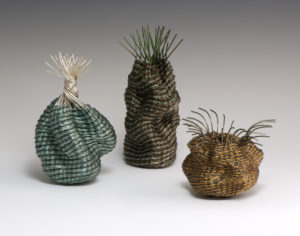 Sharon is constantly making, at home and in the Metalwerx studio- which certainly means a lot of wear and tear on her hands and wrists, so this year Sharon has changed her studio practice to be less repetitive. This means each piece takes a little bit longer to complete, but she is working on more pieces at once. When writing this blog post, I walked back to snap a couple of photos of Sharon at work, to no surprise she was weaving a gorgeous new piece. There she was with her giant project board, covered in graph paper, and wires coming out from seemingly every direction! Undoubtedly part of the art of weaving wire is proactively preventing the loose wires from turning into a giant knot!
To get a sneak peek into Sharon's process visit our youtube page at the link below to see Sharon weaving!
And to learn more about Sharon and her work visit the Society of Arts and Craft on Friday May 25th, at 12pm for her Gallery Talk! ASLO: Don't miss her work in the 2018 Biennial Member Exhibition at the Fuller Craft Museum, on view until October 7th 2018.
Latest posts by Metalwerx (see all)