A day in the life of Victoria Lansford is multifaceted to say the least- it is a masterful balancing act, consisting of business work, writing for one of her many books or blogs, creating instructional videos, and most importantly creating stunning work in metal.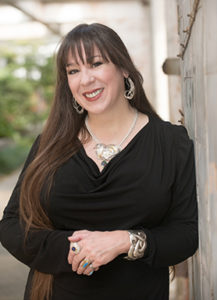 For those of you that are not acquainted with Victoria's metal working, it cannot be easily summed up in one sentence. With spiraling filigree, voluminous chasing and repoussé, and flourishing calligraphy, her work is not confined to one style, technique, or scale.  However all of her work has strong roots in historical metalsmithing. Her techniques encompass traditions from ancient Greece, ancient Egypt, and even metal working found along the Silk Road. Her dedication to historical metalsmithing has garnered a greater interest and appreciation for historical techniques in our contemporary jewelry culture.  Victoria's passion and dedication for preserving these techniques, is evident by her fervent attention to teaching worldwide, as well as through her online videos, workshops, books, and blog.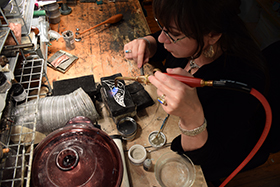 Taking a closer look at Victoria's work, you will also find a great attention to line quality; using broad gestured curves, which speak the language of movement. With each piece, your eye can't help but follow these lines; as if the artwork is begging you do a choreographed dance.  So, it will come as no surprise that Victoria was once a professional jazz and modern dancer.  After an injury which left her unable to dance, Victoria was in search of a new passion to pursue.  Metal had been an interest of Victoria's since she was small child, so it only seemed natural this would become the next chapter of her life. Victoria recalls the first moment she fell in love with idea of jewelry making.  As said by Victoria "The Christmas I was five years old a friend gave me a very strange board game, called Voice of the Mummy.  I became completely mesmerized by the ancient Egyptian artwork all over the game and then obsessed with the metalwork from the New Kingdom dynasties.  I desperately wanted to know how the work was created and promised myself one day I'd learn". In the fall of 1989 she began her studies in jewelry and silversmithing at Georgia State University where she studied under Richard Mafong and artist in residence Gia Gogishvilli.  Victoria was instantly captivated, and would later go on to establish the Metalsmithing Department at Spruill Center for the Arts.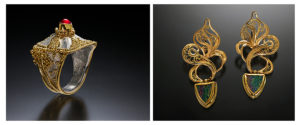 "Majestic" / "Return to Stardust" earrings by Victoria Lansford 
One might wonder, "how does she do it all, and still have time to make jewelry?"  We asked Victoria how she manages her studio-life balance, and this is what she said…
"My studio is in my home. On perfect days, I wake up before everyone else, sneak down the hall still in my pajamas, and begin drawing. Unfortunately, there are very few perfect days.  Most days I immediately get sucked into my Mac and the 4+ hours/day it takes to manage the business side of being a professional artist, writer, metalsmithing product developer, and educator.
I work on more pieces at one time than I can even keep track of.  Seriously, there are about 15-20 pieces going at any one time with another 30-50 on hold, waiting for me to get back to them. About 75% of these are metal/jewelry and 25% are drawings, calligraphic pieces, or Medieval inspired illuminated miniatures… Jumping around keeps me more creative and less mired in all the grunt work that metalsmithing sometimes requires."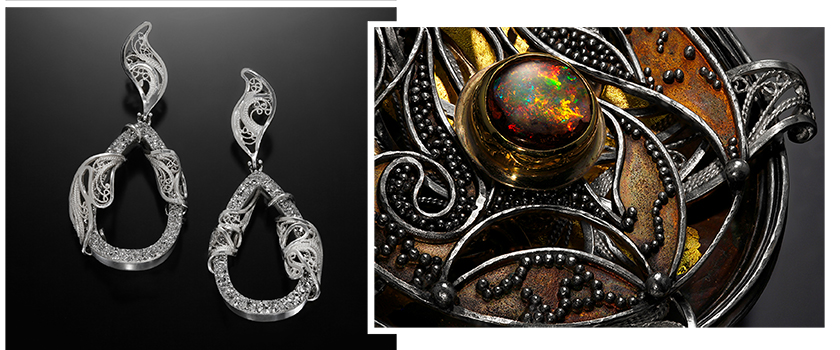 "Starlit Nights" filigree earrings / "Relativity Navigator" by Victoria Lansford
While Victoria is actively working in her studio, she can be found listening to an array of jazz, funk, and disco, interspersed with BBC Radio. In her words "my left brain needs a problem to solve while my right brain is being creative".   We suspect Victoria may have listened to a lot of BBC recently as she just completed a couple of large scale projects for a bespoke, 69 meter long  super yacht.   The first piece was a room divider, comprised of 104 etched copper panels, each one artfully designed to interlock and create an underwater scene.   The second project was a 61" by 82" Eastern repoussé relief of two sea turtles!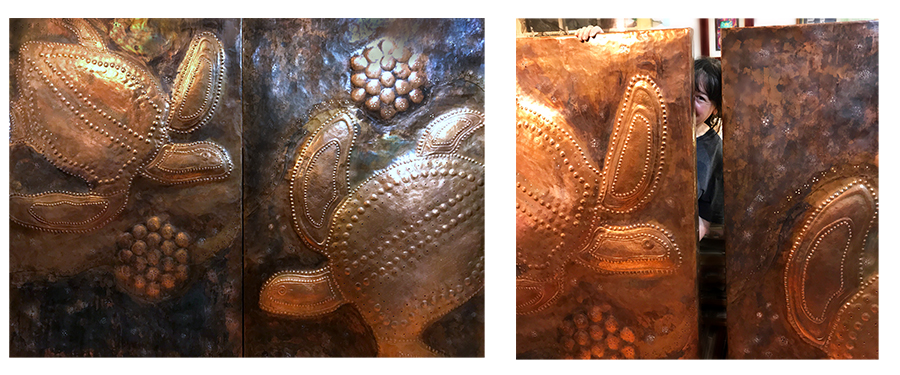 Copper "Turtle Screen" relief by Victoria Lansford
When asked to leave us with a tip for our readers, Victoria said "I tell my students I "play chicken" with metal, trying to get it to do things that haven't been done quite that way before and daring it to work"
Learn more from Victoria during her Elegant Sculptural Rings (August 8-10, 2018), and Russian Filigree (August 11-12, 2018) Summer with the Masters workshop at Metalwerx in Waltham, MA.
Latest posts by Metalwerx (see all)