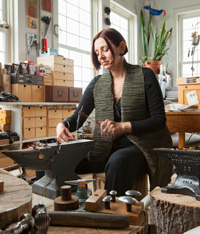 We sat down with artist, maker, and Metalwerx instructor Paulette Werger to talk about the origins of her interest in metalsmithing, her career in teaching, and how she keeps things fresh in the studio.
What was your first introduction to Jewelry and Metals? When did you know that you wanted to be a metalsmith?
My dad gave me a pair of my grandfather's pliers for my 9th birthday and some copper wire. I then made "jewelry" for my mom to wear to work along with painted rocks. At 13, my dad gave me an old Prestolite torch and I taught myself to solder. It wasn't until I was a sophomore in college that I had Jewelry/Metals. It was then that I learned that making things in metal and soldering was of great value to me. I loved that each time I learned something, there was something else I didn't know and needed to learn. I still use those pliers daily.
How long have you been teaching Jewelry and Metals? How long have you been teaching at Metalwerx? Do you remember your first class? How did it feel?
I've been teaching about 25 years now. Tom Mann and I were the first two visiting artists at Metalwerx back when it was in Woburn. I think it was the first summer it was open. I taught bezel making and Keumboo. It was great getting folks stirred up and enabling them to come away with a new skill.
What inspired you to become a teacher? Did you have one teacher in particular that made you want to pass this knowledge onto others?
I think that I've always loved sharing information for the common good. My family is full of educators. My Mom has always been supportive and encouraging. Later on, Fred Fenster and Eleanor Mott played pretty big roles as they were very giving of information, lived by making and modeled how to teach well. Penland and Haystack were both pivotal in introducing me to other artists and colleagues.
Describe your personal design process.  How do you start your day in the studio? Do your ideas come to you out of the blue, or do you sit down design when it is convent for you?
My day starts COFFEE and a brief list of 5-10 things I need to begin or make progress on. I juggle a lot between making, exhibiting, teaching and board work so if I don't map out my day it's easy to lose my way. I love to draw and use it as an "idea capture," everything from how a chain link is connected to the junctures of plant stems. Foot notes of ideas that become something later. I design and formally draw when the work is client driven.
When you're feeling stumped on what to make next what do you do? Do you have tips for our readers?
I have coffee, look at my stones and pearls and make bezels or prongs. That way, I've made a commitment to beginning something and made use of my time even if I have no new creative ideas. I fuse chain links, make clasps. The "beginning" then gets my mind and hands busy. Then I say YIKES! I'd better finish this! Sometimes just stopping and taking the dog for a walk can get me to settle on the ideas that spin around and help lead me to new designs. I work in series and that too helps inform the next piece to build a body of work. As soon as I finish something, I usually see another way or an improvement of the design or concept. I then move forward to the next idea and piece.

If I'm really stuck I pour over my drawings and sketchbooks.
What was the inspiration for teaching this class (From Flat to Formed)? Why do you like to teach design?
I'm always looking for new ways of creating volume and line in 3 dimensions. Simple and elemental ways. Patterning, using sheet metal, folding, fusing – I can't be the only one fascinated with deigning in this manner… Breaking down the steps, tracking the new ideas, sharing the information, the think tank of designing.
Paulette is a valued instructor and member of the Metalwerx community. She will be joining the Metalwerx studio this summer to teach a five day workshop, August 22-26, 2018, Flat to Formed Creating Volume with Sheet and Wire.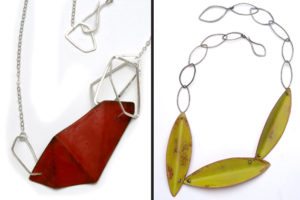 Latest posts by Metalwerx (see all)