Metalwerx instructor Pauline Warg has been dedicated to making jewelry since childhood. With 35 years of professional experience Pauline has picked up countless skills and techniques over the years.  In fact, Pauline's love of jewelry began when she was given a trinket kiln to play with as a child. Pauline became infatuated with the glossy finish and bright colors of enamel on copper.  Tucked away in the family basement Pauline would sift and fuse enamels to create her very first pieces of jewelry. Attention to detail came naturally to Pauline, in her teenage years she would spend hour's bead weaving intricate patterns. With a few semesters under her belt at college in Ohio, it was clear that jewelry would be her path.  In the spring of 1970 Pauline began an extensive 3 year apprenticeship with Master Goldsmith Phillip Morton of Contemporary Jewelry Holt, Rinehart & Winston. In lieu of an application Pauline was asked to raise a silver bowl on the spot!  The apprenticeship covered every detail of being a successful contemporary craftsperson.  As said by Pauline "We learned design, fabrication, casting, silversmithing, marketing, retailing, bookkeeping and so much more".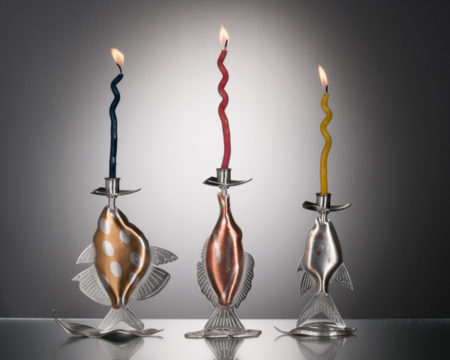 By the time she had completed three years of intensive goldsmith training, Pauline was ready to begin her business.  "After completing my apprenticeship I moved to Portsmouth, NH and opened a store.  I created my own designs, did repairs for Springer's Jewelers, and specialized in custom work, especially wedding rings".  Pauline began frequenting the craft show circuit, while she was an adjunct professor at UNH, and at the Jewelry Institute in Providence , RI.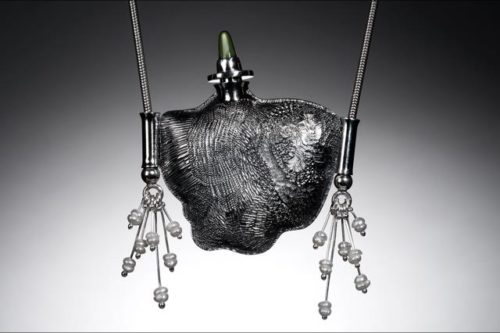 The design process has always been an important part of the Pauline' s practice (as you can see by the gorgeous sketch below). So when she was given the opportunity to become a designer for Shreve, Crump & Low and their parent company Henry Birks and Sons, she was thrilled.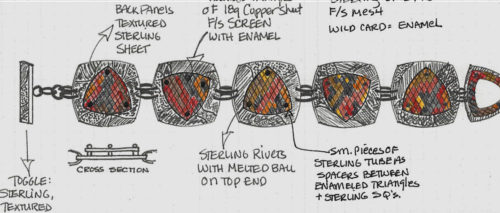 Pauline's jewelry can be best described as bold yet elegant. Her attraction to enameling has remained prevalent in her daily practice. She begins her studio day early with a cup of tea and turning on the kiln for a full day of enameling while listening to NPR.  Her studio space in Maine is spacious, light filled, and well stocked with tools. One of her favorite tools is a collection of chasing and matting tools from a jobber for companies like Gorham and Samuel Kirk & Sons in the late 90's.  As said by Pauline "I am possessed by these tools.  They are gorgeous to look at. All hand made.  I make my own chasing tools, but these tools are beyond compare.  They have made my textured work amazing"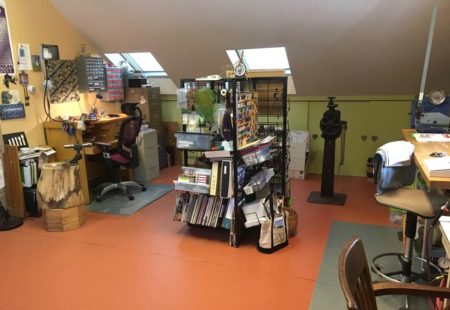 Most recently Pauline has started a new line of jewelry called fARTlek jewelry. "In 2013 after recovering from breast cancer, I became an avid runner.  This helped me to stay strong and positive.  As a result of this I started a new business fARTlek Jewelry® – a line of jewelry to celebrate personal achievements and cancer survival.  In addition to my regular work I now design and make jewelry around personal journeys.  This is also a way for me to give back and pay forward".  A significant portion of the proceeds earned from fARTlek are donated to charities related to cancer research and help for those with catastrophic illnesses.
fARTlek means "speed play"  in Swedish. It is a technique of running in which the runner alternates between intermittent burst of fast running and slow running.  We think it serves as a beautiful metaphor for Pauline's new life trajectory as jeweler. Although cancer required her to slow down for a while, it couldn't keep her from working hard to create her new business! Recently the Maine Cancer Foundation has chosen Pauline to make a unique, exclusive necklace to award to the top fundraisers for the Tri-For-A-Cure® 2019!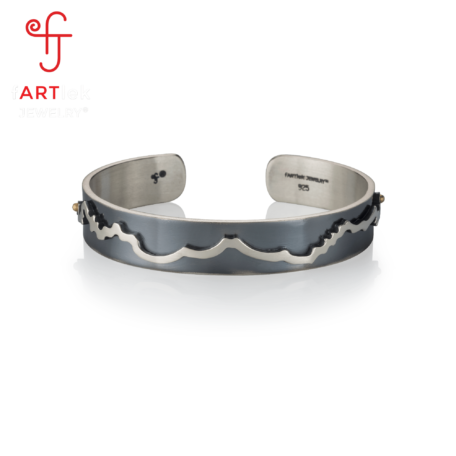 To learn more from Pauline Warg, take a look at her upcoming workshop "The Sculpted Bezel" March 29th -31st at Metalwerx in Waltham, MA.
Latest posts by Metalwerx (see all)