In February of 2018,  jeweler Corkie Bolton set out to make metalsmithing easier for makers all over the world by sharing jewelry making tips on her Instagram account titled "Metalsmith Society". Little did she know it would grow to be one of the most popular metalsmithing account on Instagram with 70.8k followers!  The premises is pretty straight forward, if you have a great tip for metalsmithing just post a picture on Instagram with an explanation of how your tip works, and then you tag Metalsmith Society in the post. Corkie will then repost your tip for everyone to learn from! As the popularity of the account has grown Corkie has come up with creative ways to further involve her followers, such as creating monthly metalsmithing challenges. This months challenge is to create a "vessel", and so far there are many gorgeous submission made by Metalsmith Society followers!
It was our greatest pleasure visit with Corkie in Rhode Island studio space, and get to know more about the amazing woman behind this amazing social media account!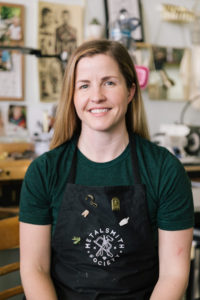 How do you find time to post so frequently?
From the beginning, I've posted daily, and I know my consistency has really paid off. In order to keep that going I sit down a few times a week and create drafts for future posts. On days where it happens to be a holiday or I'm focusing on spending time with my family all I have to do is post something I already planned in advance!
How do you balance making things with being a mom?
While my two young kids are definitely my main priority I also prioritize my own self-care. For me this includes working out 4 times a week and having regular, designated evenings that I go to my studio and get work done. I don't know I would be as happy as I am, as a stay at home mom if it weren't for my ability to create my jewelry and have adult time.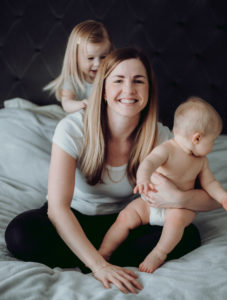 Corkie and her kids!
Are you from Rhode Island? If not, where are you from and how did you choose to live here?
I grew up in Ossining, New York a suburb outside of New York City. I moved to Rhode Island in 2014 with my husband who grew up here. It's an amazing place to live!
In high school you began to make jewelry. Did you have a jewelry / metals program in your high school? What first got you started?
Jewelry making and enameling were introduced to me my junior year of high school and I fell in love! One of my teachers Mrs D had experience with jewelry making and she would allow us to do it if we wanted to! 
Did you attend Pratt knowing that you would graduate with a jewelry degree?
My experience in high school definitely influenced my decision to major in Jewelry at Pratt. I really loved this idea that I could create jewelry that was functional, could last forever and even be handed down from generation to generation.
You have really nurtured the Metalsmith Society into a wonderfully inclusive and sharing community! What spawned your interest in starting this profile and did you think that it would be as successful as it has become?
One of the major reasons I started the page was because I wanted to connect with other jewelers out there that were open to sharing knowledge with others. I just think it is wonderful to be able to ask others their experiences, get support when you need it or just see someone do something in a way you never would have considered. Doing this in a space where kindness is a main objective has really resonated with a lot of people, but I never dreamed the page would grow to be this big and in such a short amount of time. I feel very grateful.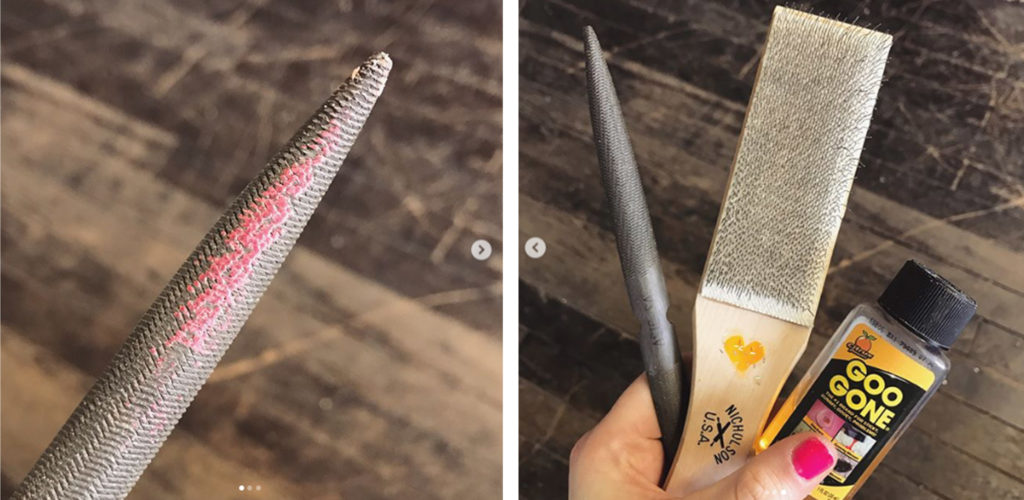 A tip for cleaning wax files from Metalsmith Society's Instagram
What is your studio set-up like?  Do you have it at home or in a separate location?
My studio is in downtown, Providence in an old paper mill and I have three studiomates. My set up basically consists of four areas, the main being my bench, then there is a polishing and forming area, a desk where I design and measure which also has my rolling mill and a soldering table.
What are some ways that you seek out inspiration for your work?
My work is always evolving, last summer I became OBSESSED with gardening. Spending hours daily outside with my kids tending to my garden and cutting my own bouquets. It only made sense to then work on a botanical collection. I am also very inspired by techniques, so I will set a goal to get better at a particular technique by creating a collection around it. In this way I'm always growing and becoming better at what I do.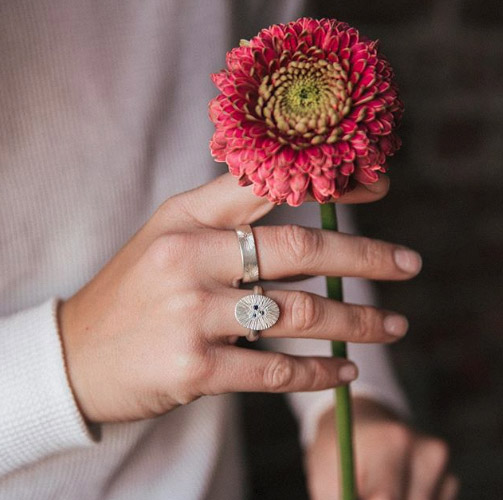 The Wide Zinnia Band , and Illumination Zinnia Ring by Corkie
Latest posts by Metalwerx (see all)