If you've encountered an incredibly knowledgeable man with a fun loving attitude, who happens to be wearing a Hawaiian shirt …you've probably met Jeff Georgantes!  He is a great person to know for more reasons than one. In recent years we have been very fortunate to have Jeff as a member of our Board of Directors at Metalwerx and as a frequent teacher. You may have also met Jeff at Metalwerx Marketplace, where he can usually be found inside the Otto Frei booth giving demonstrations and teaching shoppers about the "do's and don'ts" of tools.  This summer Jeff will be joining us for Summer with the Masters to teach "Weld it! Precision Pulse Arc Welding for Jewelers". In anticipation of this great class, we wanted to know a little bit more about Jeff and how he got into precision pulse arc welding!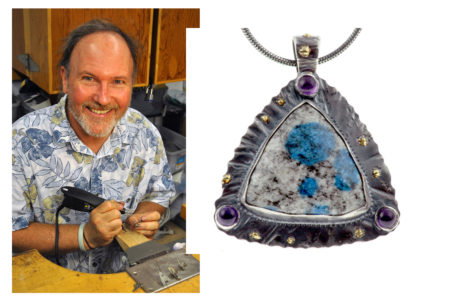 So how did Jeff end up being the knowledgeable resource that he is today? Well, it all started in the 1970s in Northern California. The "West Coast Funk" Movement was in full swing, and artists like Robert Arneson and William Wiley had captured Jeff's interest with their borderline irreverent style. Among his early heroes were the likes of Jim Cotter, Fred Woell, Gary Noffke, and Robert Ebendorf. Jeff remarked "It's funny. Even after all of these years, I learned a way of thinking from them that still reverberates within me to this day. Most often I work in an assemblage structure. I find an object that speaks to me, whether it's a beach or river rock, a found object, whatever. Then I build from there" After studying under the tutelage of David LaPlantz at Humboldt State University in Arcata California, Jeff found himself doing the jewelry store hustle. Long days spent working at the bench at jewelry stores, meant that Jeff became really well acquainted with repair, and all things relating to wax carving and stone setting! "Becoming good at jewelry repair is probably the best technical exercise there is in jewelry making. It teaches a person to see how something was made and on some level learn the thought process of the maker" Jeff said.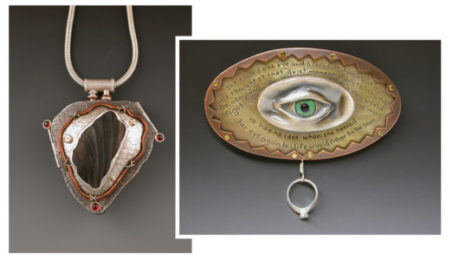 During his time spent in the Redwoods of California, Jeff co-created a thriving jewelry and metals program at Mendocino Art Center, taught at the College of the Redwoods, and received a MA in Sculpture from Humboldt State University. All of this would lead him to fulfill a life-long dream to become a full-time college professor. He went back to school and got his MFA in Jewelry and Metals in Southern California at CSU, Fullerton with Christina Smith. With his new diploma in hand he became the Jewelry/Metals Department Head at Dartmouth College in New Hampshire!
One of Jeff's greatest qualities is his thirst for knowledge, so when a local jeweler in Hanover, NH gave Jeff unlimited access to his new laser welder, Jeff was eager to learn how to fully implement this new technology. Jeff spent countless hours tweaking with all of the settings and trying different types of welds and repairs.  Jeff quickly fell in love with this new technology. The laser welder was a great asset to his work, but the price of the laser welder made it unattainable for his home studio. So he began searching for a cheaper option and discovered the Pulse Arc Welder as the perfect alternative. "I was blown away by what was possible! Being able to hold parts together just with your hands, then tack those parts together before soldering and adjust for a perfect alignment was revolutionary for me. I've pretty much thrown away all of my third-hand soldering tweezers!"  The Pulse Arc Welder works very differently from the Laser Welder it was able to accomplish nearly the same tasks, at a fraction of the cost!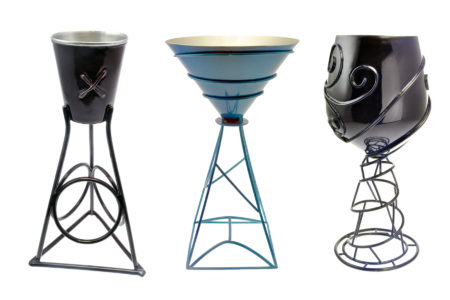 So how does it work?  Jeff explains…
"Laser welders weld with a highly concentrated beam of infrared light, whereas the Pulse Arc welder uses electricity and tungsten inert gas (usually Argon gas) to create the weld! Positive and negative leads come together in a controlled way to create a really hot spark. The space between the two leads creates an arc, which develops superheated plasma; hence the term arc welding. While arc welding is a great technology to incorporate into any studio practice, it best serves as a complement to traditional torch soldering, not a replacement…I'll tack weld all of the individual pieces together with the pulse arc welder and then solder all 10-15 joints in one solder operation".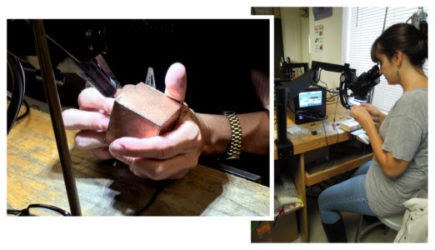 Let's be clear, soldering 10-15 joints at once sounds like a dream come true, but that's not the only task the Pulse Arc Welder is capable of! Jeff explained it can also be used during enameling (instead of using IT solder before you enamel), and for filling pits and porosity in a casting, or even to resize a ring. One of the most amazing assets of the Pulse Arc Welder is its ability to weld next to heat sensitive objects such as pearls and enamel. The Pulse Arc Welder has had many improvements over the years, one of which was to allow the Pulse Arc Welder to heat the area being welded very quickly, while also cooling it back down in a millisecond, so you don't have to worry about your stone our pearl cracking from the heat!
"Most people in our field think that advances in CAD/CAM and 3D printing have had the greatest influence on contemporary jewelry technology. While the influence of CAD/CAM and 3D printing is huge, I would argue that advances in precision welding for jewelry has just as big of an effect on our field. "Weld It! Precision Pulse Arc Welding for Jewelers" Class at Metalwerx is an amazing opportunity for participants to get hands-on, mentored experience with transformative technology"  – Jeff Georgantes
Join us this summer for "Weld it! Precision Pulse Arc Welding for Jewelers" August 14th- 18th!
Latest posts by Metalwerx (see all)