Catching Up at CraftBoston with Bonnie Bishoff
Interviewed by Violet Ita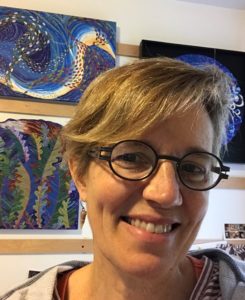 For those of your who are unfamiliar with the work of Bonnie Bishoff, she is an artist and craftsperson working predominantly in polymer clay. Originally making studio furniture with polymer inlays alongside her husband, J.M. Syron, she has since transitioned into making jewelry and wall pieces. I sat down with her at CraftBoston to talk about the show, her work, and her upcoming class "Polymer Bracelets with Wire Armatures" which she will be teaching at Metalwerx in March.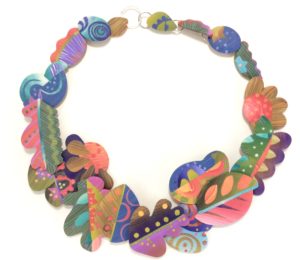 Plenty/Autumn Necklace, polymer clay millefiori marquetry, nickel silver and sterling silver, 2018
Violet Ita: How is CraftBoston going for you? 
Bonnie Bishoff: Good, we got an award. You can't complain about anything after you've been recognized and we've been doing this show since it started.
Wow, how many years is that? 
Awhile. [Laughs]
What was the award? 
It was for excellence in mixed media. We originally did furniture, we made furniture with big veneers of polymer clay, so this is really different, this is wall pieces and jewelry. And we did get several awards at CraftBoston back in the beginning for the furniture, so this felt particularly lovely to get recognized in a really new iteration of who we are, and it's been a while building in that direction so it really feels like quite an honor.
How recent has the switch been into the jewelry and the wall-oriented sculptural pieces? 
It's been a slow transition in the last ten years. We started to have a little bit of jewelry with our furniture. We moved from Gloucester, Massachusetts to Brunswick, Maine about seven years ago and we closed down our woodshop at that point and we transitioned, so we just have a small woodshop which we still use to do our wall pieces, and now we have a small metals bench, and we have a fibers studio, we do some work in there as well, and then our polymer studio.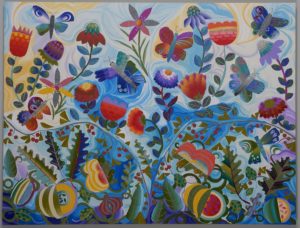 Abundance, polymer clay, marquetry veneer, maple veneer, maple plywood, 41″ w x 31.5″ h x 1″ d 
When you started to transition into jewelry, what was the impetus behind that? 
I always made jewelry. I had wanted to expand in that direction. My mother-in-law was a fiber artist. She asked us if we could make her some stick pins and shawl pins for some garments she was doing, and I was trying to do some wire work and I thought, Wow, I really need to solder, and then I thought, Well, maybe I should learn Precious Metal Clay, because a lot of polymer artists go in that direction and I was like no, I have to do the real thing. And I said, just put on your big girl pants and learn how to solder. Claire Sanford and Beth Ann Gerstein were my metal fairy godmothers and I am extremely lucky. Claire just got me started on soldering and she is delightful and so generous, and she was just like, anything you need help with call me. And then Beth Ann Gerstein, who we knew from the Society [of Arts and Crafts] and they were the first people to show our furniture. So we've worked with them for a long time. And she said, "Well I teach an advanced Metals class at Brookline Arts Center, why don't you come join our studio?" and I said, "Well I'm not advanced," and she said, "You've been working with tools, you can do this." Cause I was doing carving and different pieces in the furniture-making, she was absolutely right except for the first three classes, where I was like, "Everything is so tiny! My hand are so big!" And I just really kept going from there.
I think polymer clay does its best when it has another medium with it. It has its limitations just like every medium, and when we, my husband and I, collaborate we bring different skill sets, so we always think about combining things. We thought, "Oh [polymer clay] could be on furniture if you use it like a wood veneer." We had done sculptural elements and on lampshades and all kinds of things, so we are very experimental and we always think about what's the best part of this medium and what can it do, what can't it do. So collaboration and using a variety of things has been a big part of what we do. So, it was actually a pretty natural transition. And we wanted a change from furniture. Furniture has its limitations in so many ways. You can only fit three or four pieces of studio furniture in your house but jewelry and wall pieces are much more collectable and affordable and also you don't need an entire group of people to decide whether you are going to buy it. [Laughs] Furniture is like, "Call the marriage counselor and the interior designer and does it match my whatever?" Jewelry is so individual and now I see it as small sculptures.
And personal.
Yeah, very personal. Furniture I think people would say it's almost like a member of the family, but jewelry, people say this makes me happy every time I wear it and that's a very personal thing. I just love that.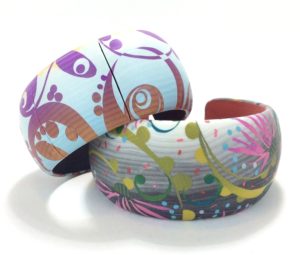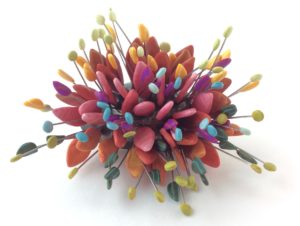 Veneered Cuff Bracelets, polymer clay marquetry veneer, nickel silver armature, epoxy clay core; Sea Urchin Pin, polymer clay millefiori marquetry, painted bronze, sterling silver, stainless steel wire
So you touched on this already, but I was interested in how you work collaboratively in the studio, what that process looks like? 
A sidebar is that my partner, J. M. Syron, started out making musical instruments so he has a feeling for very fine work, and furniture is very fine work. So, how do we do this? Usually, one of us has an idea, we draw and pass ideas back and forth. But I am the main driving force with polymer clay. He has picked up more of that now and does quite a bit of polymer clay work, but I build all the veneers, I'm definitely the colorist. I build all the design work. But we work with it in veneers so I build up lots of patterns. He actually makes a lot of wire armatures. He does a lot of the metal soldering, texturing, so he's building a lot of the structures and then he passes it to me, which I love. Either one of us will draw the original thing, and sometimes we both have series that we're more interested in. He's been super interested in the bracelets and the challenge of a bracelet and I am too. But he's really taken off with some things and then he passes it to me. He may sculpt the inner structure and then I put the veneer on the outside, and then I do a lot of experimentation with forms as well using the beading wire and the metal too. Sometimes I'll start out on a process and then hand it over to him and because he has a woodworking background, he will make a jig. He's also extraordinarily good at polishing, a lot more patience than I have for finishing which is a big part of woodworking. So we pass things back and forth quite a bit.
You were mentioning drawing, so start to finish, how similar is the drawing to the finished piece? 
Things like bracelets where we're cutting out sheet metal, they are almost exactly like drawing in terms of those shapes. There's a whole series of work where I build veneer components that have individual shapes and I may do a thumbnail sketch, but I am building from a series of cutters and freeform. I have a vocabulary in those shapes I've built. Almost all the pattern work is from our patterns we've built up over time, and I don't have the patience to draw it, I'm composing it as I go. I tend to work in permutations, so I'll try six different things. So sometimes we get a really good canvas and then I really just rip on all the patterns for a while. So it's really a mix.
I noticed you went to Oberlin, did you study art in school? 
I've always been an art/science person so I was torn at Oberlin. I was an environmental studies major and all my science labs overlapped with my art labs. I mostly focused on printmaking at Oberlin where I learned to carve, but I was really into historical geology. Historical geology you usually look at patterns and maps.
Like stratigraphy? 
Yes, and like a roadcut, where you are looking at what came first. When you look at a geological map, the patterns essentially would be a slice. If you could look down into the earth, you would see that it is a bowl shape, but you are only seeing the edges on the surface of the map. So I love 3D thinking. At Oberlin I mostly did printmaking but my work study job was building scenery. So I learned to build in the theater which I did in high school. I worked as a carpenter and for a potter in the summers. So I had this back and forth thing, but at the end of the day I was an environmental studies major because I could do everything. And then I taught middle school science for seven years but that's when we started making things. We started making things together as soon as we were together. And then I had to give up teaching because I just had to make art. So my work has a lot of reference to science. I was actually introduced to polymer clay by the school art teacher who said "Have you seen this?" and I said "Oh my god, I'm in love, I need to go make that right now." Because its building patterns. If you think about how things are extruded, or grow to form patterns, or fractals, polymer clay you are actually building a pattern in dimensional space. So I love cross-section thinking in science.
So do you ever think about how to use data or patterns from science in the polymer clay?
Not data, more form and function. Actually, skeletal systems are one of my most favorite things. It's more like the physical expression of growth, shown in patterns. Pattern is my favorite thing. And permutations. And color. So you can see why I use polymer clay.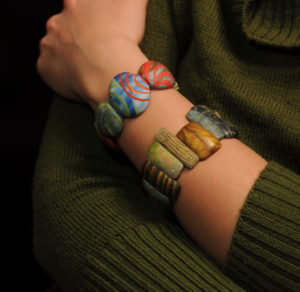 And then one thing I'm always interested in hearing from people, particularly at an event like this, is what you think about craft and art and how do you see yourself fitting in with those communities? If that's not too broad of a question. 
It's a great question because we make furniture, and a lot of people don't think furniture could be art, but it requires a certain skill set. People want it to be functional. But if you go to the Peabody Essex Museum, and you look at a collection of Ming Dynasty furniture, nobody cares whether it's art or craft, it's just a beautiful object that takes extraordinary skill and an aesthetic to make. Furniture really brought up that question a lot.
Jewelry feels like small pieces of art to wear. I think we are at a point in time where, and I think it's very interesting with 3D printing and things like that, there is a skill set that makes it craft. There is craftsmanship, and a really deep skill set that combines with aesthetic and I still feel that that's important. My challenge when I see something like 3D printing is I wanna draw, maybe it goes into Adobe Illustrator or RHINO, but I like my hand to be in there somewhere. I think that actually now, that makes the question even more different. Even more for us than with furniture.
I find at these shows at this point, and we've done almost 30 years of this, that the education you do at these shows is often helping people understand "Is this production or is it one of kind work, is it just you two making it?" That also is craft, and art, and it's a very blurry line and you spend a lot of time helping people understand how that can be, but I don't think there is a clear delineation. I've seen some completely unfunctional furniture that is the most beautiful thing. Is it decorative art? You can say it isn't decorative, it may not be functional. At the end of the day it's how it lives with people that I think matters. It's an ongoing conversation but I don't think it is an important definition to me.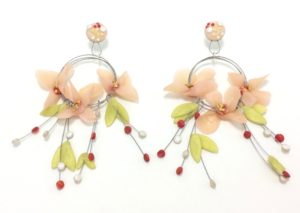 Is there anything that hasn't been covered that you think is important for people to know about your work? 
In particular with this class [Polymer Bracelets with Wire Armatures at Metalwerx], the thing I love, what's wonderful for us this metal is the tensile strength of metal is what polymer lacks and a lot of people in the polymer world do not make their own structures, and they are always looking for something. But then they are letting somebody else's product, essentially, define the form of their work. That is so restrictive. To me, wire in particular is like a drawn line, and that's how I think of it, and that's the way I tend to use it. Polymer clay has such an individual voice. If your work looks like someone else's, you haven't tried hard enough because polymer clay is very responsive, just like metal. There's 20 ways to do one thing, so to me, it's a lovely combination of materials. Also because polymer clay cures at such a low temperature, we are always sticking metal in the oven with no problem. We oxidize metal and polymer pieces and you can put the polymer in something like liver of sulfur and it's fine.It's a very funny medium and it's wide open. If you think about most media you see at this show has been used since almost Egyptian times. You can use a habit of thinking or construction or details [with polymer clay.] We'll make something we refer to as mokume gane, which is a metalworking technique that means woodgrain, but then we can mimic some of that but with a totally different set of parameters and that is really interesting. I love that you bring a body of knowledge to that medium, you go someplace else. I think some of the coolest work done in polymer is because someone has brought another whole body of knowledge to it and said what happens when you put these together. That's why I want to bring it to Metalwerx, too. Polymer clays tends to be in these bubbles of interest and guilds, and I'm very interested in taking it out to places that are more focused on metal and also to art schools who kinda open up the vocabulary and push it further.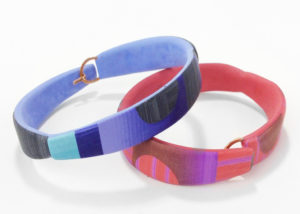 And how can we use it more traditional techniques, how can we blend those two, or have one inform the other.  
Every time someone works with it they're like, well what if I did this, and most of the time the answer is yes. Someone said [polymer clay] is like the golden retriever of craft medium. And I'd like it not to be craft with a 'K' kind of medium. Honestly the companies who make it tend to focus their biggest customers as more 'quick craft project' but I think it is really an art medium. It's very painterly and I want to keep elevating it.
Bonnie Bishoff will be teaching "Polymer Bracelets with Wire Armatures"  at Metalwerx, March 14 -15, 2020. This class will teach students how to create polymer bracelets, learning how to form wire armatures to create their own shapes. 
To learn more about this class, follow the link below. 
Polymer Bracelets with Wire Armatures with Bonnie Bishoff
To see some of Bonnie's jewelry, sculpture and wearable art, visit http://www.syronbishoff.com/jewelry
Latest posts by Metalwerx (see all)