Brie Flora on her Work, Guidelines, and her Upcoming Workshop
Interviewed by Violet Ita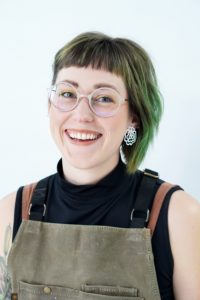 Brie Flora is a contemporary jeweler creating playful and whimsical jewelry made from repeated patterns and powder coated pops of color. Recently, she started Guidelines, a contemporary jewelry project leading all the participants through a series of jewelry assignments with specific guidelines, culminating in an exhibit at SNAG. 
A longtime teacher at Metalwerx, Flora started teaching at Metalwerx after graduating with her Bachelors in Jewelry & Metalsmithing and Art Education from Massachusetts College of Art and Design. I chatted with Brie about her work, her ambitious Guidelines project, and her upcoming class at Metalwerx, Guidelines: Working in Repetition & Multiples.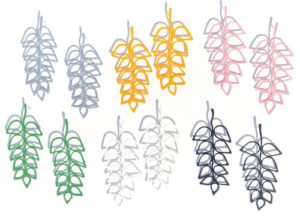 Powder coated fern earrings by Brie Flora
Were you always interested in art? 
Yes, since I was really little. But I always thought I was gonna be a 2D artist of some sort until I got to college. I was always drawing. The only 3-Dimentional work I did before studying at MassArt was some clay work, but that was it. My high school didn't really have much else to offer at that time.
When did you first become interested in jewelry and when did you transition to that instead of the 2D art you were originally interested in? 
I almost became a printmaking major when I got to MassArt because it was something that felt familiar, while the different processes made it feel new – big surprise, the copper plates were what I enjoyed the most, although jewelry & metalsmithing still wouldn't happen for another three years. I ended up dropping printmaking and became an Art Ed major. After reading up on it, I realized it required you take a lot of classes in various mediums, so I thought cool, I can experiment with different forms of making, but would still have the teaching degree to fall back on – it felt safe. After taking a lot of different art classes but not focusing on anything in particular besides "art ed", I felt like I wasn't growing as an artist like you expect to at an art college. Then, I finally took a jewelry class as one of my 3D required electives in my third year. I wasn't very good, but I found it so interesting – the little snippets of art jewelry that I saw were kind of mind blowing…stuff I had never heard of or seen before. Joe Wood pulled me aside one day and said I should switch majors. I laughed and said, "I'm a junior, I don't think I can do that." Joe's words were stuck in my head the rest of the semester though, so after a lot of thought and sitting down with my advisor and parents, I decided to add it on as a second major. So, that's how I found jewelry, Joe Wood convinced me to stay.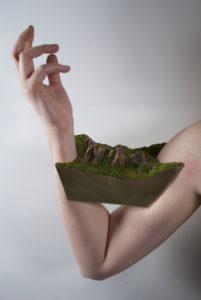 Undergraduate work from Brie Flora's Landscape series
What was your experience with jewelry and the program in college in comparison to the transition to the work you are making now? 
In college I didn't make wearable jewelry. I think part of me thought wearable jewelry wasn't cool enough after seeing all the wild more sculptural adornment work by artists I was getting introduced to at the time such as Gerd Rothmann and Lauren Kalman. I felt so strongly that wanted to be called a metalsmith, not a jeweler. Obviously, I disagree with that now. But at the time I thought I'm in college, I just wanna go big. I wanted to make the cool weird stuff… I also remember being encouraged to make more sculptural work while I could and consider paring it down later when I didn't have access to the amazing Massart Jewelry & Metals  facilities. 
I never thought I would be making jewelry the way I am now. I used to think I was going to go to grad school right away and the end goal being I would hopefully teach college and make sculptural adornment for the rest of my life. But life happens, and I didn't end up doing that… yet. I'm still considering going to grad school eventually, but it's just not my priority right now. I worked for a jeweler, Monique Rancourt, for 4.5 years, in and out of college. Working for her opened my eyes to making a line of jewelry, I realized and learned from her and other jewelers she introduced me to, that you can make one-of-a-kind pieces and still have that consistent work that clients expect. I am trying to go back to making more sculptural stuff this year, but we'll see how that goes.
Currently, I've found an interesting way of making jewelry that involves the powder coating process. Until I took a class on this process, I was mostly making work for others in mind which made it hard for me to create work I liked. Powder coating really spoke to me – my work [now] doesn't look anything like it did while I was in school and I'm fine with that, I had to get out of my head and take a chance, and I feel like it has paid off.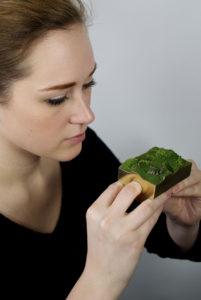 Landscape Ring from Brie Flora's undergraduate work 
For people who don't know what powder coating is, could you explain that a little bit, and how does that fit in with the current body of work you are making? 
Powder coating is an accessible way of putting color on metal and is different from enameling, which involves melting powdered glass onto metal. This powder is a plastic particulate that goes directly on the metal through a spray gun and connects via a static electric charge. The metal pieces are hung on metal wire and then there's a positive/negative charge that is made between the gun and the wires. When you start to spray you also start the charge, and the powder will stick to the surface of the metal. Like many jewelry processes, the surface has to be super clean for the powder to make really nice contact. The next step is baking the powder on (you can use a small toaster oven for this). For most powders, it's 10 to 20 minutes at 400º for complete cure time. It's much faster, affordable, and durable than enamel in my opinion, and for me works with my process perfectly. It does still have risk with the toxic fumes, so proper safety is important. There are other ways of applying powder coat – you can sift it, similar to enamel, and you can dip it. If dipping, you have to heat the metal first and for sifting, you have to be careful not to move your piece too much or the powder will blow right off, so heat can be helpful here as well.
I learned from Rachel Shimpock, who is well known for enameling, powder coating, and electroplating – she's great. Something I didn't expect and really loved from her class was how she taught us alternative ways of powder coating, like dipping and sifting. We talked about photo transfers as well, which I have yet to try. There are so many things you can do with it and I feel like it's still a such a new process we can experiment with. It's an exciting new process which sparked my enjoyment in jewelry again. It's totally changed my process and my outlook on my own wearable work. I'm beginning to think about how I can apply powder coat to my sculptural work in the future…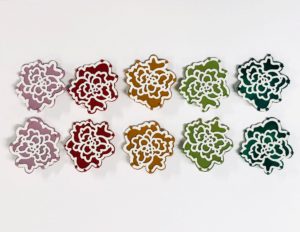 Powder coated floral studs by Brie Flora 
Speaking of the current line that you are making, what was the inspiration around that work? What do you find gets you into the studio and wanting to create more work? 
First, I like to tell people there's certainly inspiration for specific pieces, but what gets me in the studio is that I'd go crazy otherwise. My work is me, it's what I think, dream, and stress about, it's what I see. My undergrad work, a lot of it was inspired by either stories or tales I read as a kid mixed with specific places I've traveled to. Now, with my wearable work, it's a little more generalized. A lot of my inspiration comes from being in nature, which I've always put into my work. Although now it's a little more colorful, a bit more modern. I also draw inspiration from elements of fantasy and science fiction. The color choices, I'm told, remind people of the late 90s, early 2000s, which is when I grew up. Really though, these are just colors I like. 
I also love repetition. I used to do stippling for my drawings when I was younger – just sit there and do the same repetitive motion non-stop. While working repetitively can be mind-numbing, it helps me to focus. It's a love/hate thing. Making the same thing over and over again, tiny details. For example, some drawings I've done on my powder coated pieces, the repeated little square pixels done over and over again. It's a way for me to get lost in the work.
Then moving onto Guidelines, the original 1.0 version you had made, what was the reason you had started that project?    
I started that project because I had moved away from Boston, Massachusetts, to Crawford, Tennessee, and I was living on the side of a little mountain in the foothills of Appalachia, 45 minutes from any town or people in it, and no cell service. It was really gorgeous out there, but I was missing my community. I think I wanted to be a part of something, and I didn't know how. I had gotten into a show at the Baltimore Jewelry Center and I being there really woke me back up into the world of contemporary jewelry, after being away for a year and a half. At first, I was just going to see if people wanted to be involved in a project that involved little assignments I wrote up. I missed having the drive of school projects, or others in the communal studio to push me to make my work. Guidelines emerged from a need for conversation and a community within my field. I honestly didn't think anything was going to come of it, but after putting out a call for artists I really was blown away by how many people wanted to participate – to the point where I had to start rejecting people. That's how it started. By the end we got the show up to Adorned Spaces [at SNAG]. 
What is Adorned Spaces for those who don't know? 
It's an exhibition opportunity that happens during the SNAG conference. It could be a group of artists, a collective, it can be a school, or you can be a solo artist, but you propose your exhibition idea to SNAG, and the process is juried. The show gives you about an 8 foot by 8-foot space and then you make a pop up for your own work. It was pretty challenging – we had tons of work, and the first guideline was to make a necklace as long as you are tall, so we had some fairly big pieces. You're in a room with a bunch of other pop up exhibitions, which was really cool. Adorned Spaces is a great exposure, it's only up for three days, but I feel it was a really great experience.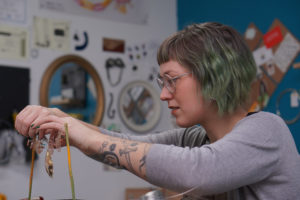 Brie Flora in her studio
For this class, which is going off the idea of Guidelines but transforming it, how did that idea come about? 
Repetition and Multiples came about from being at SNAG and running into Liz [Clark] and Lindsay [Minihan]. Lindsay said something like
you should propose a workshop based on Guidelines if you think you could. I thought yes, I love that challenge. So, it's still a workshop where students are going to be learning something new or if they are more experienced, they will learn a new trick or two about something they already know. I've been starting to call it a creative challenge as well. Students are given a certain amount of time and asked to create a certain number of projects/samples with a limited quantity of materials. How will everyone go about doing that in a classroom setting? Additionally, work will be made based off of a motif, some sort of inspiration – I've posted about my own piece a few times on Instagram. My inspiration was based on a shuttlecock, which you play badminton with. It has tons of shapes, and a lot of repetition to work with. I'll be giving students the option to work with the rolling mill and the hydraulic press if people want to, sawing/piercing, wire working & soldering, and then to top it all off some alternative powder coating. I'm excited, it's going to be a fun class.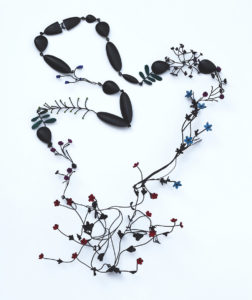 Seed to Stem by Liz Clark from Guidelines 
What are you hoping people will come out of the class with? 
I'm hoping people will come out of the class with a sense of letting go a tiny bit. I hope that people come away with a fresh outlook towards making and inspiration they had never thought of, new thoughts and ideas but also not being so strict with themselves and their work. Maybe this challenge will spark a new piece they'll want to create. I think I can safely admit that I felt oddly flattered and so excited when Liz Clark told me that Guidelines inspired new work she's been creating. That's what it's all about. It's a challenge to open up your creative thinking to then take back to your studio and continue working. Students, you're gonna learn some cool techniques and have a cool project to take home at the same time. 
Is there anything final about your work you wanted me to touch on that wasn't covered? 
I've got an online store. I've started updating more recently, so there are some one-of-a-kind pieces and some of my more production work available there. Also, for the Workshop, Repetition and Multiples, I'm going to document it during the class and then photograph all the final work the last day – I'm going to have an online exhibition of the work from the class featured on the Guidelines Instagram account, @Guidelines_jewelry.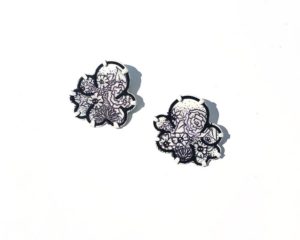 Powder coated  flora cloud studs by Brie Flora
Brie Flora will be teaching "Guidelines: Working in Repitition & Multiples"at Metalwerx on March 27th through 29th. The class, an offshoot of her other Guidelines project, shows students how to use repetition and multiples in creating patterns, as well as alternative methods of powder coating as a way of adding color to pieces.  
To learn more about this class, follow the link below. 
Guidelines: Working in Repetition & Multiples 
More of Brie Flora's work can be found at https://www.brieflora.com/ and on her Instagram 
https://www.instagram.com/brie_flora/?hl=en
More information about Guidelines can be found at https://www.instagram.com/guidelines_jewelry/?hl=en
Latest posts by Metalwerx (see all)